Digital health innovation conference Frontiers Health returns to Berlin on 13, 14 and 15 November, when it will continue its focus on digital therapies, breakthrough technologies, healthcare transformation, investments and ecosystem development.
pharmaphorum will be on site at the Frank Gehry-designed AXICA Congress and Conference for the event and have exclusive live coverage of all three days.
In 2019 attendees will hear from digital pharma thought-leaders such as Bayer G4A's Eugene Borukhovich, Sandoz's Andre Heeg and Francesca Wuttke from Almirall.
Alongside them other pharmaceutical companies represented at the digital health innovation event will include Johnson & Johnson, Roche, Pfizer, Sanofi, MSD, LEO Pharma, Fresenius Medical Care, Ferrer and Orion.
They'll be joined by digital health investors such as Hikma Ventures, Panakès Partners, 7wire Ventures, Octopus Ventures, and a wide range of digital health companies, including Kaia Health, TicTrac, Livongo, One Drop and Wellthy Therapeutics, plus many others.
There's more information about digital health innovation event Frontiers Health 2019 on its website, and pharmaphorum will be tweeting from the event via its @pharmaphorum Twitter account and the #FH19 hashtag.
Key topics for Frontiers Health 2019 will include:
Digital transformation
Healthcare partnerships
The emerging DTx industry
The future of healthcare
Digital health start-ups
Read pharmaphorum's roundup of Frontiers Health 2019 to learn more about how digital health is disrupting the future.
Day one live coverage, from 13 November, can be viewed by clicking on the image below: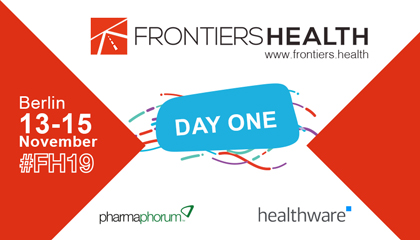 Highlights include:
Digital health Asia and the APAC healthcare innovation landscape
Patient-centricity and digital innovation
Shaping innovation by managing digital health partnerships
Day two live coverage, from 14 November, can be viewed by clicking on the image below: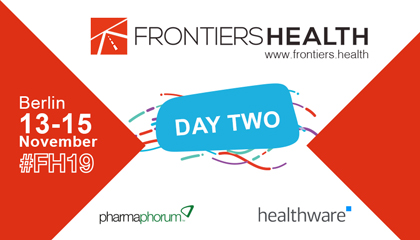 Highlights include:
Digital therapeutics and the future of health
How data science is turning sick care into health care
Digital transformation of go-to-market for the pharmaceutical industry
Day three live coverage, from 15 November, can be viewed by clicking on the image below: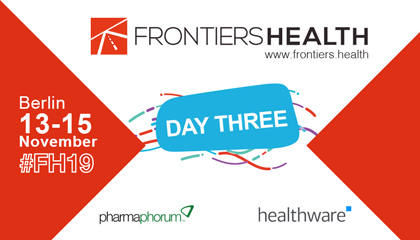 Highlights include:
Digital health's role in combating chronic diseases
Start-up discovery in digital health
Drivers of success for digital therapeutics