2018 in review: AI on the rise in digital pharma
Views & Analysis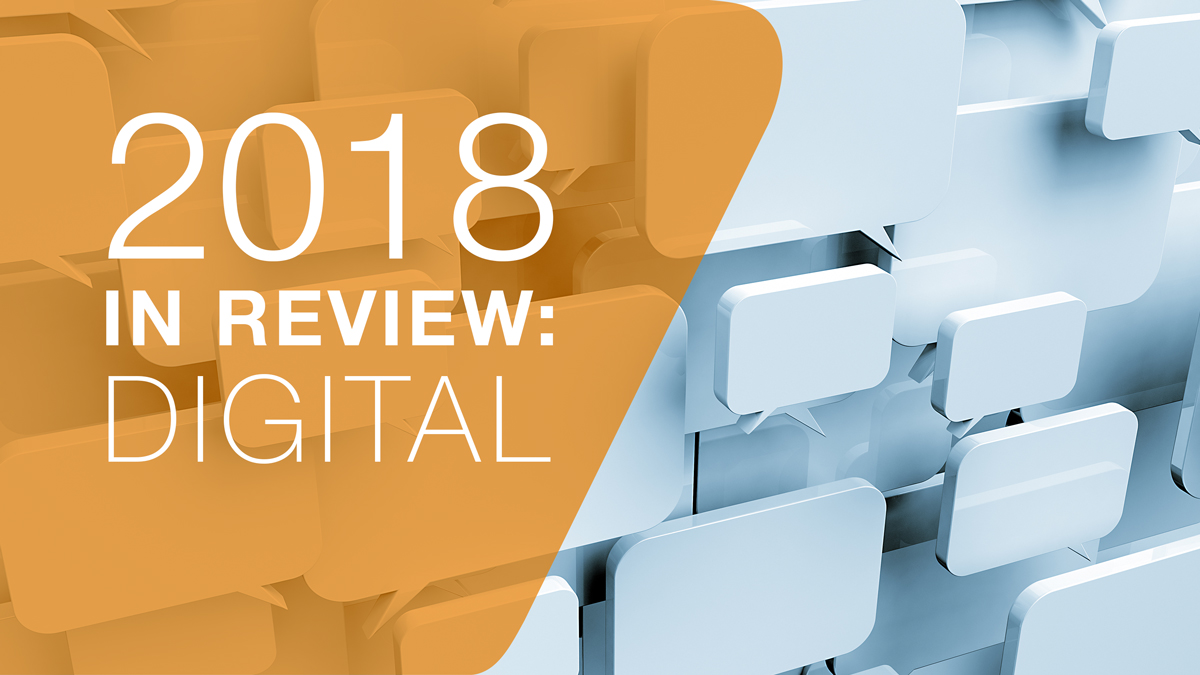 Digital technology is playing an increasingly important role in healthcare, and in the pharma industry as it searches for ways to find new drugs, while cutting costs and reducing expensive trial failures. 2018 will be remembered as the year when technology such as AI began to catch on in healthcare and pharma.
The UK government's life sciences tsar, Sir John Bell, set the tone for 2018, when he went on record to say that artificial intelligence (AI) could save billions of pounds for the NHS.
Bell told the BBC that researchers at an Oxford hospital have AI technology for diagnosing heart disease that could shave £2.2 billion from the NHS' pathology spend.
Another AI system developed by a company called Optellum could allow more than 4,000 cancer patients a year to be diagnosed earlier.
This could save £10 billion if adopted in the US and EU, according to the company's science and technology officer, Dr Timor Kadir.
The UK government has also backed AI-based health research including five new centres for artificial intelligence in health, focusing on areas including pathology, radiology, and imaging.
BenevolentAI on the rise
UK-based drug research firm BenevolentAI raised a further $115 million from new and existing investors, after buying a new R&D unit in Cambridge, UK.
As its name suggests the company aims to use AI to make drug research more efficient and find new targets and compounds to treat serious diseases such as cancer.
An unlisted biotech "unicorn" thought to be worth more than $1 billion, BenevolentAI said it planned to use the investment to grow in size from around 165 employees to around 300 people.
BenevolentAI's business is focused on an artificial "brain" that is capable of using its vast computing power to find drugs that will for example work on certain cancer mutations, or perhaps make the mutations less likely and rendering early lines of therapy useless.
It is working on treatments relating to certain brain cancers, the age-related muscle wasting disease sarcopenia, Parkinson's disease, and amyotrophic lateral sclerosis (ALS).
Its algorithms have already identified five compounds that could help treat ALS and that had not been used in any existing drugs, which are being tested by University of Sheffield scientists.
Pharma companies have also been enthusiastic about the potential of AI to streamline the drug development process.
At the end of the year Novo Nordisk announced a research tie-up with UK biotech e-Therapeutics, using AI-based technology to find new therapies for type 2 diabetes.
And researchers from Israel said they are using AI and deep learning to get a computer to learn the "vocabulary" of drug discovery.
The technology treats drug development as a "language", which produced prototypes based on variations of existing compounds.
When they instructed the system to propose 1000 drugs based upon old drugs, the researchers were surprised to discover that 35 of the new drugs generated by the system are existing, FDA-approved drugs developed and approved after 1950.
The investigators said this demonstrated the system's efficiency in developing 'rational' or valid drug candidates.
Nokia ends ill-fated venture into health wearables
One of the biggest digital health stories of the year was the conclusion of Nokia's ill-fated foray into the field.
Nokia had decided to axe its digital health unit, which was almost entirely comprised of the Withings business it bought for $191 million in 2016.
Nokia decided late last year that it could not make the Withings range of connected health products fit within its business.
The French firm had a product portfolio including scales, trackers, blood pressure monitors, thermometers, and home cameras.
In the end Nokia decided to sell the business formerly known as Withings back to its founder Eric Carreel at a knock-down price.
A pharma company that is a keen proponent of connected health is AstraZeneca. Its CEO Pascal Soriot is a keen proponent of Internet of Things (IoT)-based health technology.
The firm is expanding its presence in China, where it has invested in an R&D site at Wuxi City, to develop IoT tech that could be used alongside its drugs to improve care standards.
Australia's health records chaos
Australia's attempts to introduce electronic health records for all its citizens have generated the wrong kind of headlines, after the project was hit by concerns over privacy and patients' ability to opt out.
Concerns mounted as the My Health Record project was rolled out, with fears that other government agencies would be able to access the information.
This was made worse by the decision to make the records an "opt out" system, meaning everyone will get one unless they notify the government otherwise.
Amid stories of phone lines being unable to deal with the huge volume of "opt out" requests, the government has decided to extend the deadline for such requests until January 31.
The government has also introduced measures that it says will ensure the Australian Digital Health Agency will be unable to allow other entities to access the records, including health insurers and employers.
Read more of pharmaphorum's 2018 in review: