Collaboration is key to advancing cell therapy research
R&D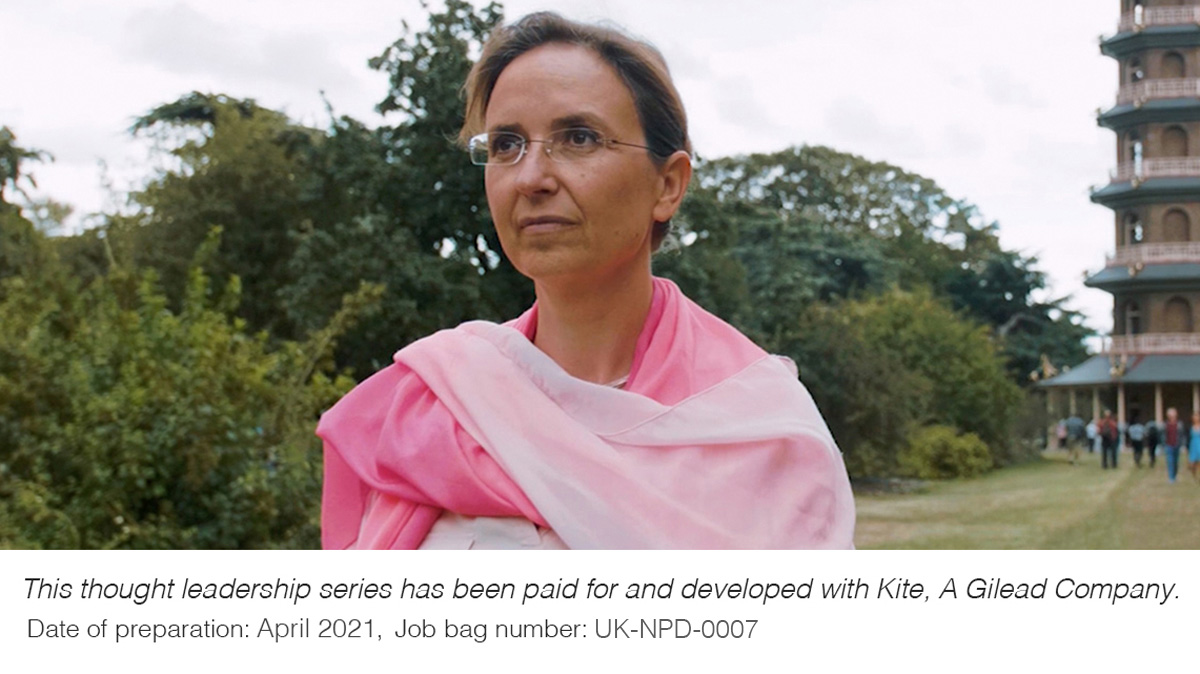 Dr. Anne Kerber, VP, Head of Clinical Development, Europe at Kite, a Gilead Company, explains how the company works with researchers and physicians across Europe to expand patient access to cell therapy.
This thought leadership series has been paid and developed by Kite, a Gilead Company.
Cell therapy is a treatment involving the genetic modification and reprogramming of a patient's immune cells to target their own specific cancer, making it a truly individualised medicine. It's one of the most promising – and one of the most complex – cancer treatments available today.
As one of the leaders in cell therapy with a sole focus on advancing CAR T treatments in cancer, Kite, a Gilead Company, works to develop cell therapies with the potential to address the needs of people with advanced, or unresponsive, haematological cancers who have few remaining treatment options. But we can't – and don't – do this alone.
From patient study participants and care partners, to clinical researchers, regulators and colleagues, achieving our vision of expanding patient access to cell therapy in Europe only becomes possible because of the dedication of all those involved.
Setting the standard in cell therapy
Due to the growing number of European clinical programmes, it became essential to establish a dedicated operating company focused on cell therapy in the region. Ensuring we have the expertise available within the relevant time zone comes with multiple advantages, allowing us to collaborate directly with our physician investigators and respond to their scientific questions in a timely manner. This has had a substantial impact on our ability to strengthen connections with physicians and researchers to benefit the way in which we deliver cell therapy to patients.
"Cell therapy is such a unique field that we are continually learning and adapting alongside our partners in how to master new challenges"
In fact, our strong heritage of pioneering research into cell therapy means we have now accumulated a wealth of clinical data for these highly innovative and specialised medicines. Working together with researchers and physicians, this will enable us to accelerate delivery time for up to 4,000 eligible cancer patients across Europe; people who are typically very ill and have the potential for rapid disease progression.
A collaborative approach to meet patient needs
Having a partnership approach both internally and externally with our researchers, physicians – and patients – is therefore critical to our ongoing success. Being able to draw on my background as a practicing haematologist is hugely beneficial in ensuring that the patient's voice and experience of their healthcare journey is at the heart of everything we do.
As part of this, we also develop close relationships with every hospital treating our patients, and this too has been integral to the achievements of our clinical trial programmes. Because cell therapies are complex, living products, we must diligently plan and schedule every stage of this intricate process together, from cell extraction to reinfusion of the modified cells, while ensuring all study protocols and patient management criteria are met throughout. Compared with standard studies, contact with researchers and physicians is greatly increased to ensure this takes place in an efficient and timely manner.
Embedding knowledge exchange in our partnerships
This capacity for cooperation and two-way exchange of knowledge between physicians, trial investigators and Kite, a Gilead Company, has been beneficial for all involved in the clinical trial process. Understanding that this collaboration provides a deeper clinical view of how the patient was enrolled, treated, their response to therapy and any complications has enabled us to share patient experiences in real time between study sites.
Achieving a unified and efficient process also requires close cross-functional collaboration within the organisation. Each clinical trial team will need an understanding of what is happening in manufacturing, for example, as it may have a fundamental downstream effect on the clinical trial.
These rigorous internal and external processes, combined with real-time data updates, allow us to learn, adapt and ensure that every single patient is treated as an individual. It's this dedication to putting the patient first that has absolutely been key to our success so far, and will ensure we continue to fulfil the potential for cell therapy in the future.
Cell therapy is such a unique field that we are continually learning and adapting alongside our partners in how to master new challenges; from how to get trials up and running, to patient management, to trial protocols and the requirements of regulators for novel medicines. With a number of cell therapies and new indications coming through the pipeline, we must remain adept at creative problem solving, to deal with situations for which there's no clear guidance – simply because it's a problem that has never existed for non-living drugs.
By investing in the right areas, building strong relationships with partners and bringing leadership to where cell therapy is set to thrive, we collectively help ensure healthcare systems are primed to harness the latest medical innovations.
This was supported by Kite, a Gilead Company
UK-NPD-0007 | Date of preparation: April 2021