Patient Opinion Leaders: The new KOLs for pharma?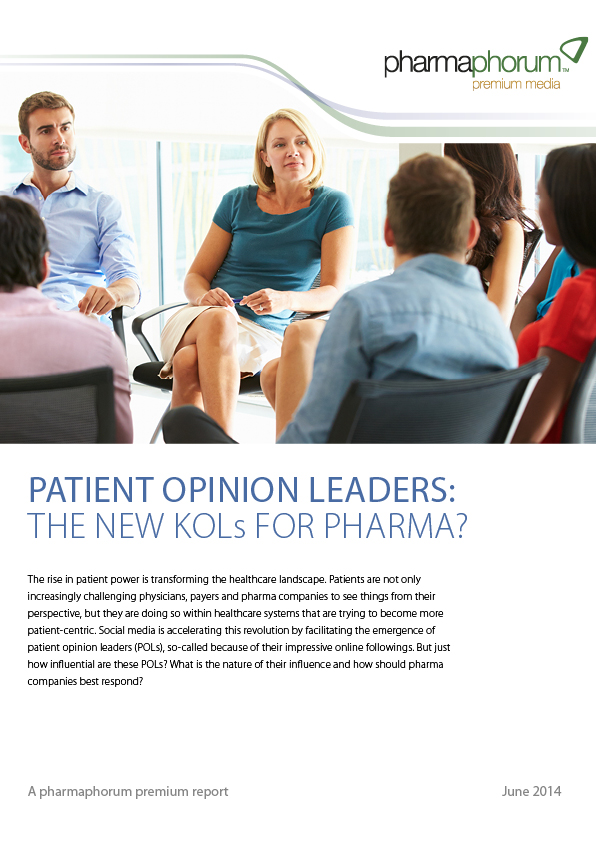 Publication Date: June 2014
Price:
£395 individual licence*
£1,495 company licence* (10 users)
£2,995 global licence*
Format: PDF
Pages: 32
Words: 11,300

Graphics: 9

Expert interviews: 5
* plus VAT where applicable
Click here for a Patient Opinion Leaders: The new KOLs for pharma? summary preview
Patient opinion leaders: the new KOLs for pharma?
The rise in patient power is transforming the healthcare landscape. Patients are not only increasingly challenging physicians, payers and pharma companies to see things from their perspective, but they are doing so within healthcare systems that are trying to become more patient-centric. Social media is accelerating this revolution by facilitating the emergence of patient opinion leaders (POLs), so-called because of their impressive online followings. But just how influential are these POLs? What is the nature of their influence and how should pharma companies best respond?
A new report from pharmaphorum explains how pharma companies can work with this patient revolution by understanding what drives the people leading it. That, in a nutshell, is to empower fellow suffers to take responsibility for their condition and to urge others to do the same. POLs are the A-listers of their therapeutic universe because they know about their condition, the treatments available and those in the pipeline. They talk in language patients can understand and are important to pharma because they communicate their knowledge and experience of illness widely via the web.
In a patient-centric world everyone wants to work with patients. But rather than surveying thousands about their individual experiences, pharma may find it more cost-effective to follow the POLs and also work to empower patients. Because, as this report explains, developing such patient credentials is precisely what drives effective pharma engagement with the new KOLs in healthcare.
Who should buy Patient Opinion Leaders: The new KOLs for pharma?
• Brand / franchise managers
• Patient engagement / advocacy personnel
• Digital & social media leads
• Medical / public affairs
What does the report provide?
• Evidence of how POLs are influencing healthcare decisions
• Specific examples of POLs and their activities
• Opportunity analysis for pharma in POL engagement
• Advice on how pharma can engage with POLs
Who are the expert contributors?
• Hannah Gagen, Patient Engagement & External Affairs Manager, Boehringer Ingelheim, UK and Ireland
• Andrew Schorr, Founder of PatientPower.info
• Emma D'Arcy, Head of Patient Engagement, inVentiv Health
• Paul Humphrey, Head of Patient Engagement, Genzyme
• Christy Brown, Director of Patient Engagement, GlaxoSmithKline, US
Click here for a summary preview of Patient Opinion Leaders: The new KOLs for pharma?
Any questions please contact us by emailing premium@pharmaphorum.com or by calling +44 (0)1932 339260