KOL Identification Without KOL Mapping
Partner Content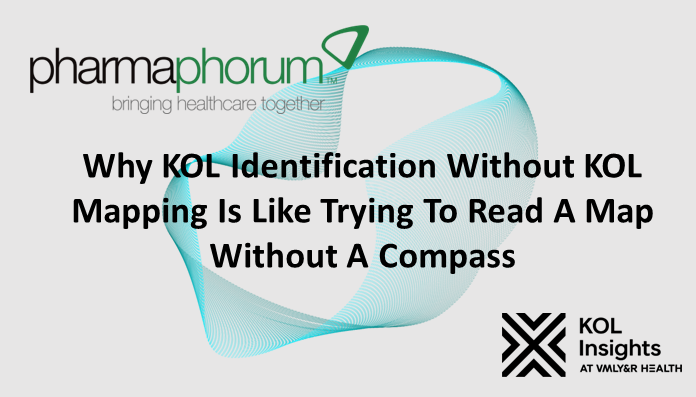 Among the infinite symposia, webinars, and white papers on this topic, "KOL identification" and "KOL mapping" can find themselves melting together in a gelatinous jargon stew.   
Both are of equal importance, but they aren't interchangeable and mean very different things.  
KOL identification is the process of identifying those individuals with high levels of expertise and influence in a given therapeutic area; in the context of building your medical and commercial strategy.  
Your search may include clinicians, authors, nurses, notable speakers, and social media influencers, to name just a few cohorts. 
KOL identification should not only aim to answer "who are the most influential voices in your therapy area?" but should also aim to validate those voices.  
Validation is key and is fuelled by several parameters: links with professional organisations, involvement in conference editorial committees, peer reputation, advisory roles, online presence, and more.   
These parameters should be your starting point, not the fulfilment of your task. Because in KOL identification, data can tell you as many stories as you want it to. The truth can only be gleaned with detail around context, and that's where KOL mapping comes in.    
KOL mapping takes what you've discovered about your KOLs and creates a context around them. KOL identification identifies the individuals that may pique your interest, but KOL mapping reveals the connections and relationships between KOLs, creating a wider context to examine their exact place in the disease community.  
Without understanding the context that KOL mapping provides, you miss vital networks, relationships, and gaps in knowledge that can be filled if you simply take a closer look. It is in effect a simulation of how your product will perform once these key voices are engaged by you. 
Identification and mapping are powerful tools alone; but together? KOL mapping tells you where the building is and KOL identification tells you the history, occupants, material, and structure of the building.  
The two work perfectly in tandem and understanding their crucial relationship to each other is essential when developing a complete medical or commercial KOL strategy. 
To find out more, visit us at: https://vmlyr-kolinsights.com/
Robert Hollands
Business Development Account Manager
KOL Insights at VMLY&R Health
t :+44 (0)20 3637 9416
a: Sea Containers, 18 Upper Ground, London, SE1 9RQ