Full Agenda Released for Pre-Filled Syringes & Injectable Drug Devices Europe
Partner Content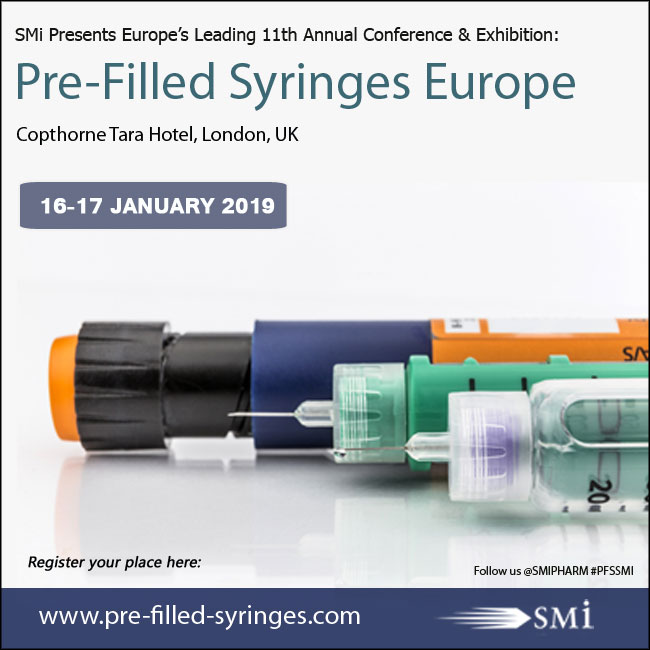 SMi is proud to present their 11th leading annual european conference and exhibition, within the Pre-Filled Syringes series: Pre-Filled Syringes & Injectable Drug Devices Europe. The event will take place on the 16th-17th of January 2019, in London.
This year's programme will offer a deep insight into key areas within the field, such as: new technologies and overcoming their hurdles to implementation; connectivity for devices; updates on drug development and its impact on device development and new regulatory guidelines.
Join us in January 2019 to network, benchmark and learn about developments at the forefront of the Pre-Filled Syringes and Injectable Drug Devices industry. Register for your early bird discount here and save £400 before 28th September.
Here's a snap shot of our industry leading experts presenting next January:
James Mellman, Device Manager, Novartis
Anil Busimi, Strategy and Innovation Global Product Manager, SCHOTT
Cedric Gysel, Staff Device Engineer, Janssen
Davide Mercadante, Sr Associate Quality Drug Devices, Biogen
Elise Legendre, Head of Late stage PFS Development, Sanofi
Joan Malmstrom, Principal Scientist, Novo Nordisk
Justin Wright, Global Head of Innovation, Novartis
Maggie Reiff, Associate Device Engineer, Pfizer
Mathieu Rigollet, Senior PFS Engineer, Roche
Michael Becker, Design Engineer, Boehringer Ingelheim
Reinhard Scheller, Commercial Manager Cyclo Olefin Polymers - COP Europe, Zeon Europe GmbH
Shota Arakawa, Researcher, Mitsubishi Gas Chemical
Stephen Barat, Head of Pre-Clinical and Early Clinical Development, SCYNEXIS
Steve Chamberlain, Device Engineering Manager, GSK
Suraj Ramachandran, Director, Merck
Vikas Jaitely, Senior Manager Pharmaceutical Sciences & CMC Regulatory Intelligence, Merck
Take a look at the full speaker line-up! www.pre-filled-syringes.com/pharmap
Delegates stand to gain many valuable insights from this event:
Discuss the opportunities and challenges of platform components for biologic injectable delivery
Explore design strategies for delivery systems and discuss defining the whole design space
Understand risk management for injectables throughout the entire life cycle
For those looking to attend there is currently a £400 early bird saving, for a limited time only.
Further information is available at: ww.pre-filled-syringes.com/pharmap
Pre-Filled Syringes & Injectable Drug Devices Europe
Date: 16th- 17th January 2019
Location: London, UK
Website: www.pre-filled-syringes.com/pharmap
Sponsors:
Fruh
Harro Hoefliger
Mitsubishi Gas Chemical
Nemera
PHC Corporation, Schott
Zeon
Zwick Testing Machines
---ENDS---
Contact Information:
For all media inquiries contact Jinna Sidhu on Tel: +44 (0)20 7827 6088 or
email: hsidhu@smi-online.co.uk
About SMi Group:
Established since 1993, the SMi Group is a global event-production company that specializes in Business-to-Business Conferences, Workshops, Masterclasses and online Communities. We create and deliver events in the Defence, Security, Energy, Utilities, Finance and Pharmaceutical industries. We pride ourselves on having access to the world's most forward-thinking opinion leaders and visionaries, allowing us to bring our communities together to Learn, Engage, Share and Network. More information can be found at https://www.smgconferences.com/