An Overview of RNA Therapeutics 2018
Partner Content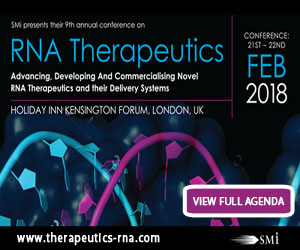 Kickstart 2018 and attend the 9th annual RNA Therapeutics conference being held in London, this February 21st - 22nd. Benefit and learn from MHRA, MiNA Therapeutics, The RNA Institute, AstraZeneca, GSK, Sanofi and more!
With an agenda full of exciting and new approaches, Day 1 will examine topics on using RNA for therapeutic opportunities including treating cystic fibrosis, liver cancer and skin diseases, and examine the novel approaches and emerging technologies to support these treatments; while Day 2 will explore commercial and regulatory considerations, whilst also examining the developments in delivery systems to direct the therapeutic to their target.
Day 1 Opening Address:
The Keynote Address on day 1 will be presented to you by Paul Agris, Founding Director & Professor at The RNA Institute. Gain a deeper insight into his presentation 'Engineering a Novel Antibiotic Against a Unique RNA Target that Prevents Resistance'. His session will be looking at how novel antibiotics can bind to target RNA and prevent resistance with low cytotoxicity and toxicity.
Summary of presentation:
- Target selection unique to Gram positive pathogens
- Screening tools for putative small molecule, RNA binding antibiotics against Gram positive pathogens and their biofilms
- Target prevents emergence of resistance
- Low Cytotoxicity and Toxicity
Day 2 Opening Address:
The Opening Address on day 2 will be presented to you by Kirsty Wydenbach, Senior Medical Assessor, Deputy Unit Manager, Clinical Trials Unit, at MHRA. Her presentation 'Gaining Regulatory Approval and Mitigating Risks during Clinical Trials' will explore how best to gain regulatory approval and clinical success through overcoming common governing pitfalls and understanding the expectations of regulators.
Summary of presentation:
- Expectations of a regulator and how to report your results
- Overcoming common governing pitfalls
- Updates of new and upcoming regulations and how you may be affected
Further information is available at: www.therapeutics-rna.com/phpr
SMi presents the 9th Annual Conference:
RNA Therapeutics
Date: 21st – 22nd February 2018
Location: Holiday Inn London - Kensington Forum
Website: www.therapeutics-rna.com/phpr
Sponsored by: ChemGenes | Phion Therapeutics | Advanced Cell Diagnostics | Lypocalyx
---end---
Contact Information:
For all media inquiries contact Pavan Solanki on Tel: +44 (0)20 7827 6048 / Email: psolanki@smi-online.co.uk
About SMi Group:
Established since 1993, the SMi Group is a global event-production company that specializes in Business-to-Business Conferences, Workshops, Masterclasses and online Communities. We create and deliver events in the Defence, Security, Energy, Utilities, Finance and Pharmaceutical industries. We pride ourselves on having access to the world's most forward-thinking opinion leaders and visionaries, allowing us to bring our communities together to Learn, Engage, Share and Network. More information can be found at http://www.smi-online.co.uk