Join Pharmaceutical Social Media Experts in Just 2 Weeks! Only at #pharmasocialmedia
Partner Content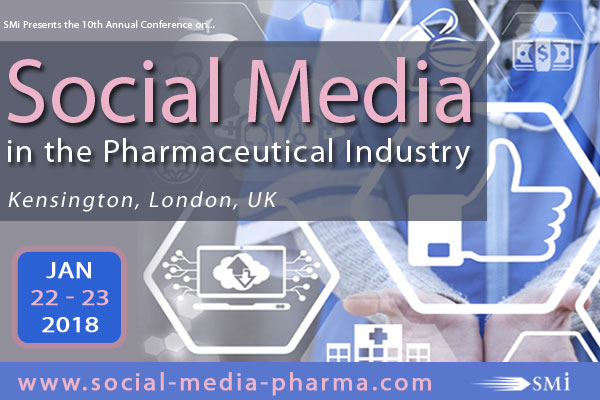 Kickstart 2018 and attend the SMi's 10th Annual Social Media in Pharma conference in just 2 weeks! Benefit from GSK, Pfizer, IBM, Janssen, Roche, CREATION, pharmaphorum, The Conversationalist Agency, Bristol-Myers Squibb, MSD, ABPI, and more!
With an agenda full of exciting and new approaches for communicating with patients online, dive deep into topics surrounding social listening, interactions and engagement, writing effective content and tracking ROI from social media, and why social media is important in pharma.
Here's a quick recap on this year's topics:
The Digital Customer Journey:
- The Value of Social Media to Pharma? -
Paul Tunnah, CEO, pharmaphorum presents:
- Defining areas where social media can deliver tangible value to pharmaceutical companies
- Strategies for educating senior management and colleagues on the value of social media
- The best approach to assessing where and how to conduct social media activity
- Case study: How to Map Out and Understand A Patient's Journey -
Steve Reeves, Director, Social Intelligence, DRG Digital speaks about:
- The emergence of the emotional aspect of the patient
- Creating emotional paths of shock, fear, depression to understand patient journey
- Scoring emotional triggers and using statistical models
Wearable Technologies:
- The Watson-Powered 'Virtual Personal Assistant' -
Andreas Haimboeck-Tichy, UK Director for Healthcare and Life Sciences, IBM discusses:
- Efforts in providing information and advice to people living with arthritis
- Plans to leverage Watson cognitive voice input/output and location services to extend its capabilities
- How we might integrate cognitive computing into our services in order to positively impact the lives of people living with a serious health condition
Content is King:
- Why your social media content should be about storytelling -
Sebastian Soithongsuk, Global Content Manager, Digital Comms, GSK about:
- What does good social media content look like today, and how is it changing?
- Which content frameworks and tools will help you understand your audience and create better content to create a successful social media strategy?
- What can be gained from targeted content?
Download a brochure online.
To hear from our speakers on their real-life industry experiences, visit the download centre: http://bit.ly/2DeeEgx
For more information on all sessions, view the full agenda: www.social-media-pharma.com/phpr
SMi Presents the 10th Annual Conference:
Social Media in the Pharmaceutical Industry
Date: 22nd – 23rd January 2017
Location: Kensington, London
Website: www.social-media-pharma.com/phpr
---end---
Contact Information:
For all media inquiries contact Pavan Solanki on Tel: +44 (0)20 7827 6048 / Email: psolanki@smi-online.co.uk
About SMi Group:
Established since 1993, the SMi Group is a global event-production company that specializes in Business-to-Business Conferences, Workshops, Masterclasses and online Communities. We create and deliver events in the Defence, Security, Energy, Utilities, Finance and Pharmaceutical industries. We pride ourselves on having access to the world's most forward-thinking opinion leaders and visionaries, allowing us to bring our communities together to Learn, Engage, Share and Network. More information can be found at http://www.smi-online.co.uk