Optimised cancer drug dosing - FDA guidelines' quantum leap
Oncology
A much-awaited dose optimisation guidance for clinical trials was released by the FDA this January, 2023(1). Finding the right dose for cancer drugs has always been a challenge, given the inherent diversity of drug kinetics and dynamics in individuals and populations.
Although the US FDA took notice to advise post-marketing dose evaluation commitments, owing to toxicity concerns, and even led to drug withdrawals from the market in isolated cases almost every year in the last decade - several studies and real-world evidence(2, 3) from all over the world have pointed to the many drugs and regimens that urgently needed a re-think.
It is becoming clear that MTD (maximum tolerated dose) isn't the right stopping point for several reasons: i. because every patient may not need to receive the highest dose to get the best outcomes, ii. because clinical activity may be evident even at lower dose levels, iii. because the newer agents are often given for long periods and tolerability issues may surface much later and impact adherence to medication, and iv. because the long term toxicities can even impact patients' endurance of subsequent therapies, too.
Thus, more is not always better and efficacy, on the plateau in the pictorial below, means that increasing dose is unlikely to improve efficacy in the era of targeted and immunotherapeutics(4).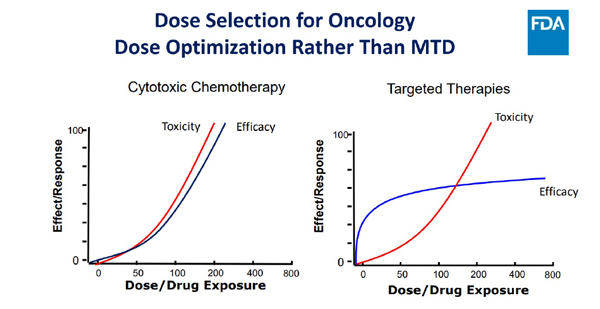 The FDA guidance has actually liberated the drug developers from stopping at the MTD and empowered exploration of better and novel methods of arriving at the right dose for subpopulations of patients. The emphasis is on exploration of multiple doses in additional and early dose finding trials (preferably at phase 2), which are sufficiently sized to generate exposure/response relationships for safety and activity to be further integrated with PK/PD analysis at every step – without losing track of the tolerability, safety, and diversity of representation in clinical trials. Early engagement with regulators and even patient advocacy groups are directions that will definitely pave the way for maximising patient benefit and value proposition for all stakeholders.
Optimised dose selection: a seamless transition
For the pharmaceutical industry, this means a need to conduct larger and possibly complex clinical trials in order to get their drugs approved by the FDA. However, an early focus on optimised dose selection promises a seamless transition of a drug through later phases of its development and beyond, thus enabling the long term realisation of its true intended benefit in patients, and its overall success.
For patients, it means a real shift towards personalised dosing for their specific needs and tolerability, due to the emphasis on using a patient's unique characteristics, such as age, weight, and disease stage, to determine the optimal dosage of a drug. It is exciting to imagine the promise of dose optimisation for a patient who doesn't appear to respond to a standard dose and would typically be moved to another line of treatment, but then appears to respond to a lower dose instead.
The ball has just begun to roll and it is evident that these guidelines would evolve further in coming times to incorporate newer developments, such as innovative Model Informed Drug Development (MIDD) tools developed by pharmaceutical companies and academia – some of which are already approved by the FDA to further pave the way for dose selection, dose adjustment, and outcomes prediction.
AI and dose optimisation possibilities
The power of artificial intelligence (AI), the newest arrow in the quiver, cannot be undermined and harnessing its potential in dose optimisation may be closer than we think. For instance, a team of researchers at the National University of Singapore (NUS), developed and tested CURATE.AI, a technology platform that is designed to take clinical data, including medications, dosages, and the presence of cancer biomarkers, to create an individualised digital profile to make personalised dosage recommendations and even help to dynamically modify it during treatment.
The results of the pilot trial were presented at the 2022 American Society of Clinical Oncology (ASCO) Annual Meeting(5). Interestingly, clinicians accepted close to 97% of doses recommended by CURATE.AI, with some patients receiving optimal doses that were approximately 20% lower on average. Following this initial progress towards incorporating CURATE.AI into clinical workflows of dose selection in the solid tumour treatment, the research team will advance towards a larger, randomised trial to further validate the performance of the optimisation platform.
In short, the door to possibilities for dose optimisation has just been flung open and soon ever more profound ideas will start pouring through to this better way forward.
Disclaimer: This article represents my personal views and is not representative of that of my company or any organization I am associated with.
About the author

Divya Mishra is a board certified oncologist with over 17 years' experience in the pharmaceutical/CRO industry, clinical practice, and academia, in areas of oncology/haematology, family medicine, palliative medicine, and outcomes research. Mishra has worked across multiple geographies and diverse, multicultural settings for organisations such as Pfizer, IQVIA, and SFJ. She is currently working at ICON as a medical director and therapeutic expert for the oncology/haematology disease areas in the APAC region, based in the regional headquarters in Singapore.