SurgAR and Medexprim start surgical AR partnership with French hospital
News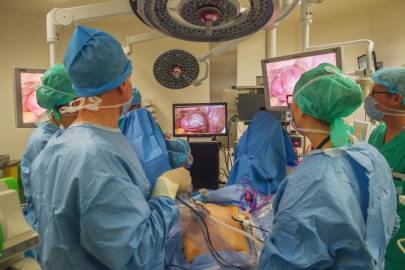 France's SurgAR has joined with imaging data firm Medexprim to form a three-year partnership with a major hospital in France, to develop augmented reality (AR) software dedicated to laporoscopic surgery.
The University Hospital Centre of Clermont-Ferrand has been ranked in the top 20 French hospitals for nine years and has 7,000 staff.
SurgAR (Surgical Augmented Reality) has developed a software suite that allows for the superimposition of virtual information to real time surgical view.
The information comes from preoperative radiological imaging data and aims to guide the surgeon during operations, increasing precision.
It aims to cut complication rates, intervention times and hospitalisations.
Augmented reality has become established in the last few years as a way of improving the performance of surgeons.
In 2018 Novarad's OpenSight Augmented Reality System was given the green light by the US FDA, allowing doctors to see inside patients before an operation.
This followed the 2017 launch of the first AR surgery platform by Philips.
This latest partnership is the first of its kind at a French university hospital and will be used to build a database of surgical videos that can be applied to machine learning.
SurgAR and Medexprim said they aim to work together with a network of European hospitals aiming to deploy the technology at around 12 sites over the next three years.
SurgAR was founded by computer sciences professor Adrien Bartoli and gynaecological surgeon Nicolas Bourdel, who both work at Clermont-Ferrand hospital.
Medexprim was founded in 2015 and describes itself as an accelerator of hospital clinical research and a tool for leveraging data from its partner hospitals.
The company aggregates imaging and clinical data in compliance with ethics and regulations, and provides hospitals with clinical data warehouses.
Medexprim has also unveiled a five-year strategy for growth last month to mark its five-year anniversary.
There are plans to expand into South America, Asia and the US and get involved in EU-funded research projects.
The company added that it wants to get closer to hospitals in the different European regions and build further partnerships with big pharma.
CEO Romain Cazavan noted that the company already has 20 employees in France, the UK and the US and has 10 partnerships with hospitals and the pharma industry.
Feature image courtesy of SurgAR (C) Richard Brunel