Shire injunction blocks Roche's 'misleading' statements on haemophilia drugs
Shire has taken out an injunction limiting how Roche can talk about its haemophilia drug, as the two companies fight for a share of this $11 billion market.
Roche's investigational emicizumab is in late-stage development and is predicted by the most optimistic analysts to produce peak sales of more than $5 billion.
Only last month Roche trumpeted encouraging phase 3 data from the HAVEN 1 study, showing that at 31 weeks, nearly 63% of haemophilia A patients receiving emicizumab prophylaxis on demand experienced zero bleeds, compared with 5.6% on bypassing agents.
The data were released ahead of this week's International Society on Thrombosis and Haemostasis Annual Meeting in Berlin.
But there are safety concerns, with adverse events emerging trials including thrombotic microangioapathy – damage to blood vessels in vital internal organs.
But Shire's injunction on Sunday in a court in Hamburg, Germany alleges incomplete and misleading statements from Roche about emicizumab.
The information relates to how Roche is presenting data regarding serious adverse events that occurred in a trial of emicizumab.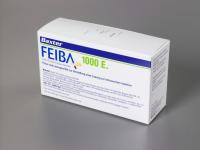 Shire's FEIBA: 'disparaged in Roche' statements
Roche sought to blame the thromboembolic events on the bypassing agent. In doing so, Shire believes Roche as "unlawfully disparages" Shire's bypassing agent FEIBA.
Shire said it has issued multiple requests to Roche to resolve the matter but received no response and as a result decided to go the courts.
A Roche spokesperson told the Reuters news agency that it had not yet been served with Shire's injunction, so could not comment on its contents.
The preliminary injunction is an interim measure which can be appealed by Roche.
Roche has not yet provided details of when it plans to file emicizumab with regulators
With its three biggest-selling cancer drugs, Herceptin, MabThera, and Avastin, facing or likely to face competition from cheaper biosimilars, Roche is aiming to develop new drugs to replace the lost sales.
Don't miss your daily pharmaphorum news.
SUBSCRIBE free here.