Scotland says 'yes' to Gilead's CAR-T Yescarta for lymphoma
News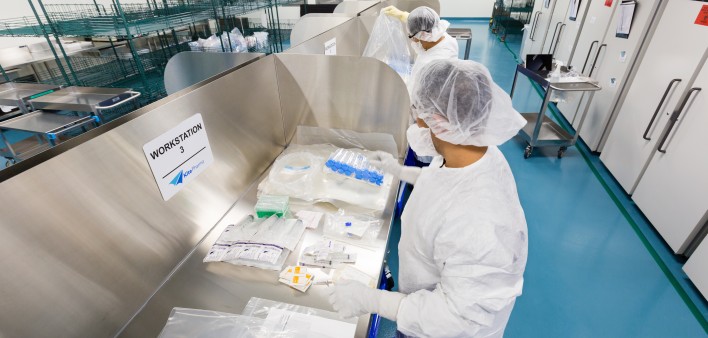 The Scottish Medicines Consortium has backed NHS funding for Gilead's CAR-T therapy Yescarta for B-cell lymphomas, a few months after it was given the okay south of the border.
Yescarta (axicabtagene ciloleucel) has been approved as a treatment for adults with relapsed or refractory diffuse large B-cell lymphoma (DLBCL) and primary mediastinal large B-cell lymphoma (PMBCL) after two or more earlier systemic therapies have been tried.
The CAR-T therapy has been backed under the SMC's Patient and Clinician Engagement (PACE) process, which is used for medicines to treat end of life and very rare conditions with limited treatment options.
If left untreated, patients with these rare and aggressive forms of non-Hodgkin's lymphoma typically only survive for a few months.
Yescarta treatment involves removing a patient's T-cells and modifying them in the laboratory to create CAR-T cells. These cells are then infused back into the patient where they bind to and kill the cancer cells.
It is the second CAR-T to be recommended by the SMC after Novartis' Kymriah, which got a green light for use in adults with relapsed/refractory DLBCL last month, a few months after being cleared for use in acute lymphoblastic lymphoma (ALL).
The SMC concluded after its review that Yescarta "could potentially offer long-term disease control and may be life extending for some patients."
Yescarta became the first CAR-T to be reimbursed by NHS England last October after pricing negotiations with Gilead led to an earlier rejection by NICE being reversed.
Kymriah was also rejected by NICE initially, but was eventually approved for use via the Cancer Drugs Fund (CDF) following a commercial agreement with NHS England in February, setting the two CAR-Ts in direct competition in DLBCL.
The SMC's backing for Yescarta is "further good news for people affected by lymphoma as it means there is wider access to CAR-T cell therapy in Scotland," commented Stephen Scowcroft, director of operations and external affairs at medical charity Lymphoma Action.
"It is important for people affected by DLBCL and particularly significant for people affected by primary mediastinal B-cell lymphoma, for whom CAR-T cell therapy would not otherwise be available in Scotland," he pointed out.
While the two CAR-Ts haven't been runaway successes commercially, there are signs that they are starting to build momentum as the infrastructure to deliver them starts to bed in.
Gilead reported worldwide sales of $216 million for Yescarta in the first half of the year, double the same period as 2018, while Kymriah grew almost four-fold to $103 million as Novartis started to get supply constraints that had held back earlier growth under control.
Other decisions
The SMC also recommended NHS use for Merck & Co/MSD's Keytruda (pembrolizumab) alongside chemotherapy for metastatic non-squamous non-small cell lung cancer (NSCLC), AbbVie's Skyrizi (risankizumab) for moderate to severe plaque psoriasis, and Ipsen's Decapeptyl SR (triptorelin acetate) for early stage breast cancer.
The agency turned down use of Roche's Perjeta (pertuzumab) for the adjuvant treatment of early stage breast cancer as well as Pfizer's Xtandi (enzalutamide) for early-stage prostate cancer, saying it needed more evidence they were cost-effective.