Scotland says no to Yescarta, but backs Kymriah
News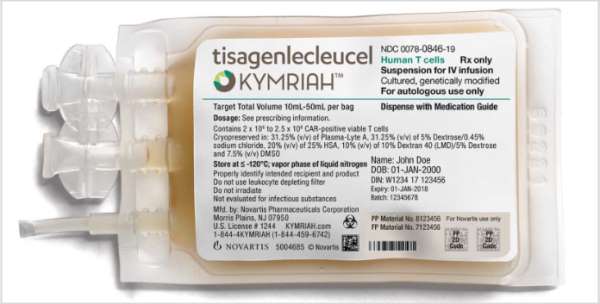 Scotland's cost-effectiveness watchdog has decided against making Gilead's CAR-T therapy Yescarta routinely available to patients with two types of lymphoma, but gave a green light to Novartis' rival Kymriah for a rare form of leukaemia.
The Scottish Medicines Consortium (SMC) approved Kymriah  (tisagenlecleucel) for people aged up to 25 with relapsed or refractory acute lymphoblastic lymphoma (ALL), saying that a confidential discount made it "an acceptable use of the limited resources in NHS Scotland."
Kymriah "offers the possibility of long-term remission and is potentially a life-saving treatment option," said the SMC in its guidance. The agency is due to deliver a verdict on Kymriah's other approved indication – diffuse large B-cell non-Hodgkin lymphoma (DLBCL) – in March.
A similar pricing deal secured reimbursement by NHS England for the therapy last September, shortly after Kymriah was approved by the European Commission, and was one of the fastest funding approvals in the NHS' 70-year history. Novartis charges a list price of £282,000 for a single course of the CAR-T treatment in the UK.
SMC chairman Dr Alan MacDonald said that ALL "is a very rare form of leukaemia which can progress quickly and there are currently very few treatment options for those whose condition has relapsed or not responded."
He went on to say that "tisagenlecleucel offers an innovative and potentially lifesaving treatment for children and young adults with this condition, and we hope our decision will benefit them, their families and carers."
Gilead was not so fortunate with the SMC's initial verdict on Yescarta (axicabtagene ciloleucel) however, as it decided against its use in refractory and relapsed DLBCL and primary mediastinal large B-cell lymphoma (PMBCL) – both aggressive forms of non-Hodgkin's lymphoma (NHL).
The SMC said that it was forced to conclude that Yescarta was not cost-effective "despite applying extra flexibility as axicabtagene ciloleucel is a medicine for a very rare, end of life condition."
Gilead said that it intends to keep trying to get Yescarta into routine NHS use in Scotland and would be working with the SMC in the coming months to try to develop a way forward, saying that in many cases "these patients have run out of treatment options and are unlikely to survive the next six months."
Yescarta was rebuffed by the National Institute of Health and Care Excellence (NICE) in England and Wales as well in the first instance, but was eventually cleared for both DLBCL and PMBCL towards the end of last year.
The drugmaker actually managed to get approval for funding in DLBCL ahead of Kymriah, but Novartis' drug was also backed in this form of NHL earlier this year, setting the two CAR-Ts up for head-to-head competition in the UK for the first time.
CAR-T therapies such as Yescarta and Kymriah harness the immune system to detect and destroy cancer, through a new process in which a patient's white blood cells are collected, re-engineered in a lab to target and fight malignant cells, and then returned to their body in a single infusion.
Despite some supply constraints, Kymriah has started to develop a bit of traction in the market, with sales reaching $76 million in 2018 and $26 million in the last three months of the year. Yescarta has had a rather quicker uptake, with sales coming in at $264 million and $81 million respectively in the same periods.