Sanofi and Regeneron eye Libtayo challenge to Keytruda in first-line lung cancer
News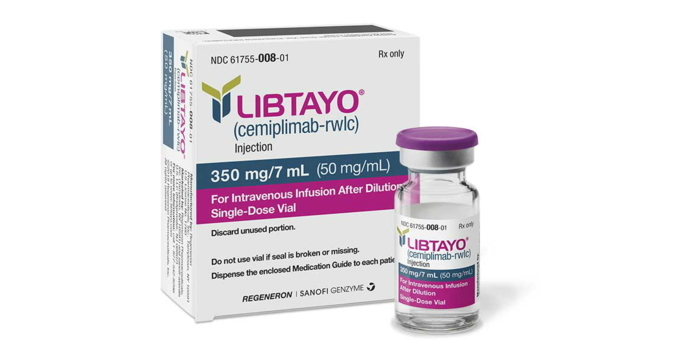 Sanofi and Regeneron's latecomer checkpoint inhibitor Libtayo has largely been protected from heavyweight competition in its first niche markets, but now looks set to for a toe-to-toe contest with Merck & Co's class leader Keytruda in the big non-small cell lung cancer (NSCLC) category.
Keytruda (pembrolizumab) dominates first-line NSCLC treatment, where it is approved both as a monotherapy and in combination with chemotherapy, but a lengthening list of rivals has been nipping at its heels.
Now, Libtayo (cemiplimab) is also in the mix. Sanofi and Regeneron have just halted a 466-patient phase 3 trial of the drug in combination with chemo rarely, saying they saw a significant improvement in overall survival versus chemo alone in previously-untreated patients.
Libtayo plus chemotherapy increased median overall survival from 13 to 22 months in the Empower-Lung 3 study, leading to a 29% reduction in the risk of death. Crucially for the two drugmakers, the trial involved all-comer patients – regardless of whether their tumours were low or high expressors of the PD-L1 biomarker.
Earlier this year Sanofi and Regeneron secured approval as a monotherapy in first-line NSCLC, but only in patients with PD-L1 expression of 50% or greater.
Moreover, most previously-untreated NSCLC patients treated with Keytruda do so in combination with chemo, so the new data – if added to Libtayo's label – could allow the drug to directly challenge the class leader.
Sanofi and Regeneron say they now plan to filed for approvals in the US and Europe based on the trial results.
With all the usual caveats of comparing different studies, the KEYNOTE-407 study of Keytruda plus chemo in first-line squamous NSCLC also found that the chances of dying were reduced by around a third, suggesting the two drugs are in the same ballpark for that form, but achieved a 51% reduction in non-squamous NSCLC in KEYNOTE-189.
Empower-Lung 3 included patients with both squamous and non-squamous NSCLC, but so far there's been no breakdown of how the drug performed by type. That will likely have to wait until the results are presented at an oncology congress.
Trial investigator Miranda Gogishvili of the University Clinic, in Tbilisi, Georgia, said that the study enrolled patients "with a variety of challenging-to-treat disease characteristics", adding that the data " add to the growing body of evidence supporting Libtayo" in NSCLC.
Along with first-line PDL1-positive NSCLC, Libtayo is also used to treat two forms of skin cancer – cutaneous squamous cell carcinoma and basal cell carcinoma.
Merck claims adjuvant win in melanoma
There was good news for Merck in another indication this week, as it reported positive results with Keytruda as an adjuvant (post-surgery) therapy for melanoma – another type of skin cancer – and the award of a priority review by the FDA.
In the phase 3 KEYNOTE-716 trial, Keytruda improved recurrence-free survival when given to patients with high-risk advanced melanoma. The FDA has started its review of the application and is due to deliver a verdict by 4 December.
Moving checkpoint inhibitors further up the treatment pathway into earlier adjuvant and neoadjuvant (pre-surgery) lines of therapy is a key objective for their developers. Merck has previously generated positive results in early-stage renal cell carcinoma, triple-negative breast cancer and non-muscle invasive bladder cancer.