Rubraca outshines rivals in ovarian cancer maintenance therapy
Clovis has confirmed a major victory with its ovarian cancer treatment Rubraca, the drug showing significant benefits for all patients in a maintenance setting – and better results than its rivals.
The US  biotech company is in a three-way battle in ovarian cancer, with its Rubraca up against AstraZeneca's Lynparza and Tesaro's Zejula, and the new data is a major boost for it.
Rubraca is already approved as a third line therapy for women with the BRCA mutation, but the new trial data sets it up for use as a maintenance therapy in all platinum-sensitive patients.
Zejula gained FDA approval in this setting in March and Lynparza just last month – but Rubraca has outperformed both its rivals on extending progression free survival (PFS).
All three rival drugs are PARP inhibitor drugs, which are particularly effective against women with BRCA or Homologous recombination deficiency(HRD) mutations.
Clovis announced the topline results from the ARIEL3 trial in June, but is presenting the full data today, the opening day of the ESMO congress in Madrid.
It shows particularly strong prolonged progression free survival (PFS) in BRCA and HRD mutation subgroups, but also in the 'all comers' cohort.
ARIEL3 shows 13.7 months of median PFS in the all-comers population, compared to just 5.3 months for those patients on placebo.
Results from this blinded independent central review trial were even better for BRCA and HRD mutation positive patients, where a median PFS of 26.8 and 22.9 were recorded respectively.
These results surpassed those recorded by Zejula in its pivotal trial, where non BRCA patients reached a median PFS of 9.3 months compared to 3.9 months in the same population taking a placebo.
Rubraca also outperformed Lynparza and its pivotal trial, which only looked at BRCA positive patients. AstraZeneca's trial found that investigator-assessed progression-free survival (PFS) in patients taking Lynparza was 19.1 compared to 5.5 months in the placebo arms.
The results make Rubraca the best performing in the class in extending PFS in maintenance patients in all subgroups. This puts it right back in contention, where analysts had initially believed Tesarao would run away with the market.
Whether Rubraca's superior PFS will translate into an equally superior overall survival benefit is yet to be seen, as data for all the drugs is still maturing.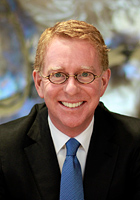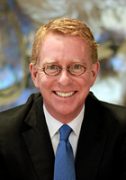 Clovis CEO Patrick Mahaffy
"The comprehensive ARIEL3 results presented for the first time today demonstrate the potential of rucaparib to extend the time during which the disease is controlled for women with platinum-sensitive, advanced ovarian cancer," said Patrick J. Mahaffy, president and CEO of Clovis Oncology.
"Very importantly, this benefit was demonstrated across all three ARIEL3 populations by both investigator review and blinded independent central assessment, including among women whose cancer does not exhibit a BRCA mutation or homologous recombination deficiency.
Clovis plans to file for FDA approval in a second line maintenance setting by the end of October, and thenin Europe in early 2018, but must first await its primary approval there.
AstraZeneca and Tesaro are also presenting at ESMO. AZ has new phase 3 OlympiAD efficacy and health-related quality-of-life data for Lynparza vs. chemotherapy in another set of patients, HER2-negative metastatic breast cancer and a germline BRCA mutation.
It has now teamed up with Merck & Co to co-market Lynparza, which will give it extra muscle to pursue a broader research programme. This will also see AstraZeneca's PARP inhibitors and MEK inhibitors trialled in combination with PD-L1/PD-1 medicines, most notably Merck's Keytruda.
Tesaro is presenting eight studies in Madrid, including a preliminary dose-finding combination study of Zejula and Keytruda with metastatic triple-negative breast cancer (TNBC) or recurrent platinum-resistant epithelial ovarian cancer.
Don't miss your daily pharmaphorum news.
SUBSCRIBE free here.