Rare womb cancer is a women's health success story
News
Iuliia Bondarenko
Imagine being told just after giving birth to a new baby that you have cancer. That's the devastating news delivered to around hundreds of women in the UK every year with gestational trophoblastic disease (GTD), a rare group of tumours that grow from placental tissue formed during pregnancy.
Fifty years ago, a diagnosis of cancerous GTD was invariably fatal, but now the cure rate is up around 95%, marking the improvement in diagnosis and treatment of the disease as a major triumph in women's health.
One of the main treatment centres in the UK, the Weston Park Cancer Centre, which provides care for around a third of the 200 UK cases of GTD every year, and has just marked its half-century of caring for women with the disease at its Sheffield Gestational Trophoblastic Disease Centre.
The Centre has been a pioneer in treatment for GTD, which currently starts with the use of one or two single chemotherapy agents, but may require combination chemo in some cases, and high-dose chemo with stem cell support in a handful. Some forms of GTD start off benign, but can become cancerous and require stronger treatment.
Despite the increased survival rates, therapy remains intensive, with women undergoing months of chemo directly following birth or after the loss of a pregnancy, and the Sheffield unit is involved in trialling of new immunotherapy treatments that aim to reduce the side effects of treatment.
Since 2018, it has been possible in England to provide off-label treatment to patients with MSD's cancer immunotherapy Keytruda (pembrolizumab) under an urgent clinical commissioning initiative, after a 2017 study showed that three out of four women with cancerous forms of GTD went into remission.
The Sheffield Centre has also developed a tool to predict which patients will develop resistance to treatments and an electronic personal health questionnaire to gather insights and data directly from patients on their whole experience of care, not just treatment.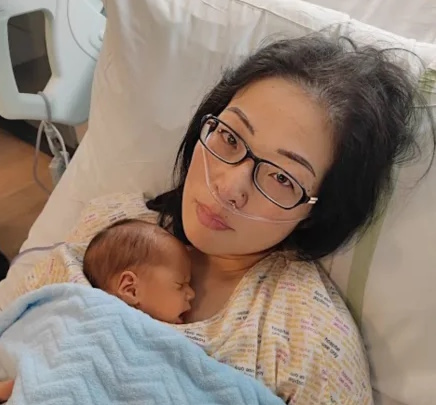 Li Li, a principal researcher who lives in Sunderland, said she felt "completely terrified" when she was diagnosed with choriocarcinoma, a cancerous form of GTD that affects one in 50,000 pregnancies, just six days after giving birth on the 26th of October last year.
She was diagnosed when a CT scan ordered following the birth of her son Luca showed abnormalities in her womb, liver, and lungs, and she was forced to spend months receiving intensive chemo in hospital, away from home and her new baby.
"When I heard the word 'cancer', it was like boom. I was terrified," she said. "I had a newborn baby. How could I have cancer? I asked the doctors, please help me, please save my life."
She was treated at the Sheffield Centre, which has supported more than 19,400 patients since it was first set up in 1973, with approximately 2,000 receiving treatment for resulting cancer to date.
After months of chemo injections into the spine every two weeks, the abnormal cells started to decrease and Li was switched to immunotherapy in February of this year, allowing her to start returning to her normal life out of hospital.
According to John Stewart, National Director for Specialised Commissioning at NHS England, care of GTD is a good example of the NHS in its 75th year offering world-leading treatments.
"It is fantastic to see the continuous development of this highly specialised service funded by NHS England, with almost all patients now able to survive," he said.