Novartis bullish about future despite Gleevec pain
The patent loss of its biggest earning drug has hit Novartis' revenues, which fell 1% in the third quarter, while operating income declining 3 per cent.
However chief executive Joe Jimenez put a brave face on the results, and he and his top team told analysts that 2017 would be lifted by growth in new products, plus major product filings.
Chronic myeloid leukaemia (CML) blockbuster Gleevec has been badly hit by generic competition in the US, revenues falling 30% to $834 million in the period. This decline will continue, with European patents set to expire in December this year.
The company's next generation CML product Tasigna saw its sales rise 6% in the three months, but will never reach the same heights as Gleevec.
Jimenez said growth and new products in oncology, multiple sclerosis and psoriasis and biosimilars would propel future growth. Analysts will have to wait a little longer for a 2017 revenues forecast, but the CEO indicated that it would be 2018 before any meaningful growth returned.
The company listed 12 products in its pipeline (see slide below) which it said would all achieve $1billion blockbuster sales. This includes LEE011 (ribociclib), a new breast cancer treatment which has been granted an FDA breakthrough therapy designation.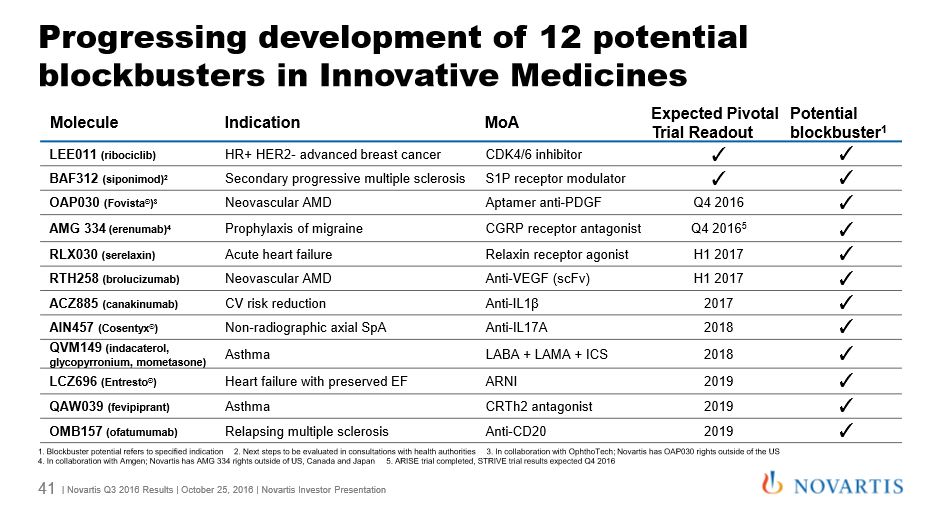 Among its existing 'growth products' multiple sclerosis drug Gilenya led the way, with sales rising 15% to $790 million for the period.
Also providing encouraging news was anti-inflammatory treatment Cosentyx, which earned around $300 million in Q3, and is shaping up to be the market leader among the therapy area's next generation drugs. This claim was buoyed during the period when it beat Janssen's rival product Stelara in a head-to-head in moderate-to-severe psoriasis treatment.
Still lagging behind expectations was heart failure drug Entresto, which achieved $53 million in the period, far below the initial forecasts for the first-in-class treatment.
The company also highlighted its growing biosimilars business, which it says is on track to reach $1billion in revenues this year. Its generics and biosimilars division Sandoz saw its sales rise 41% in the period, with (USD 262 million, +41% cc), including Glatopa and Zarxio, delivered strong growth.
One of the most talked-about developments over recent months was Novartis' decision to break up its cell and gene therapy division, laying off some staff and integrating it into the broader oncology workforce.
The company's CAR-T candidate CTL019 had been seen as the frontrunner in the cutting-edge field, but now looks likely to be overtaken by Kite and its KTE-C19.
Jimenez says it will file CTL019 in paediatric acute lymphoblastic leukaemia in early 2017, and then in DLBCL in the second half of 2017.
This could allow Kite to reach the market first, but Novartis remains confident its track record in oncology will help it emerge as a winner.
Tackling the speculation around the move, Jimenez dispelled the idea that Novartis was disinvesting from the cutting-edge field. He said the integration into the wider Novartis research organisation to "give the unit the deep capabilities of drug development and global manufacturing, while at the same time, lowering over-heading costs".
Jimenez said this full integration into the oncology division would also help the commercial business to prepare for launch.
Novartis has also indicated that it is ready to sell off its long-standing share in Swiss rivals Roche. Novartis' 33% in the company is worth more than $13 billion dollars, but it hasn't finalised any decision.
Jimenez did however confirm that the proceeds from the sale could go towards targeted M&A.
"Our strategy in M&A is to find bolt-ons that would enhance the pipelines of all three divisions, or improve the competitive position in a certain market, and anywhere in the range of $2 billion to $5 billion.
"We're looking at everything, we're evaluating everything that comes on the market or even try to free up into the market," but added there was "nothing new to report" for now.
Don't miss your daily pharmaphorum news.
SUBSCRIBE free here.