New data boosts Roche lung cancer combo
Roche is hoping new data will help its cancer immunotherapy Tecentriq gain more traction, and prolong the shelf-life of its older cancer medicine Avastin.
The Swiss pharma company revealed phase 3 trial results showing that a combination of Tecentriq (atezolizumab) and Avastin (bevacizumab) plus chemotherapy prolonged lung cancer patients' lives for longer than Avastin and chemotherapy.
Results build on data announced in late 2017, showing that the combination reduced the risk of disease worsening or death by 38% compared with Avastin plus chemotherapy.
Crucially, the results were in patients with previously untreated non-small cell lung cancer, a highly lucrative indication that is the biggest prize in cancer immunotherapy.
Bristol-Myers Squibb's Opdivo (nivolumab) famously failed in this indication two years ago, but since then Merck & Co has managed to get its rival Keytruda (pembrolizumab) approved in this use.
The latest data show there was a survival benefit across key subgroups with the Tecentriq, Avastin, and chemo combo, including those with varying levels of the biomarker PD-L1.
Absence of PD-L1 has led some cancer immunotherapy therapies failing to produce results, although it seems that adding chemotherapy to the mix overcomes this hurdle.
But the interim analysis of data from the Impower50 trial did not yet show a statistically significant overall survival benefit in people with advanced non-small cell lung cancer, compared with a combination of Avastin plus carboplatin and paclitaxel.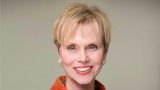 However, Sandra Horning, Roche's chief medical officer and head of global product development said that the survival benefit was "clinically meaningful".
"These results add to the growing body of evidence supporting the role of combining Tecentriq with Avastin. We will submit these additional data to global health authorities and hope to bring this potential treatment option to patients as soon as possible."
The study will continue to the final analysis, and the safety profile appeared consistent with that of the individual drugs in the combination, Roche said.
IMpower150 is one eight phase 3 lung cancer studies underway at Roche, evaluating Tecentriq alone or in combination with other medicines. Following the positive IMpower150 and IMpower131 studies, three more phase 3 lung cancer studies are expected to report this year.
Don't miss your daily pharmaphorum news.
SUBSCRIBE free here.