Lilly's Olumiant flunks COVID-19 trial – or does it?
News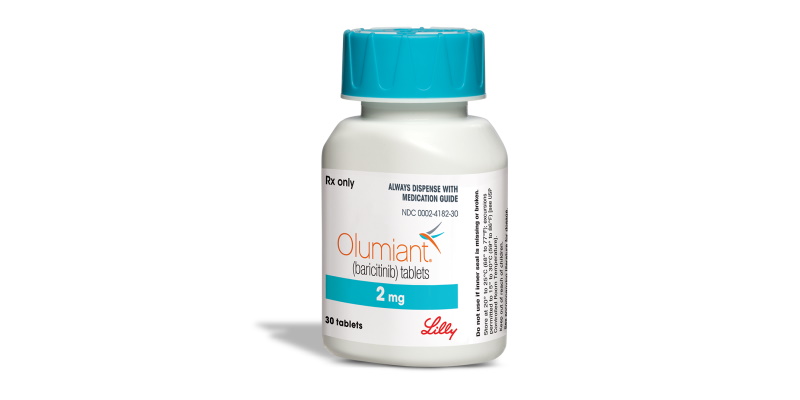 Eli Lilly's JAK inhibitor Olumiant has missed its main objective in a phase 3 trial in hospitalised COVID-19 patients, but had a significant effect on mortality, a secondary endpoint. 
The perplexing data showed that patients treated with Olumiant (baricitinib) were 2.7% less likely to progress to needing a ventilator or death compared to a placebo group, which wasn't a statistically significant difference.
Mortality at day 28 was however cut by 38% with Olumiant, a statistically significant difference that suggests use of the drug could save lives in people with severe COVID-19. Overall, 8.1% of the Olumiant group died at that timepoint, compared to 13.1% of those on placebo.
The JAK inhibitor or placebo was added onto standard treatment, with 79% of patients receiving corticosteroids and 19% getting Gilead Sciences' antiviral Veklury (remdesivir), in the 1,525-patient study, called COV-BARRIER.
A numerically lower risk of death was seen in all patient groups, but was most pronounced in patients needing non-invasive mechanical ventilation at enrolment. In these patients, the death rate at 28 days was 17.5% for Olumiant and 29.4% for placebo.
One of the principal investigators in the study, Vincent Marconi Emory University School of Medicine, said that the effect on mortality "is a clinically important finding", and was seen regardless of whether or not a patients was on corticosteroids or Veklury at baseline.
The new data builds on the National Institutes of Health (NIH) sponsored ACTT-2 trial reported last year, which showed that the combination of Olumiant and Veklury reduced progression to ventilation or death in COVID-hospitalised 19 patients compared to Veklury alone, with a trend towards improved survival at day 29.
Lilly said in a statement that there is still a pressing need for therapies that can improve survival in severe COVID-19, and added it will be sharing the data with regulators "to evaluate next steps for baricitinib for the treatment of hospitalised COVID-19 patients".
Olumiant emerged as a coronavirus candidate on the back of a project from UK artificial intelligence company BenevolentAI, which virtually screened all existing approved drugs for activity in the disease in early 2020, as the pandemic was still in its early stages.
The rationale behind using the JAK inhibitor is that it may dampen down the runaway inflammatory response that afflicts some people with COVID-19.
The drug already has emergency use authorisation (EUA) in the US for use in combination with Veklury in hospitalised COVID-19 patients requiring supplemental oxygen, mechanical ventilation or life support.
The question now is whether the FDA may consider extending that EUA to include broader use of the drug in light of the COV-BARRIER results.