GSK hires Calico's Hal Barron to lead R&D with bumper pay package
GSK has pulled off a major coup, replacing outgoing chief science officer Patrick Vallance with Calico and former Roche/Genentech whizz, Dr Hal Barron with a bumper pay package that could be worth more than that of his new boss, Emma Walmsley.
Vallance is to leave GlaxoSmithKline next year to take the job of chief scientific adviser to the UK government, where he will give policy advice to the prime minister and cabinet, and head the Government Office for Science.
Walmsley wanted to unveil Barron as the company's new R&D chief on the same day as his predecessor's departure, however the news on Vallance leaked out last week.
Nevertheless, the news comes with a frisson of excitement which has been missing from GSK in recent years, with expectations high that Barron can replicate the success he enjoyed at Roche/Genentech.
During his time there, Dr Barron oversaw a very fertile period of drug discovery and development: among the blockbusters produced were AMD treatment Lucentis, rheumatology drug Actemra and numerous oncology therapies including Perjeta, Kadcyla, Avastin and Gazyva (CLL).
The hiring is Walmsley's third key appointment, following her hiring of Luke Miels from AstraZeneca as head of pharmaceuticals and former Wal-Mart exec Karenann Terrell as chief digital and technology officer.
Barron will and will take up his new job on 1 January, and will be based in San Francisco and Stevenage in the UK. The new office presence in San Francisco will be focused on business development for R&D.
Barron took on the role of chief medical officer of Roche following its $46.8 billion acquisition of Genentech in 2009, and is credited with helping the Swiss pharma establish its dominant position in oncology.
He is currently president of Calico Labs, Google's biotech spin-off, which he joined almost exactly four years ago. The company has aimed to combine technology with pharma research and basic medical research, with an ambitious focus on increasing longevity and health in humans.
During his time at Genentech and Roche, Dr Barron oversaw the development of major drugs such as Xolair (asthma), cancer drug Avastin, ophthalmology drug Lucentis, and Kadcyla (breast cancer).
"Scientific innovation must be at the heart of GSK and with the appointment of Hal, we are bringing one of the world's foremost R&D leaders to the company," said Emma Walmsley.
"Hal has exceptional experience and a strong track record of developing significant new medicines from his time at Roche and Genentech; whilst at Calico he has helped build a research organisation that uses cutting-edge technologies in drug discovery and development. He is also very well known for his integrity, for being a clinician who is committed to always doing the best he can for patients and for building exceptional teams.
"The fusion of science and technology is fast transforming pharmaceuticals R&D. With Hal, we have a new R&D leader who will drive the changes and choices we need to make to be successful in this new environment, and as we look to build the next wave of growth for the company.
Paid more than CEO
Barron gets a basic salary that exceeds Walmsley's, and could he could become the highest paid exec in the company with up to £10.4 million ($13.6m) a year, excluding pension contributions.  In contrast, Walmsley's pay package is worth up to £8.8 million ($11.5m).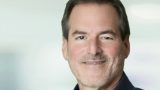 Hal Barron
GSK said that Barron will get $1.7 million before bonuses, nearly £1.3 million at current rates, while the CEO gets just over £1m per year before bonuses.
Barron will get an annual bonus of £1.3m if targets are met and this could double if he exceeds these targets.
This means that Barron's bonus could also exceed Walmsley's, which is 100% of her salary at mid-range performance and at best 200% of her salary.
Barron gets a share bonus of $4,250,000 (£3.24m) if his performance is middling, and double that if his performance is deemed to be at the top end of the scale.
Walsmley gets up to £5.5 million per year in shares under her existing pay deal outlined in the company's annual report, which was published after she took over from Sir Andrew Witty in April.
Barron's pay package is also significantly higher than Vallance, who has been at the company more than a decade and got a salary of £780,000 plus bonuses.
Vallance moves on
Meanwhile, Vallance will stay on with GSK until March 2018, when he will begin his new role. Vallance is credited with creating an innovative R&D strategy based around research teams that compete internally for funding for projects.
He also championed external partnerships, which led collaborations with the UK's Francis Crick Institute, the US National Institutes of Health, Wellcome Trust and UK Biobank.
Under Vallance's watch GSK improved openness in clinical trial reporting and oversaw development of several drugs including a new COPD triple-therapy inhaler, Trelegy, its asthma biologic Nucala, melanoma drugs Tafinlar and Mekinist that later went to Novartis in an asset swap, and Tivicay and Triumeq for HIV.
He also oversaw development of Strimvelis, the first ex-vivo stem cell gene therapy to be approved for patients with the very rare immunodeficiency disease ADA-SCID.
Don't miss your daily pharmaphorum news.
SUBSCRIBE free here.