EU clears AstraZeneca's new-form severe asthma drug Tezspire
News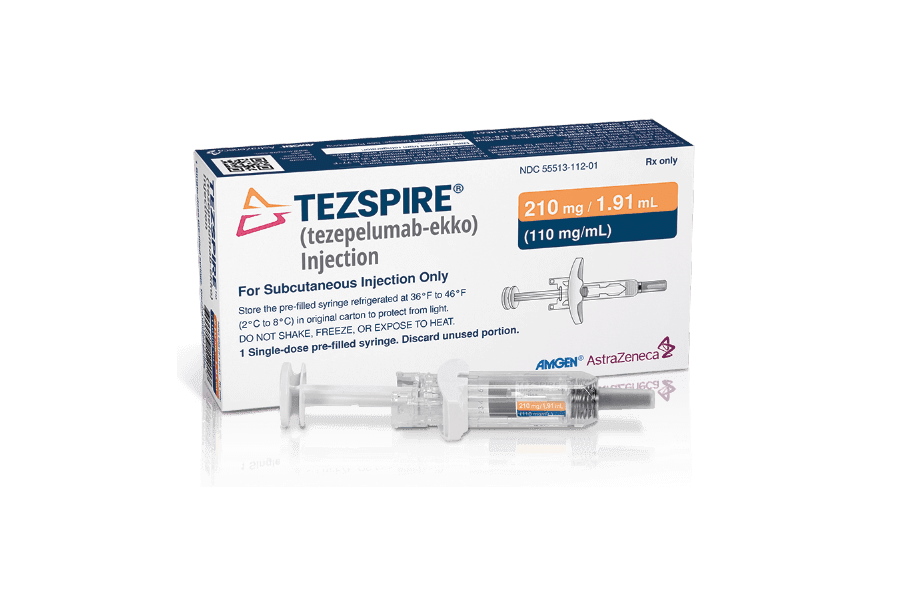 AstraZeneca's first-in-class severe asthma therapy Tezspire has been approved in the EU in a new pen injector formulation suitable for administration by patients themselves.
The green light for the pre-filled, single-use pen version of Tezspire (tezepelumab) comes just four months after the TSLP inhibitor became the first biologic therapy for severe asthma to be cleared in the EU for use in all patients, and not restricted to those with forms of the disease tied to specific characteristics such as high levels of eosinophils.
AZ's head of biopharma R&D Mene Pangalos said the new device would help support the use of Tezspire to treat "a broad population of severe asthma patients." It is estimated that there are 2.5 million patients worldwide with severe asthma who are uncontrolled, without any phenotypic and biomarker limitation.
At the moment the biologic is delivered as a pre-filled syringe (pictured above) that is dosed once a month by a healthcare worker, but the new formulation will allow patients to take greater control of their treatment.
Like its predecessor, it is approved in the EU for use in patients 12 years and older with severe asthma who are inadequately controlled with high dose inhaled corticosteroids plus another medicinal product.
The new version has been authorised on the back of the phase 1 PATH-BRIDGE and phase 3 PATH-HOME studies, which showed that 92% of healthcare providers, patients, and caregivers were able to successfully administer it, with no loss of efficacy compared to the approved formulation.
Analysts have suggested that Tezspire could become a $1 billion-plus product, thanks to its ability to be prescribed across the board in eligible severe asthma patients.
That gives it an advantage over other biologics for severe asthma, such as Sanofi/Regeneron's IL-4/IL-13 inhibitor Dupixent (dupilumab) and AZ's IL-5 inhibitor Fasenra (benralizumab) - which competes with GlaxoSmithKline's Nucala (mepolizumab) and Teva's Cinqaero (reslizumab), which have restrictions on their use.
The EU approval for the pen injector has come ahead of the US, where Tezspire has been sold by AZ's partner Amgen since the start of 2022. Uptake in the US has exceeded expectations, with Amgen reporting $55 million in sales in the third quarter of 2022, taking its tally for the first nine months to $91 million.
That suggests Tezspire will more than double predictions for 2022 sales of around $50 million from analysts at Piper Sandler, who reckoned 2023 sales would quickly rise to $500 million.
The strong US sales have come despite a list price of around $47,000 per year ahead of discounts or rebates, well above a "placeholder" price of $28,000 that the Institute for Clinical and Economic Review (ICER) said would be too high to be cost-effective in a pre-approval report.
AZ said it expects a regulatory decision by the FDA on the pre-filled pen in the first half of 2023.
The approval came as AZ revealed it was pulling another product from the market in the US – hairy cell leukaemia therapy Lumoxiti (moxetumomab pasudotox) after four years. The decision was taken in the face of low clinical uptake that the company has attributed to complex administration and a demanding regimen to prevent toxicity and monitor patients.