Chasing BMS, Takeda trumpets TYK2 data in psoriasis
News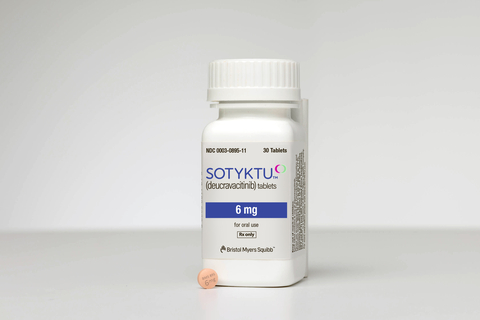 It's a case of so far, so good for Takeda as it reports solid data for the TYK2 inhibitor it licensed from Nimbus Therapeutics for a massive $4 billion upfront in December.
Results presented at the American Academy of Dermatology (AAD) annual meeting this weekend reinforce Takeda's confidence in TAK-279 (also known as NDI-034858) in psoriasis, as it positions the drug as a best-in-class alternative to Bristol-Myers Squibb's Sotyktu (deucravacitinib), the first TYK2 drug to be approved for marketing.
The AAD data is from the phase 2b trial that convinced Takeda to make such a big investment in the programme, and is headlined by 46% of patients achieving a 90% or greater skin clearance (PASI 90) at 12 weeks, with all psoriasis skin lesions absent (PASI 100) in 33% of subjects treated with the highest dose of the drug (30mg once daily).
That's roughly the same level of efficacy as was seen with Sotyktu in its phase 3 trial programme at the approved dose of 6mg once-daily for the PASI 90 reading, but a better score for Takeda's drug for the PASI 100 readout – with the usual caveat of the difficulties in comparing trials with different protocols.
Around 14% of Sotyktu-treated patients achieved complete clearance of lesions at 16 weeks, rising to around 19% at the 52-week time point, according to the POETYK-1 and 2 studies.
The main endpoint of the study was the widely used PASI 75 measure, which was met by 67% of patients on the top TAK-279 dose, compared to 6% of those on placebo, a little higher than Sotyktu at the 12-week time point.
The lead investigator in the Takeda study, April Armstrong of the University of Southern California, said that TAK-279 showed a "strong overall clinical benefit and, importantly, a significant number of patients…achieving near-total or total skin clearance."
Takeda said it plans to start phase 3 trials of the drug this year in psoriasis, as well as report phase 2b data in follow-up indication psoriatic arthritis. Other studies are planned in indications, including systemic lupus erythematosus (SLE) and inflammatory bowel disease.
Takeda is chasing down what is predicted to be a sizeable market for TYK2 drugs in inflammatory diseases, sidestepping the toxicity issues that have been helped by drugs JAK inhibitors, which work at different targets in the same pathway.
BMS has previously said it reckons Sotyktu could become a $4 billion seller at its peak, fuelled by head-to-head studies showing it was more effective at treating moderate-to-severe psoriasis than Amgen's PDE4 inhibitor Otezla (apremilast), which made $2.3 billion in sales last year but is showing signs of weakness due to competitive pressures.
Takeda will be hoping the optimism for the chance is justified, given the hefty upfront fee paid for TAK-729. It is also on the hook for another $2 billion in development and commercial milestones, making it one of the largest-ever bolt-on deals for the group.