BMS scores first approval for psoriasis therapy Sotyktu
News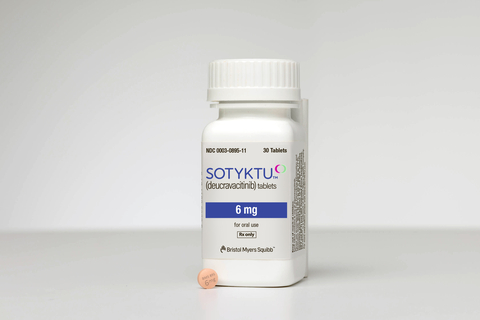 Bristol-Myers Squibb's deucravacitinib – one of the main pipeline assets in its $74 billion takeover of Celgene in 2019 – has been approved in its first market as a treatment for moderate-to-severe plaque psoriasis.
The US FDA has cleared the first-in-class tyrosine kinase 2 (Tyk2) inhibitor as Sotyktu, and BMS says it now plans to launch the new drug later this month, aiming to mount a challenge to Amgen's $2.3 billion oral psoriasis therapy Otezla (apremilast).
BMS has previously said it reckons Sotyktu could become a $4 billion seller at its peak, fuelled by head-to-head studies showing it was more effective at treating moderate-to-severe psoriasis than Amgen's drug, which acts as a PDE4 inhibitor.
Results from the POETYK PSO-1 and POETYK PSO-2 showed that 58% and 53% respectively of patients treated with Sotyktu achieved 75% skin clearance, versus 35% and 40% for Otezla.
BMS has set a list price of $6,164 for a 30-day supply of the new drug, which is around 42% higher than the $4,344 Amgen charges wholesalers for a 30-day supply of Otezla, ahead of any discounts or rebates.
Otezla was acquired by Amgen for $13.4 billion when Celgene was forced by regulators to offload the drug ahead of its merger with BMS in late 2019, on fears that having both Otezla and deucravacitinib would allow the combined company to corner the market for psoriasis pills.
Analysts at Mizuho have suggested that competition from BMS' drug could trim Otezla's 2025 sales from $3 billion to $2 billion, although Amgen is attempting to defend its product by expanding the label of the drug to include mild psoriasis.
Last December, it secured FDA approval for the treatment of adult patients with plaque psoriasis, regardless of the severity of their symptoms, making it an option for all the estimated eight million people with the skin disorder in the US.
It had been approved since 2014 for moderate to severe cases only. Sales slowed down from the start of the pandemic through the first quarter of 2022, but started to bounce back in the second quarter, rising 11% to $594 million.
"The approval of Sotyktu represents an exciting day for patients suffering from moderate-to-severe plaque psoriasis who are not satisfied with topical and conventional treatments," said Samit Hirawat, BMS' chief medical officer.
"We believe Sotyktu is a breakthrough in the treatment of patients with this condition, and we're excited about its potential in other immune-mediated diseases."
At one point BMS was pitching its TYK2 drug as offering efficacy in line with injectable biologic drugs for psoriasis, but with the convenience of oral dosing, although the final readouts from its phase 3 programme didn't quite meet that lofty ambition.
Established injectable drugs like Novartis' Cosentyx (secukinumab) and AbbVie's Skyrizi (risankizumab) have been shown in trials to achieve 75% skin clearance in roughly 80% of patients.
One important element of the FDA approval of Sotyktu is its label does not require patients to have tried a biologic therapy first, making it an option for previously-untreated cases.
Moreover, the FDA has agreed that Sotyktu has a pretty clean safety profile, a relief for BMS as TYK is part of the JAK family which is under considerable regulatory scrutiny at the moment with additional warnings added to approved therapies like Pfizer's Xeljanz (tofacitinib) and AbbVie's Rinvoq (upadacitinib).
Deucravacitinib will not carry any JAK-like warnings on its label, which is an added bonus as BMS looks towards extending its use into other chronic inflammatory diseases like inflammatory bowel disease, lupus, and psoriatic arthritis.
Those aspirations hit a setback last year however when the drug failed a phase 2 trial in ulcerative colitis.