Cellectis' 'off the shelf' CAR-T ready for trials
Trials of Cellectis' UCART123 have been given the go-ahead by the FDA, which will make it the first 'off the shelf' CAR-T drug to enter trials in the US.
Off the shelf or allogenic CAR-Ts promise to open up what could be a faster and cheaper way to treat patients with the groundbreaking immunotherapy.
The company has already licensed its first allogenic CAR-T, UCART19, to Pfizer and Servier, who are currently conducting phase 1 trials in the UK.
Cellectis has gained FDA approval to begin phase 1 clinical trials with UCART123, its CAR-T treatment for patients with two acute blood cancers. The first trial is in acute myeloid leukemia (AML), to be conducted at Weill-Cornell in New York and second is in blastic plasmacytoid dendritic cell neoplasm (BPDCN), to be led by MD Anderson in Houston.
The company says it plans to begin the phase 1 trials in the first half of 2017 – just as CAR-T frontrunners Kite Pharma will be filing their candidate, KTE-C19.
Cellectis is lagging behind Kite Pharma, Novartis and Juno, but its second generation CAR-T technology will be a far simpler way of generating the T-cells to fight the cancer cells – as long as it can be shown to be at least as safe and effective.
Most CAR-T therapies are autologous – this means harvesting T cells from each individual patient and modifying them outside the body so that they recognise and attack malignant cell when re-infused. This is a costly and time consuming process, and a significant proportion of patients fails to respond.
In contrast, Cellectis' has developed an allogeneic CAR-T therapy, where the targeted T-cells are developed independently of the patient.
All companies working in the field acknowledge this would be a major advance over the autologous approach, as it should be much quicker and cheaper way to manufacture the therapy to patients – which some expect could cost $1 million or more for each patient treated.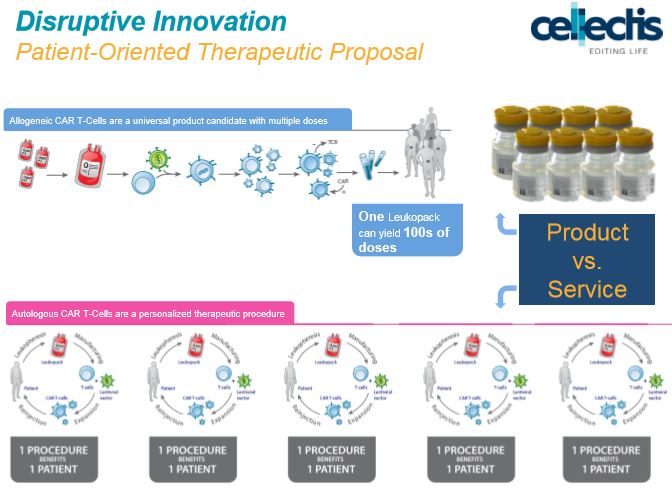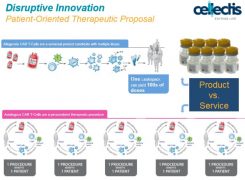 Dr. Loan Hoang-Sayag, Cellectis chief medical officer said the FDA approval for the trials was a major milestone, not just for her company, but for the medical community, biotech and pharma.
"Cellectis' allogeneic UCART products have the potential to create an important shift with regard to availability, and cost-effectiveness, to make these therapies widely accessible to patient population across the world."
UCART19 success
Pfizer and Servier snapped up co-development and marketing rights to Cellectis' other lead candidate, UCART19, in November 2015 after it produced hugely encouraging results in a single patient, 11-month-old Layla, a patient at London's Great Ormond Street Hospital.
Layla had incurable, refractory and highly aggressive acute lymphoblastic leukaemia (ALL), and doctors decided to administer the drug under compassionate use regulations.
Layla showed spectacular results, going into complete remission and has now lived more than 18 months in remission or minimal residual disease (MRD).
Cellectis revealed in January that a total of seven patients have been treated with UCART19 so far, with Servier and Pfizer having fully taken over development of the therapy for ALL. The companies are expected to product an interim data update in the second or third quarter of this year.
Cellectis are anticipating similarly compelling results in UCART123, which it will develop itself with leading cancer clinicians.  The new candidate is also the first to be fully developed using the company's proprietary TALEN gene-edited technology.
Don't miss your daily pharmaphorum news.
SUBSCRIBE free here.