CAR-Ts close to EU approval, face further US price scrutiny
News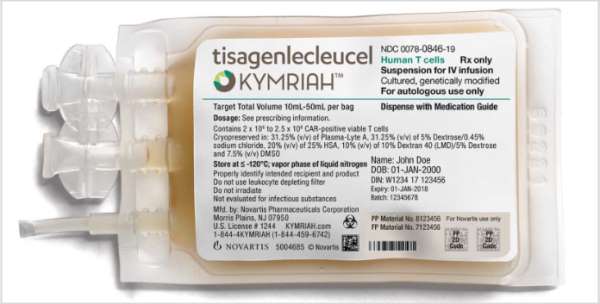 Revolutionary CAR-T cell therapies for blood cancer could be on the European market within a few months after they were given the green light by regulators – but they face further price scrutiny by US authorities.
Europe's CHMP scientific committee gave a positive opinion for the CAR-T, short for chimeric antigen receptor T-cell, therapies from Novartis and Gilead.
The CHMP recommended Novartis' Kymriah (tisagenlecleucel) for acute lymphoblastic leukaemia (ALL) and diffuse large B-cell lymphoma (DLBCL).
And the CHMP gave the nod to Gilead's Yescarta (axicabtagene ciloleucel) for DLBCL and primary mediastinal B-cell lymphoma.
Both drugs have been available on the US market since last year, and have already raised eyebrows because of their high cost.
Part of this is down to the painstaking process used to create them – they are made from a patient's own T-cells which are harvested, then genetically modified to attack cancer, before being infused back into the patient.
Kymriah is priced at $475,000 for a one-time treatment in ALL, with a money-back guarantee to hospitals if it does not work.
In the DLBCL indication Novartis matched Gilead's $373,000 price tag, but did not offer any outcome-based concessions.
The CHMP's decision will now be passed to the European Commission, which is likely to grant a marketing authorisation within the next few months.
Pricing concerns
It remains to be seen whether the companies will be able to charge this kind of money and get the drugs reimbursed by national cost-effectiveness bodies such as the UK's NICE, and Germany's AMNOG procedure.
In the UK NHS has already been preparing for CAR-Ts and is planning three centres capable of conducting the process needed to create the therapies.
With a centre covering Scotland and two covering CAR-Ts south of the border the aim is to create a network spanning the entire country.
But in the US, hospitals have initially struggled to implement CAR-Ts because of the high price and the logistical problems associated with manufacturing them.
There is also hope that work already done will pave the way for these drugs to get to market. A review of cell therapy products and regenerative medicines by University of York experts on behalf of NICE in 2015 suggested that these products could be funded if manufacturers and the cost-effectiveness body work together.
And another review of the approved CAR-Ts by the US cost-effectiveness body ICER has also concluded that the therapies are priced in line with the strong clinical benefits that they bring.
ICER's rulings are non-binding, but they are based on a quality-adjusted life year (QALY)-based appraisal that is similar to that used by NICE.
Although ICER is concerned about the long-term benefits of CAR-Ts, for which there is little clinical information, the conclusion offers hope that health technology appraisal bodies in the EU pricing systems will accommodate these therapies.
US scrutiny
Meanwhile, Amanda Micklus, principal analyst at Informa Pharma Intelligence, said that while Medicare has agreed arrangements to reimburse the approved CAR-Ts, there could be further limitations placed on their use at a national level.
In an interview with pharmaphorum, Micklus said that the Centers for Medicare and Medicaid Services (CMS) are considering whether or not to make a national ruling that could place conditions on use of CAR-Ts.
At the request of insurer United Healthcare, reimbursement experts at CMS are looking at whether there need to be restrictions on top of the local arrangements that are in place that determine whether patients can qualify for CAR-T therapies.
"(CAR-Ts) are still very expensive and I can see why CMS is trying to see whether there needs to be a national coverage restriction," said Micklus.
A decision is due in February next year, Micklus said.