Breakthrough status for BioMarin ratchets up haemophilia A competition
The FDA has granted Breakthrough Therapy Designation to BioMarin's gene therapy for haemophilia A, helping to intensify competition in the field.
Valoctocogene roxaparvovec (formerly BMN 270) is one of a handful of competitors advancing gene therapies which could transform treatment of haemophilia A and haemophilia B.
The FDA's announcement could put BioMarin in pole position among new gene therapy treatments for haemophilia A, the more common of the two bleeding disorders.
If it lives up to the potential seen in early trials, the drug could allow these patients to stop taking prophylaxis Factor VIII infusions or on-demand therapy for bleeding events.
The announcement gives BioMarin an advantage over rival company Sangamo Therapeutics, which was granted FDA Fast Track designation for its gene therapy SB-525 in May. This is an expedited pathway, but one level down from the breakthrough designation, where candidate drugs receive top priority review from the FDA, as well as guidance for companies on data and regulatory requirements.
The FDA announcement follows a similar designation from Europe's EMA, which has put it on its PRIME track.
Responding to the good news, BioMarin says it expects to begin enrolling patients on its global phase 3 programme before the end of the year.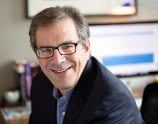 Hank Fuchs
"The news of the FDA granting Breakthrough Therapy Designation coupled with EU PRIME designation granted in early 2017 by EMA, demonstrates the strong support of global health authorities for valoctocogene roxaparvovec and its expedited development and registration pathway," said Hank Fuchs, M.D., president, worldwide research and development at BioMarin.
"There is a tremendous need to achieve normal steady state Factor VIII levels to eliminate spontaneous bleeding, to avoid the complications of suboptimally corrected bleeding disorder, to improve quality of life and enable patients to live to their fullest potential."
The BTD status was granted based on the data from an ongoing BioMarin Phase 1/2 study, which evaluated safety and efficacy of valoctocogene roxaparvovec.
The global phase 3 programme includes two studies with valoctocogene roxaparvovec, one with the 4e13 vg/kg dose and one with the 6e13 vg/kg dose. The studies are likely to include around 40 patients.
Roche all set for approval
However while there is great excitement about the potential of gene therapies, Roche looks to be on the cusp of approval for its new bispecific monoclonal antibody emicizumab.
The drug has been filed with the FDA, which is set to make a decision on emicizumab before 23 February 2018.
In the summer the company unveiled promising results in phase 3 studies in haemophilia A patients with inhibitors. These are an immune response which means traditional Factor VIII replacement therapy stops being effective.
EP Vantage predicts emicizumab sales could reach $1.5 billion by 2022, taking a sizeable portion of a global market worth around $11 billion that is currently dominated by Novo Nordisk and Shire.
However, while emicizumab looks to be a major advance in haemophilia A, the new gene therapies could be a true breakthrough: potentially freeing haemophilia patients from all injections.
Interim results from BioMarin's open-label 15-subject Phase 1/2 clinical trial of valoctocogene roxaparvovec showed sustained treatment benefit for over a year after receiving the single dose gene therapy.
The mean annualised bleed rate was reduced 97% versus prophylaxis and mean annual Factor VIII infusions were reduced 94%.
If the drug can sustain these results over a longer period in patients, and in a larger phase 3 cohort, it will be on track for FDA approval. This would put valoctocogene roxaparvovec in the vanguard of new gene therapies which come close to offering cures for these rare conditions – albeit at a very high price.
Another frontrunner in the gene therapy field is Spark Therapeutics. In haemophilia A it has SPK-8011, for which it released preliminary data from a phase 1/2 dose-escalation clinical trial. This data showed that the small number of patients were producing their own Factor VIII, thanks to the gene therapy. There were also no signs of an immune response against the therapy, one of the biggest potential problems of such treatment.
Meanwhile Spark is working with Pfizer on SPK-9001 for haemophilia B, which gained its own FDA Breakthrough Therapy Designation in 2016.
Don't miss your daily pharmaphorum news.
SUBSCRIBE free here.