Biogen looks beyond Spinraza in SMA with Ionis deal
News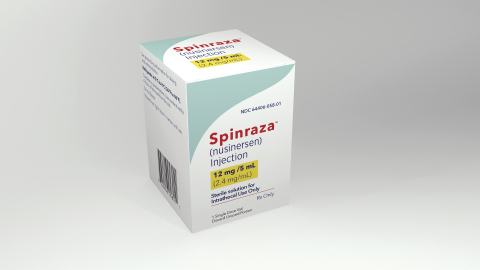 Spinal muscular atrophy (SMA) therapy Spinraza has been a key earner for Biogen in recent years, but with sales now heading into reverse, the company is looking to extend its franchise.
Its latest move is a $60 million upfront licensing deal with longstanding partner Ionis to exercise an option on BIIB115 (ION306), a longer-acting antisense drug still in preclinical development. Other financial details aren't being disclosed, but include development, regulatory and commercial milestones.
Spinraza – which is also an antisense drug originated by Ionis – had the SMA market to itself for a couple of years after its launch in the US in 2017, growing quickly to reach more than $2 billion in 2019 before Novartis' one-shot gene therapy Zolgensma (onasemnogene abeparvovec) reached the market.
The arrival of Zolgensma was followed by a decline in Spinraza's sales during 2020, particularly in the US. Additional pressure was then placed on the brand when Roche launched its daily oral therapy Evrysdi (risdiplam) towards the end of that year at a discount to Biogen's injectable rival.
Spinraza continued to decline in 2021, making $1.46 billion in the first nine months of the year – a decline of 6% worldwide – with US sales falling nearly a third to $438 million.
Zolgensma made around $1 billion in the same period, although with growth mainly coming from Europe and emerging markets and US sales flat. That suggests Evrysdi is in the ascendency, with sales coming in at around $433 million, two thirds of that total from the US market.
One factor in Evrysdi's favour is its oral dosing, likely to be favoured by children and carers, whereas Spinraza needs to be injected into the spinal fluid every four months after an initial four loading doses over nine weeks.
Zolgensma one-shot treatment meanwhile means it looks set to be the treatment of choice for very young SMA patients.
There's not much information available on BIIB115 yet, but according to Biogen it "may have the potential to help address additional unmet needs of patients as well as to be administered at extended dosing intervals."
The drug stems from an alliance between Ionis and Biogen that dates back almost a decade, and was extended in 2018 for another 10 years with a $1 billion-plus kitty to research antisense drug candidates for dementia, neuromuscular and movement disorders, eye and ear diseases, and neuropsychiatry.
The deal comes as Biogen is facing a host of other problems in addition to the competitive pressure on Spinraza, not least of which is the stalled rollout of Alzheimer's therapy Aduhelm (aducanumab).
The drug was approved in the US last year but facing pushback by payers and clinicians, as well as regulators in Europe and Japan who seem minded not to follow the FDA's lead and approve it.
At the same time, Biogen's biggest selling drug – Tecfidera (dimethyl fumarate) for multiple sclerosis – is now facing generic competition and saw sales fall to less than $1.5 billion in the first three quarters of 2021, down from $3.2 billion in the same period of 2020.