AZ's cancer and respiratory drugs approved in Japan
Two AstraZeneca (AZ) drugs have been approved in Japan – its cancer drug Lynparza and its respiratory drug Fasenra.
The Japanese Ministry of Health, Labour and Welfare approved Lynparza (olaparib) as a maintenance therapy for patients with platinum-sensitive relapsed ovarian cancer, who responded to their last platinum-based chemotherapy.
Approved regardless of patients' BRCA mutation status, Lynparza is the first poly ADP-ribose polymerase (PARP) inhibitor approved in Japan.
Lynparza has been on the market in the US since 2014, where it was also the first PARP inhibitor licensed by the FDA, in ovarian cancer.
However since then competitors have had rival PARP drugs approved – such as Clovis' Rubraca (rucaparib), and Tesaro's Zejula (niraparib).
Last week the FDA backed an expanded use for Lynparza breast cancer patients with the BRCA mutation, becoming the first PARP inhibitor approved outside of ovarian cancer.
The new approvals will help AZ build sales of Lynparza, which, despite its trailblazing status, is still a niche drug, generating revenues of around $81 million in Q3.
Fasenra
And in a separate development the Japanese regulator approved AZ's new respiratory drug Fasenra (benralizumab), as an add-on treatment for bronchial asthma.
An injected drug, Fasenra was developed by AZ's biologics arm MedImmune and is approved for patients who continue to experience asthma exacerbations after high-dose inhaled corticosteroid and other asthma controllers.
The Japanese approval follows US FDA approval in November 2017 and European Commission marketing authorisation in January 2018.
An IL-5 inhibitor drug, Fasenra competes with GlaxoSmithKline's Nucala (mepolizumab), which has been approved in Japan since March 2016 and was first to market in the US and EU.
Teva also has its Cinqair/Cinqaero (reslizumab) IL-5 drug approved in the US and EU.
AZ hopes that a simpler eight-week dosing schedule, after four weeks between the first three doses, will prove more popular than its rivals, which have four-week dosing schedules.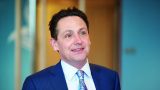 Sean Bohen, chief medical officer at AZ, said: "The approval of Fasenra, our first respiratory biologic medicine, in Japan closely follows the recent US and EU decisions and brings us another step closer to achieving our ambition of transforming care for severe asthma patients around the world."
Don't miss your daily pharmaphorum news.
SUBSCRIBE free here.