AZ's asthma drug Fasenra approved in EU
AstraZeneca has gained approval for its Fasenra asthma drug in Europe, while Vertex's cystic fibrosis drug Orkambi has received an expanded use in children with cystic fibrosis.
AZ said Fasenra (benralizumab) has been approved as an add-on maintenance treatment in adults with severe eosinophilic asthma, inadequately controlled on standard inhaled corticosteroid and long-acting beta-agonist therapy.
Approval sets up a rivalry with GlaxoSmithKline and Teva, which have rival IL-5 drugs Nucala (mepolizumab) and Cinqaero (reslizumab) already approved in Europe and US for severe asthma.
Fasenra works in a very similar manner, binding to the IL-5a receptor on eosinophil cells causing lung inflammation, and attracting natural killer cells to induce programmed cell death.
AZ hopes that a simpler eight-week dosing schedule, after four weeks between the first three doses, will prove more popular than its rivals, which have four-week dosing schedules.
Fasenra is already approved in severe asthma in the US, and is also being developed in chronic obstructive pulmonary disease (COPD), although GSK's Nucala could get approved in COPD first following an FDA filing late last year.
Orkambi
Meanwhile, Vertex's Orkambi (lumacaftor/ivacaftor) has also gained final European Commission approval in children with cystic fibrosis aged 6-11 with two copies of the F508del mutation.
This builds on its existing licence covering patients aged 12 years and above.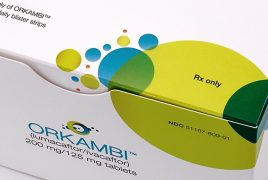 Vertex said that existing reimbursement agreements in countries such as Ireland will enable rapid access to Orkambi in its expanded use.
Around 3,400 children with two copies of the mutation could benefit from treatment with Orkambi, Vertex said.
Vertex will now begin country-by-country discussions over reimbursement – but NICE last year rejected Orkambi in its use in older patients, saying in final guidance that it is too expensive for the NHS.
Vertex had priced Orkambi at £104,000 per year per patient, but even after a confidential price reduction NICE said it was not a cost-effective use of NHS money.
Simon Bedson, international general manager at Vertex, said: "Where these (fast access) agreements are not in place, Vertex is committed to working with local authorities so those who could benefit from this medicine are able to do so as quickly as possible."
Don't miss your daily pharmaphorum news.
SUBSCRIBE free here.