AbbVie to file long-acting psoriasis contender
AbbVie's psoriasis drug risankizumab has posted strong results in its latest phase 3 trial, as the company prepares to file the drug with global regulators.
An interleukin-23 inhibitor, risankizumab is one of a group of new drugs that AbbVie hopes will replace sales as its blockbuster inflammatory disease drug Humira goes off-patent.
Humira (adalimumab) has dominated in the inflammatory diseases including psoriasis and rheumatoid arthritis markets for a decade, and AbbVie needs newer drugs that outperform it and rivals in each indication.
AbbVie bought rights to risankizumab from Boehringer Ingelheim in 2015, and is also testing it in other immunological disorders such as Crohn's disease, psoriatic arthritis and asthma.
Following the latest results AbbVie has its sights on FDA and European filings for risankizumab, although Johnson & Johnson already has an IL-23 blocker, Tremfya (guselkumab) recently approved in psoriasis.
One of risankizumab's biggest advantages is that it is administered just once every 12 weeks – this is a significant advantage to Tremfya, which must be taken every eight weeks.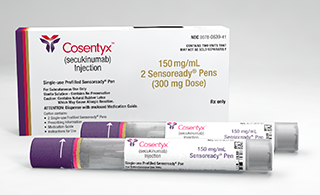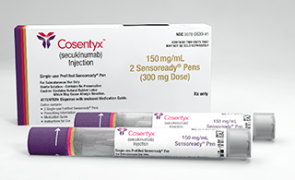 Novartis' Cosentyx is shaping up to be the next market leader in the category, but this must be taken every four weeks. AbbVie hopes that with comparable performance but greater convenience, its drug could take a major share of this hyper-competitive market.
Pricing will of course play a major part once AbbVie's drug hits the market, and the company could aim to undercut its established rivals.
Results from previous phase 3 trials showed riskankizumab outperformed J&J's Stelara (ustekinumab), an IL-12 and IL-23 blocker, and Humira against the PASI 90 and sPGA (0/1) measures in psoriasis.
Latest results from the IMMhance trial showed risankizumab met its co-primary endpoints of at least a 90% improvement in the Psoriasis and Severity Index (PASI 90) and a static Physician Global Assessment (sPGA) score of clear or almost clear versus placebo at week 16.
At week 16, 73% of patients treated with risankizumab achieved PASI90 compared with 2% of patients on placebo. And 84% patients were scored as clear or almost clear compared with 7% of placebo patients.
Nearly half (47%) had completely clear skin (PASI100) compared with 1% of patients on placebo, and 46% of patients had an sPGA of 0(clear) compared with 1% of patients on placebo.
Maintenance phase
The success of the drug in the maintenance setting is also significant. New data could help persuade doctors to keep patients on risankizumab for an extended period as a maintenance therapy to help prevent relapses.
In the second phase of the study (week 28 through week 104), patients originally on risankizumab who achieved sPGA 0/1 at week 28 were re-randomised to risankizumab (maintenance) or placebo (withdrawal).
Beginning at week 32, any patient who experienced a relapse was retreated with risankizumab immediately, four weeks later and every 12 weeks thereafter.
The primary endpoint of the second phase of the study (week 28 through week 104) was sPGA 0/1 at one year.
Among the maintenance group, 87% of patients maintained sPGA 0/1 at one year compared to 61% of patients in the withdrawal group.
Lead investigator Andrew Blauvelt, dermatologist and president of Oregon Medical Research Center, said: "These data indicate that continuous treatment with risankizumab has the potential to deliver better disease improvement for patients over time when compared to withdrawing them from therapy after an initial response."
Safety-wise AbbVie said there were no surprises – although in the second phase one patient on risankizumab died of adenocarcinoma and hepatic cancer
A second died of unknown cause adjudicated as a major adverse cardiovascular event and there were two additional MACE cases when data was locked later in the study.
One event occurred in the placebo arm in the first phase of the study and the other occurred in the risankizumab arm in the second phase. All three patients had a past history of cardiovascular risk factors.
Don't miss your daily pharmaphorum news.
SUBSCRIBE free here.