Shifting HCP access calls for new field tactics globally
Market Access
Even before COVID-19 pushed access to an all-time low of roughly 20%, access has been declining for more than a decade. Post-pandemic, many think it remains lower. Yet, analysis of 600 million annual healthcare professional (HCP)-rep interactions globally shows HCP access is back - but in a different way. 
Globally, HCP access climbed to 60%. Europe mirrored this trend with access returning at a higher rate than expected, averaging 52% across specialties. Engagement is also more virtual. Of accessible HCPs in Europe, almost one-third now prefer to meet through a mix of video and in-person channels.
But access is not the same for everyone. HCPs are more selective about which companies they engage with. On average, 65% of accessible HCPs in Europe limit meetings to three or fewer organisations. The UK, on the other hand, tells a different story - nearly all accessible HCPs are meeting only one or two companies.
With access changing across Europe and HCPs in the UK more selective of their time with reps, UK field teams need to evaluate whether their targeting strategy and channel mix are achieving the right reach. Latest findings from the Veeva Pulse Field Trends Report show that the most successful companies optimise digital channels to increase reach and deliver relevant, impactful content that maximises the quality of each engagement.
UK HCP access is lower and more selective
While European HCP access is returning higher than expected, the UK shows a slower pendulum shift. The UK saw 24% of available HCPs engaged between April and September 2022: the lowest access across key European markets. Nearly all of these HCPs (94%) also limit meetings to fewer than three companies.
Yet, there is significant variation in access and channel usage by specialty. The specialties with the lowest access are psychiatry, urology, and neurology. In contrast, the highest access levels are in dermatology, diabetes, and oncology — with roughly half of dermatologists engaging via a mix of in-person and video, compared to in-person alone.

Figure 1: UK HCP Access by specialty and channel
The UK also sees vastly different engagement preferences compared to other European countries. For instance, reps in France and the UK record near-identical weekly channel activity of 22 and 21 engagements, respectively. Yet, reps in France are more than twice as likely to rely on in-person meetings than their counterparts in the UK.
Regulatory differences and cultural factors play a role in these varied channel mixes. In the UK, biopharma reps are restricted to three solicited meetings with the same rep each year, yet there is no limit if an HCP reaches out to a rep. To fill this gap, UK field teams rely on email and video. In fact, video usage for UK reps is higher than elsewhere in Europe, averaging three weekly meetings per user. 
Video bridges the access gap in the UK
This highly varied access and channel usage reveals that incorporating video as part of the engagement mix is important to extend reach and virtual engagements. Throughout Europe, HCPs using both video and in-person meet with reps roughly 35% more per month than compared to in-person alone. 
In the UK, seven in ten accessible HCPs use this channel. In the case of psychiatry, which holds the lowest levels of access compared to other specialties, nearly all HCPs prefer to engage through a blend of in-person and video meetings. Despite more limited and selective access, the shift to hybrid preferences underscores the impact digital continues to have on HCP relationships. Video also drives three times greater promotional response when added between in-person meetings and increases in-person meeting frequency. This channel efficiently combines time with the customer and the use of content for the greatest impact, resulting in high-quality HCP interactions.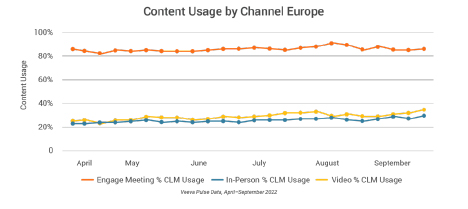 Figure 2: Content usage by channel, Europe
For instance, Europe saw the most dramatic increase in content utilisation globally. Content usage in video meetings increased by 10%, while in-person content usage increased by 7%. While UK field teams are already global leaders in the use of video, content usage during video calls is still low, at roughly 16% of interactions. Behavioural changes take time, which is why there is still room to enhance video and content use in the overall channel mix.
Field teams in the UK need to understand whether HCPs are truly inaccessible or if they restrict access to a select few companies. In doing so, organisations can effectively tailor their field force strategy and channel mix to reach HCPs when and how they want. Companies that do not plan to adapt their processes and rep training strategies risk being left behind.
UK remains a leader in digital engagement
In access restricted environments, digital engagement plays a critical role in expanding reach and delivering HCPs information when and how they want. UK field teams, for example, are more likely to use channels like email, video, and phone than their European counterparts. 
Across Europe, email is a strong secondary channel compared to other regions, 27% versus 15% globally. This trend is mirrored in the UK, where email and video account for more than half of the overall channel mix (43% and 13%, respectively) compared to Europe, where in-person takes the highest share (64%). 

Figure 3: Channel mix UK
The volume of delivered email also remains high in Europe across the last quarter, at above 700,000 weekly. Better average open rates relative to other regions (45% open rate vs. 33% in the US) suggest that these interactions are high quality. Especially in the UK, the average email open rate is 30%, reflecting the popularity of email and its role as a key connector in omnichannel strategies.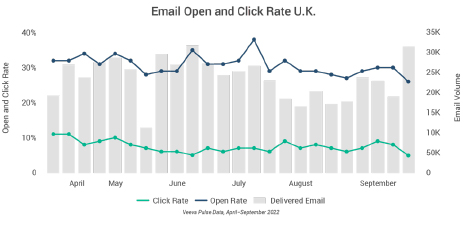 Figure 4: Email open and click rate UK
The UK's continued growth in digital engagement shows that in-person meetings are no longer the sole indicator of HCP access. Those that make investments in omnichannel capabilities like video, email, and digital content will continue to yield results and can be a powerful differentiator in combination with in-person tactics. This approach ultimately elevates the HCP-rep relationship, creating more cross-channel engagements that drive better sales outcomes.
Striking the right balance
Those securing time in HCPs' diaries partner in-person with video and digital content to more effectively land key messages and broaden their reach — even when met with a smaller field force size. This suggests that the 'more boots on the ground' approach is not the sole solution to improving reach. Moving forward, companies need to be thoughtful about how they're adding value to the conversation and which channels customers prefer. Then, once they have access, use the right resources and means to strengthen that relationship — ultimately, opening the door even wider.
As access widens in the coming months, it will become clear which regions are meeting the right balance of in-person and digital channels. Benchmarking performance to peers in different countries and leveraging data-driven insights can help uncover efficiency gaps across teams and broaden channel strategies to better connect with HCPs. 
About the author

Aaron Bean leads Veeva's European Business Consulting team responsible for helping life sciences companies leverage technology and data for digital transformation that can improve customer experiences to deliver better patient outcomes.