Row over CF drug funding as NHS rejects Vertex offer
A deal covering new cystic fibrosis drugs is unlikely to happen unless the manufacturer Vertex agrees to drop its prices, NHS England has indicated.
Vertex is seeking a deal to fund national access in England to its cystic fibrosis (CF) drug, Orkambi (lumacaftor+ivacaftor),  a combination which extends the number of CF whose underlying disease can be treated.
Over the last 12 months NHS England has taken a lead role in negotiating directly with pharma companies, and has created a dedicated Commercial Medicines Unit for the task.  Faced with static NHS budgets and growing budget pressure, it is taking a harder line on prices, but also says it is willing to negotiate deals based on outcomes.
However no such deal has been struck on this occasion. In fact CF campaigners have reacted angrily to this NHS England rejection, and Vertex is critical of how the budget holder has conducted the discussion, saying NHS England has only communicated via email.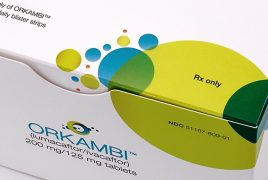 MPs are set to debate availability of cystic fibrosis drugs in Parliament later today, after a petition calling for them to be funded by the NHS attracted more than the 100,00 signatures.
But for now NHS England has said it is not interested in a deal covering cystic fibrosis drugs, despite the growing pressure from campaigners.
Vertex is keen to get its CF drugs funded in England and the wider UK because of the high number of patients with the disease here.
With 10,000 patients affected, the UK has the second highest number of CF patients in the world and as such would be an important and valuable market for Vertex.
The manufacturer is seeking a deal that would cover Orkambi and any other future CF drugs that it develops as part of a "portfolio approach".
This was sparked by NICE's decision to reject Orkambi in 2016, which was too expensive for NICE despite discounts and greater flexibility in funding for rare disease drugs.
Although the negotiations over pricing are confidential, campaigners united under the hashtag #ukneedsorkambi are speculating that NHS England wants Vertex to expand the number of patients receiving treatment from 400, to almost 4,000 but without receiving any extra funding.
Pharmaphorum quizzed NHS England on the details of the negotiations, and a spokesperson responded with a short statement.
The spokesperson said: "The NHS can only offer treatments which are both effective for patients and offer good value for taxpayers, so it's crucial that drugs companies work with the NHS to get a positive outcome."
"Following advice from NICE, the NHS has asked this particular drug company to review its proposed pricing, and unless this happens further progress at this time is frankly unlikely."
A Vertex spokesperson said the company is "astonished and dismayed" with NHS England's response.
"It amounts to a refusal to make any additional funding available for Orkambi or future medicines," a company spokesperson said.
"Cystic fibrosis (CF) is a devastating disease where half of people die by the time they are age 31. The situation with CF in the UK is unique and needs a unique solution – this is what our portfolio approach that we proposed in February offers."
"Negotiations over email are rarely productive and CF patients do not have time to waste. We call on all parties to come to the table to engage in meaningful dialogue about a way forward – on behalf of CF patients."
Don't miss your daily pharmaphorum news.
SUBSCRIBE free here.