SMi's 5th Annual Biosimilars USA Conference
Events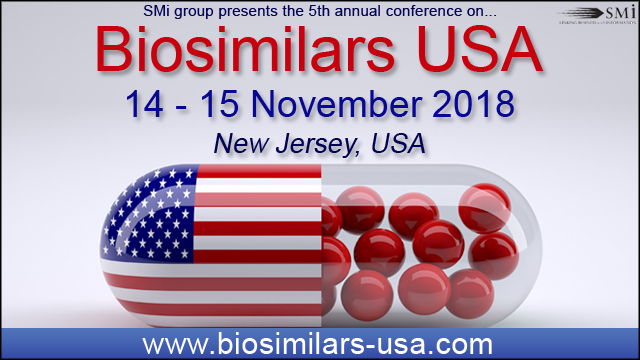 Building on the success of previous events, SMi proudly announces the return of its 5th Annual Biosimilars USA Conference, taking place in New Jersey on the 14th and 15th November 2018.
This fifth annual event will gather a global audience of biosimilar experts and industry-thought leaders to discuss biosimilar manufacturing and commercialization considerations specific to the U.S.
Fresh from the press: On March 7th, 2018, the U.S.-FDA's Commissioner, Scott Gottlieb, MD, announced that Biosimilar medicines are now a top priority for the FDA. Join us this November to learn how to take advantage of the FDA's focus on biosimilars, accelerate your biosimilar pipeline and achieve FDA approval.
Hear from a selection of carefully handpicked keynote addresses and case studies presented to you by top manufacturing and leading distributors of market approved biosimilars, as they offer a unique insight into the areas of manufacturing, commercialization, device design, uptake, switching, interchangeability, and regulations.
This event is CPD accredited. #SMiBioSimUSA
PLUS TWO INTERACTIVE HALF-DAY PRE-CONFERENCE WORKSHOPS
Tuesday 25th September 2018, Copthorne Tara Hotel, Central London, UK
08.30 - 12.30 Workshop A: Decoding how Stakeholders may Drive Biosimilar Adoption
Workshop Leaders: Tucker Herbert, Manager, ZS Associates
Christina Corridon, Associate Principal, ZS Associates
13.30 - 17.00 Workshop B: Dealing with Life Sciences Patents at the PTAB
Workshop Leaders: Ha Kung Wong, Partner, New York, Fitzpatrick, Cella, Harpper & Scinto
John Kirkland, Director, Intellectual Property, Alkermes, Inc.
WHO SHOULD ATTEND
Medical Directors, Scientific Directors, VP's, Directors, Managers, Team Leaders, Partners, Consultants and Attorneys of: Biosimilars, Biobetters, Biopharmaceuticals, Biostatistics, Business Alliances, Business Development, Clinical Operations, Commercial, Decision Analytics, Global Intelligence, Global Operations, Managed Markets and Trade Relations, Market assess, Marketing, Patient & Physician Services, R&D Policy, Regulatory Affairs, Scientific Affairs, and anyone else who works within the biosimilars industry!
EARLY BIRD-RATES
SUMMER SPECIAL BOOK BY AUGUST 31ST AND SAVE US$200 - please use voucher code BIOUSA200OFF
BOOK BY SEPTEMBER 28TH AND SAVE US$100
To download the conference brochure and to register your place - please visit www.biosimilars-usa.com/pharmaphorum