SMi Presents their 4th Annual Pre-Filled Syringes West Coast Conference 2019
Events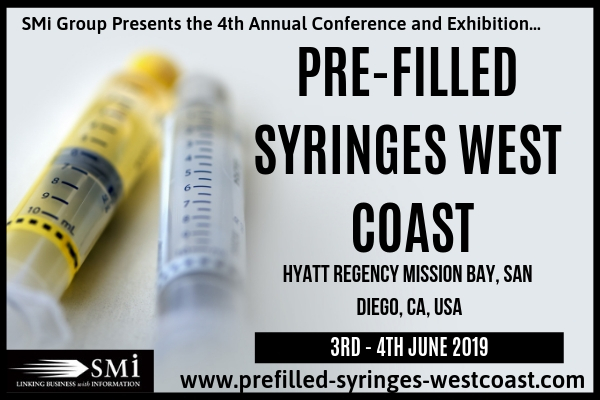 About Pre-Filled Syringes West Coast
SMi is delighted to announce its 4th annual Pre-Filled Syringes West Coast conference coming to San Diego, USA on the 3rd and 4th June 2019.
The competitive PFS market has sparked great improvements as devices strive for higher quality, safety, and patient satisfaction. Pre-Filled Syringes West Coast is the perfect platform to strengthen knowledge in key principles such as human factors and patient centricity, connectivity and digital health, container closure integrity, the therapeutic opportunities of pre-filled, and manufacturing in the landscape of complex biologics, whilst honing in on emerging trends for parenteral devices.
The two-day conference will gather a global audience of medical device experts and PFS industry leaders to discuss new developments and showcase the latest and advancements, keeping you at the forefront of a booming industry.
Attend this conference and join our networking platform for industry professionals to provide you with the expertise to overcome the challenges of the PFS industry.
Join us in San Diego to:
Obtain insights into the new FDA draft guidance on human factors submissions, and the European Medical Device Regulation (EU MDR)
Discover key innovations in digital health and how it can benefit pre-filled syringes
Understand how silicon is being used to enhance formulation
Explore the latest case studies in therapeutic opportunities
Highlight the emerging trends of connected health and the future of drug delivery device designs
Cutting edge industry insight on manufacturing processes and techniques
View the full agenda: www.prefilled-syringes-westcoast.com/pharmapwl
Plus, one interactive half-day post workshop – The Secrets to uncovering and addressing design flaws before usability testing - 5th June 2019
Early-Bird Rates
BOOK BY 28TH FEBRUARY AND SAVE $400
BOOK BY 29TH MARCH AND SAVE $200
BOOK BY 30TH APRIL AND SAVE £100
Social Media Handles
SMi Pharma @SMiPharm
Additional Contact Info:
Jinna Sidhu
T: +44 (0) 20 7827 6088