SMi Presents the 13th Annual Conference: Parallel Trade 2019
Events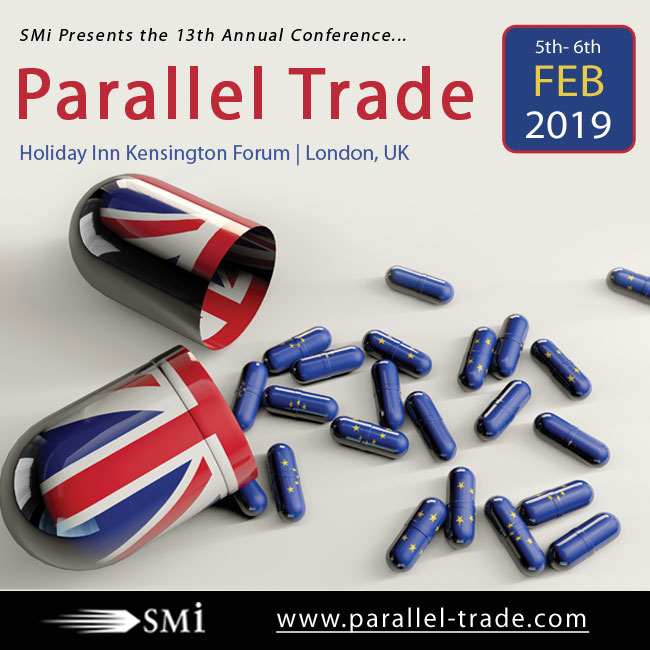 SMi presents its 13th annual Parallel Trade conference, taking place in London on the 5th-6th of February 2019. As the only parallel trade conference in Europe, this event provides the perfect platform for industry experts from both sides of the coin to come together and share perspectives on the practice of parallel trade.
The 2019 event is particularly valuable since Brexit and the news of the UK officially leaving the EU on the 29th of March 2019. As such, the UK will no longer be part of the EU free market; hence, having a significant impact on parallel trade.
Furthermore, the FMD (Falsified Medicines Directive) will be coming into effect in February 2019. This conference will give companies affected the perfect opportunity to discuss and consider the impact that the FMD implementation will have on their practices and on the market.
The benefits of attending:
This conference is a must-attend show for anyone involved in the parallel trade industry within pharmaceuticals and life sciences. Attending the show gives you the chance to interact with and discuss common issues with leaders involved in all the areas of the parallel trade industry. Furthermore, this provides core information to further strengthen your industry knowledge and approaches.
Partake in a platform discussion inclusive of all different facets of parallel trade in order to analyse the overall state of the market
Learn about the effects and impact of the impending FMD deadline to your company practices
Collaborate and explore ideas of how Brexit will impact the EU market and affect parallel trade practices overall
Discover issues surrounding competition laws and how this affects your business practices
Chair for 2019:
Heinz Kobelt, Director European Affairs, European Association of Euro-Pharmaceutical Companies 
Featured Speakers:
Antonio Mendonca Alves, CEO, MD Pharma SA
Christopher Stothers, Partner, Freshfields Bruckhaus Deringer LLP
Eric Noehrenberg, Director Market Access, Edwards Life Sciences
Fabrizio Gianfrate, Professor of Health Economics, University of Ferrara and Rome
Felipe A. Florez-Arango, CFO, Allergan
Flemming Wagner, CEO, ABACUS MEDICINE A/S
Heinz Kobelt, Director European Affairs, European Association of Euro-Pharmaceutical Companies
John Lisman, Attorney, Consultant, Trainer, Lisman Legal Life sciences B.V.
Kasper Ernest, Secretary General, European Association of Euro-Pharmaceutical Companies
Maarten Van Baelen, Market Access Director, Medicines for Europe
Martin Slegl, Regional Principal of East Europe, IQVIA
Mike Isles, Executive Director, European Alliance for Access to Safe Medicines
Miranda Cole, Partner, Covington & Burling
Nerea Blanque, Senior Global Market Access and Pricing Manager, Almirall
Shabnam Hanassab, Engagement Manager, IQVIA
Sigve Sivertsen, Head of Parallel Trade, Apotek
Tushar Patel, Principal Consultant, Key Pharma
EARLY-BIRD RATES:
BOOK BY 31 OCTOBER AND SAVE £400
BOOK BY 30 NOVEMBER AND SAVE £200
BOOK BY 14 DECEMBER AND SAVE £100
Additional Contact Info:
T: +44 (0)20 7827 6088
LinkedIn: @SMi Pharma
Twitter: @SMiPharm #SMi