Cell & Gene Therapy 2018
Events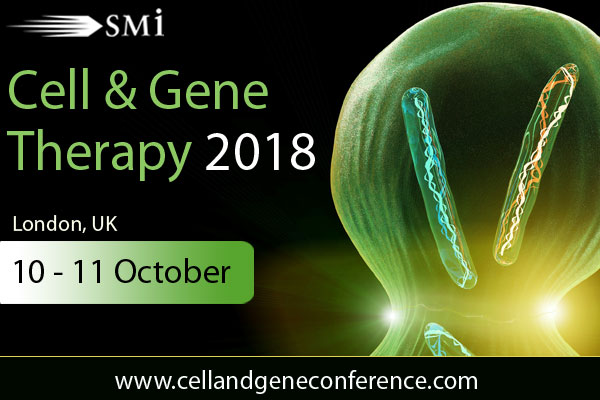 About Cell & Gene Therapy
SMi introduces their inaugural event on Cell & Gene Therapy which takes place between the 10th and 11th October 2018, with an interactive pre-conference workshop on the 9th October.
Cell and gene therapeutics have revolutionised modern medicine and have marked a new generation in biomedical and agricultural sciences. The latest developments in cell and gene therapies and specifically in gene editing, is that the technologies present unlimited research opportunities ranging from novel therapeutic tools to a potential revolution in the field of drug discovery.
This year's event will be led by scientists and clinicians researching, developing and testing new treatments for genetically inherited and acquired diseases, using gene delivery technology, stem cell manipulation and DNA repair techniques. The conference will cover all aspects of the subject, including biomedical science principles, molecular basis of disease, current and developing technologies and clinical applications.
The conference will be inviting speakers from global pharmaceutical organisations, leading biotech companies and internationally renowned academic institutions. Expect over 16 presentations and case studies focused on the key aspects of GMP, bioprocessing, regulatory frameworks and new therapeutic developments in in the field of cell and gene.
Hear from our expert speaker panel, bringing you interesting case studies and detailed presentations on new and industry relevant topics, including:
Cell Therapy Research
Manufacturing Innovation
Global Medical Affairs
Regulatory Updates
GMP and Quality Control
Cell and Tissue Therapies (CART therapies, stem cells, cord blood, preclinical and clinical developments)
Regenerative Medicine
Advanced Therapy Production
Gene Therapy Development
Clinical Platform Development
Manufacturing
R&D of Cell and Gene Therapies
CHAIR FOR 2018:
Pamela Tranter, Head of Translational Research Group, UCL
KEY SPEAKERS INCLUDE:
Janet Glassford, Senior Quality Assessor (Biologicals), MHRA
Giuseppe Ronzitti, Cell and Gene Therapy Specialist, Genethon
Kei Kishimoto, Chief Scientific Officer, Selecta Biosciences
Shailesh Gupta, Senior Scientist, AstraZeneca
Peggy Sotiropoulou, R&D Manager, Research and Development, Celyad
Julie Kerby, Head of Manufacturing Development, Cell and Gene Therapy Catapult
Lior Raviv, Vice President, Development, Pluristem
Diego Aridgo, R&D Rare Disease Unit Head, Chiesi
Mehdi Gasmi, Chief Science and Technology Officer, Adverum Biotech
Emanuela Cuomo, Associate Director, Discovery Sciences, Cellular Biology Team, AstraZeneca
Yen Choo, Founder and Executive Chairman, Plasticell
Ian McKay, Innovation Lead Advanced Therapies, Innovate UK
2018 FEATURED HIGHLIGHTS:
Discuss the challenges of accessing patients with commercial ATMPs
Understand the advantages of a risk-based approach to cell and gene therapy manufacturing
Hear the MHRA's perspective of UK and EU regulatory affairs regarding ATMPs
Explore the unique applications of the CRISPR/Cas9 system for drug development at AstraZeneca
Gain insight into GMP Manufacture of plasmid DNA at the NHSBT
View the full agenda online: www.cellandgeneconference.com
EARLY-BIRD RATES:
REGISTER BY 31ST MAY AND SAVE £400
REGISTER BY 29TH JUNE AND SAVE £300
REGISTER BY 31ST AUGUST AND SAVE £200
Keywords
Cell, gene, therapy, therapies, gene editing, atmps, stem cell, malignancies, immunogenicity, immune-oncology, immuno, oncology, advanced therapy medicinal products, dna, dna repair, drug discovery, biomedical, gmp, bioprocessing, biotechnology, biotech, pharma, pharmaceutical, life science, tissue therapies, r&d, NHSBT