4th Treg Directed Therapies Summit 2022
Events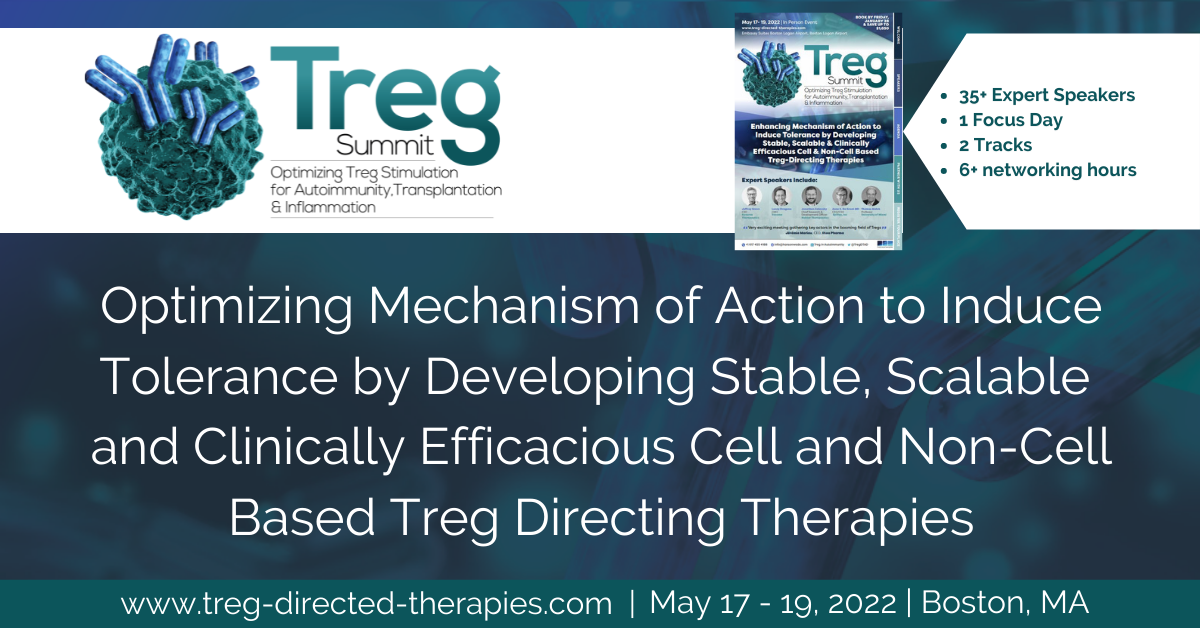 Turbocharge the Development of Best-In-Class Treg-Directed Therapies, Maximising Stability and Function to Deliver Safe, Scalable and Efficacious Therapies Globally
As Biopharma turn their focus to autoimmune drug development, there has been an explosion of interest and investment into Treg directed therapies. Promising proof-of-concept data and early clinical read outs have fueled further hype, and the industry now looks to demonstrate efficacy.
The 4th Treg Directed Therapies Summit returns to Boston this May, bigger and better than ever before, boasting 2 tracks of unparalleled content to cater to cell-based, and non-cell-based experts alike. This is the only industry-focused meeting designed to bridge the gap between early discovery through clinical development of cell-based and non-cell-based Treg directed therapies to provide efficacious treatments for patients globally.
With 3 days of unrivalled content spanning the fundamental biology of Tregs, optimising early drug development, and streamlining clinical development, join with your team to:
Optimise stable expansion of Tregs to maintain function to elicit durable responses
Decode Treg interactions to optimise the mechanism of actions and inform biomarker development
Rationalize activation, formulation & delivery strategy to induce antigen-specific tolerance  
Supercharge CMC strategy to drive the modulation of antigen-specific responses to yield maximum clinical efficacy
200+ senior-level drug developers will be uniting in May to chase the holy grail of Treg-directed therapies. Don't miss your chance to network with the avant-garde to inform your Treg pipeline and capitalise on the shared knowledge of this collaborative community.
Download the full event guide for the speaker faculty and session details.
Early Bird & Team Discounts available – Secure your place today