13th World ADC London 2023
Events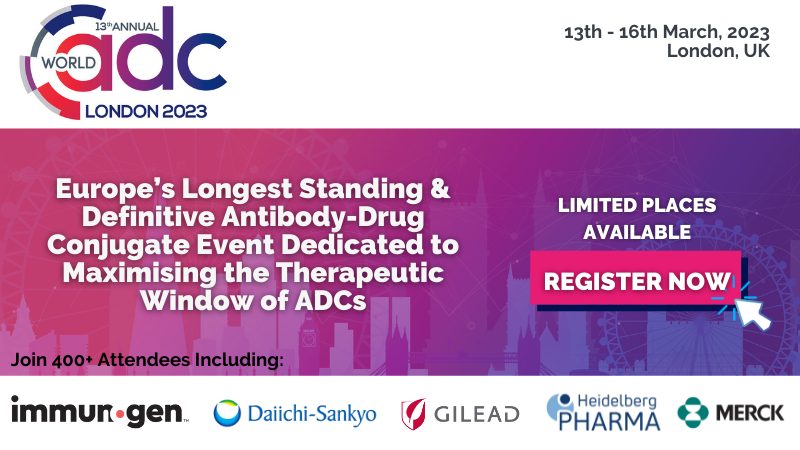 With over 211 antibody-drug conjugate clinical trials breaking ground so far throughout 2022, a plethora of positive clinical results, expansion of antibody-drug conjugates to novel indications, an exponential increase in investments and collaborations, and the industry-changing approval of ImmunoGen's ELAHERE just this week, there has been no more important time to invest in progressing your ADCs and unite the community.
The final agenda has been revealed for the highly anticipated 13th World ADC London, Europe's only discussion and networking forum dedicated to addressing and overcoming the challenges in end-to-end ADC development.
Download the event guide here to view the full programme with 80+ industry-leading speakers.
There is something for everyone included in next year's agenda. Take a glance at some of your must-attend talks per track:
Discovery: Join Jarrod Longer, Chief Operating Officer, Cellectar as he addresses challenges in delivering oligonucleotides to cancer cells
Translational: Discuss, debate and outline what makes a good companion diagnostic within ADC translational studies with Juergen Scheuenpflug, Global Head, Clinical Biomarkers, Companion Diagnostics, Merck
Clinical Lessons: Be the first to hear industry-changing clinical results from Exelixis, Oxford Biotherapeutics, Daiichi Sankyo, Shanghai Miracogen, ImmunoGen, and Elucidia Oncology
Process and Analytical Development: Join Byondis as they discuss analytically supporting clone selection and re-purposing existing analytical tools for ADCs
Manufacturing and Supply Chain: Outline the concept of drug product manufacturing process characterisation with Mostafa Nakach, Global Head of Process Engineering at Sanofi
Get special access to the full agenda here including a 4-tracked seminar day and 12 industry-beating workshops.
Don't miss out on the chance to reunite with the antibody-drug conjugate community, while reflecting on the exciting year that ADCs have had and building momentum for the future of this innovative field.
Secure your pass here.