An introduction to case report forms
Digital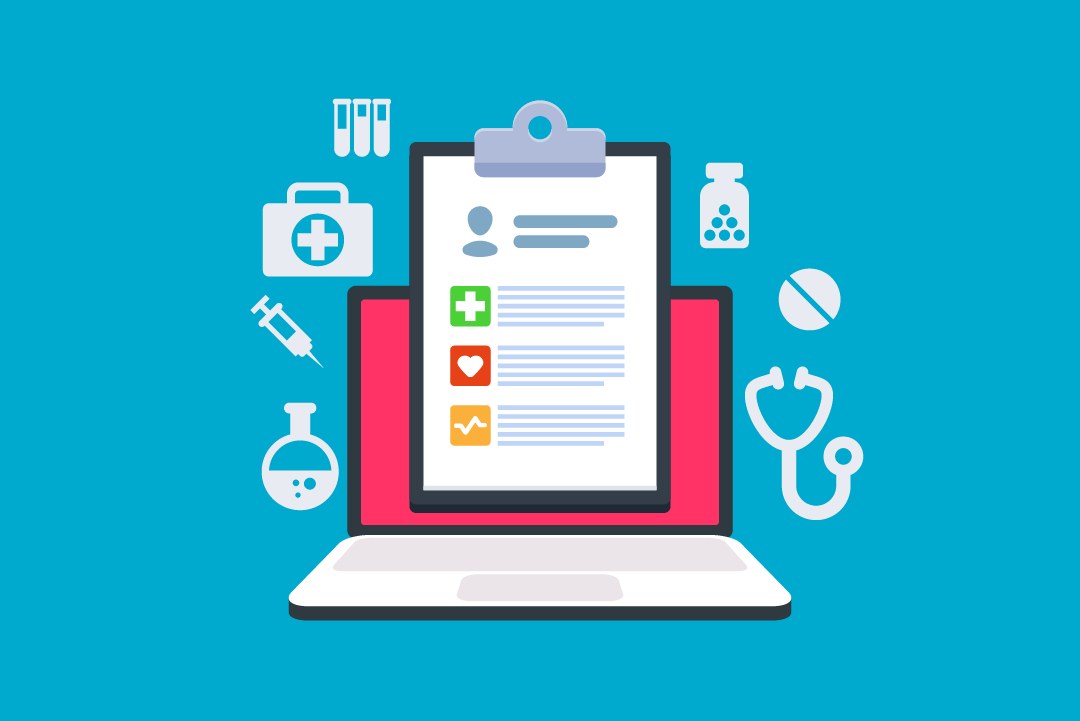 Different types of CRFs
A Case Report Form (CRF) is a printed, optical, or electronic document designed to record all information required to be reported to the sponsor on each trial subject. CRFs play a crucial role in helping to assess the safety and efficacy of clinical products.
An electronic CRF (eCRF) is an electronic version of the traditional CRF stored in cloud-based systems such as clinical metadata repositories (CMDR) or Electronic Data Capture (EDC) systems. 
An annotated CRF is a blank CRF with annotations that document the location of the data with the corresponding names of the datasets, and the names of those variables included in the submitted datasets. Annotated CRFs are part of the mandatory CDISC submission deliverables to the U.S. Food and Drug Administration (FDA). The FDA guidelines state: "each CRF should provide the variable names and coding for each CRF item included in the data tabulation datasets".
For a study to be successful, collected data must be correct and complete. Therefore, forms must be meticulously planned. They should comply with the study protocol, and also record its detail. They must also comply with regulatory requirements, such as those defined by the FDA.
Improvements in technology in the past 20 years have encouraged a shift towards using eCRFs in cloud-based systems. While a lot of organizations have embraced this shift and seen the benefits, many are reluctant to change.
Traditional CRFs vs eCRFs
Moving to a cloud-based system involves significant change and can create uncertainty and risk. Organizations are under pressure to get studies live and to meet the first patient in (FPI), so change isn't always welcomed.
There are also some misconceptions around switching to a cloud-based system, which have added to the resistance. 
We've analyzed three common misconceptions below.
Belief 1: It's more cost effective to use traditional CRFs.
"There's a low clinical study start-up cost and no monthly license fees to pay. A lot of training is needed to be able to switch to cloud-based systems and use eCRFs."
Fact: It actually costs more to continue using text documents or spreadsheets, rather than switching to a clinical MDR. Why? Because time means cost. Traditional CRFs need to be created manually each time. There's also a higher likelihood of data errors with traditional CRFs because formats can't be enforced and collected data must be manually entered into a computer. Generally, only small companies running small studies find traditional CRFs to be cost effective. In comparison, standardized eCRFs can be reused, which creates efficiencies; they've already been reviewed and approved by stakeholders, and you know that they capture clear and valid data. Also, there's no requirement for manual annotations on each form. 
Belief 2: Data stored on text documents or spreadsheets is safer.
"Using a secure centralized location, like a vault, keeps data safe."
Fact: Content in text documents can get corrupted or unintentionally altered by users. Locating the latest version of a CRF that has been approved by all stakeholders can be tricky. On the other hand, EDCs use encryption to secure data both in transit and when stored, in addition to off-site encrypted backups. With EDCs, access is restricted and there's a full audit trail.

Belief 3: Switching to eCRFs and EDCs requires a lot of software training.
"Training takes up a lot of time. We already have tight deadlines and as a result, are under pressure."
Fact: There's less training required than you think. Using a cloud-based system that automates the process of creating eCRFs saves lots of time. Some training is required to get started, but the time saved in the long term makes it far more efficient. Using a cloud-based system like ryze means you'll have access to help and support from our professional services team, CDISC training and a dedicated account manager. 
Designing an effective CRF
A good CRF design is essential to a successful submission to the FDA.

Well-designed forms must:
Gather data that is complete, accurate, and high quality

Ask clear questions

Include consistent headings

Provide clear guidance using instructions and visual clues, such as date format, and the number of decimal places

Specify units of measurement 

Use consistent formats, fonts and sizes

Avoid duplication

Be well structured and easy to complete

Be unambiguous and allow for accurate data entry, for example, use coded lists to restrict answers and avoid open-ended questions or free-text responses

Group related questions together

Avoid gathering more data than what's needed

For paper CRFs, include page numbering. Avoid circling answers, and make it clear which questions are mandatory

Be consistent, uncluttered, simple, and user friendly. 
 Here's an example of a form that is well designed: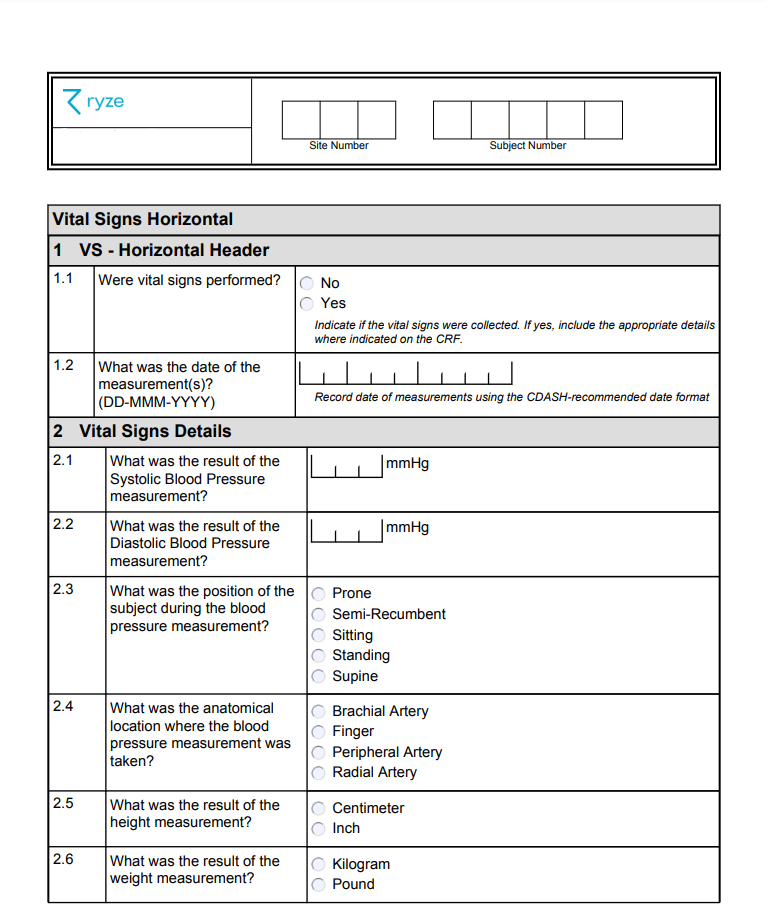 ✔ Clear guidance is given
✔ Questions are grouped logically
✔ Use of controlled terminologies helps prevent unnecessary queries
✔ Terminology complies with the National Cancer Institute (NCI) standards for easier mapping
✔ Permitted units of measurement are provided 
Common CRF design challenges
Common design challenges include:
Creating consistent forms

Collecting precise data

Creating user-friendly forms.
To overcome these challenges:
Do proper planning early on. Include data management, biostatisticians, and clinicians in this process.

Define clear objectives and stick to them.

Maintain standardized forms.

Get user feedback at the design and maintenance stage.

Apply best practices.

Provide form completion guidelines to reduce data capture and data entry issues. 
The good news is that we can help!
Our clinical trial automation software ryze lets you create forms from scratch, or upload your existing forms and store them in our clinical metadata repository. 
If you want to see the ryze platform in action, you can book an online customized demo, or enquire about a free trial. 
If you just want to find out more, or tell us about your challenges and requirements, set up a call or contact us.