Healthcare communication and how it's changing
Digital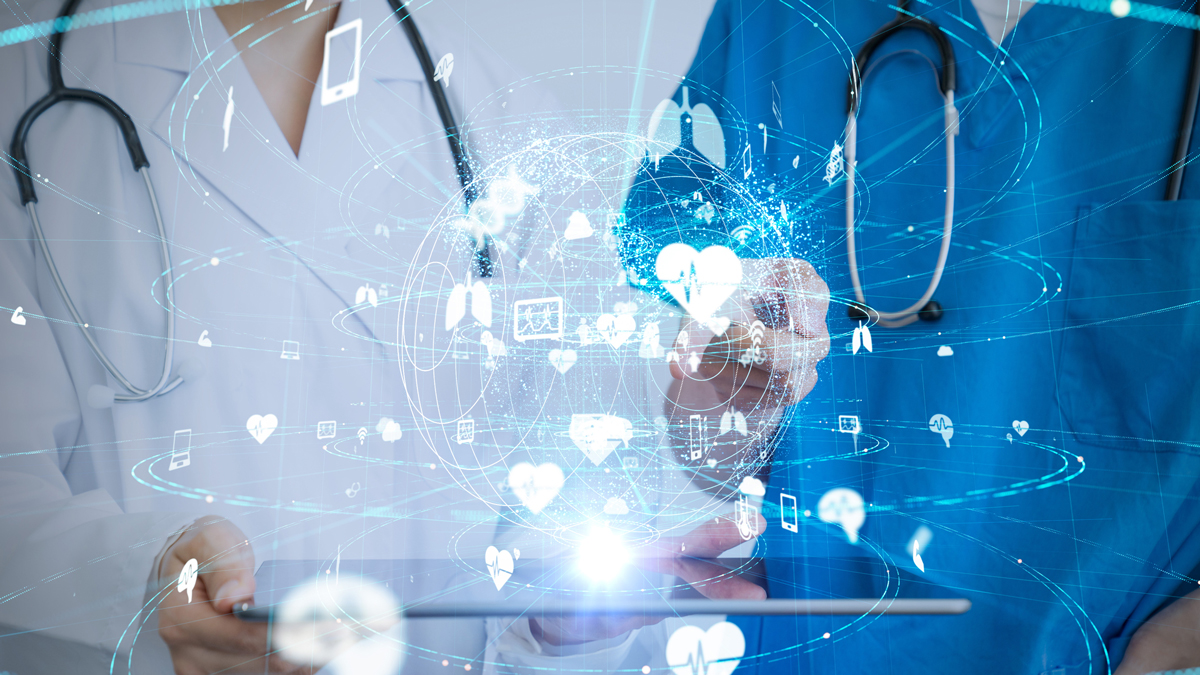 Engaging, strategic, customer-centric communication is important in any industry, and no industry has been unaffected by the changing world of digital communication. But healthcare communicators have an extra layer of challenges as the conveyors of serious, important information that can also have a high degree of scientific complexity.
"Healthcare can be incredibly complex. The ecosystem is complex, the data and the science can be complex, but our communications have to be the opposite," Amy Hutnik, EVERSANA's general manager, professional services, said in a recent pharmaphorum webinar. "They have to simplify and illustrate and streamline that complexity into understandable content for decision-making that really matters."
Hutnik was joined earlier this month on a webinar with Florent Edouard, global head of commercial excellence at Grünenthal Group and Mark Mulder, EVERSANA's vice president of commercial, Europe. In a panel discussion moderated by pharmaphorum editor in chief Jonah Comstock, they discussed the current state of healthcare communications, laid out the ingredients of good communication, and shared some success stories and advice for healthcare communicators in the pharma space.
Fundamentally, the aims of healthcare communication haven't changed, panellists said.
"For me, on top of the patient focus, it's about creating connectivity — bringing your science, data, brand, company at the right moment in the right channel with the right insights to your audience," Mark Mulder states.
But elements of that formula, like the available channels and the nature of the audience, have very much changed.
"Over the past 10 years we've seen an explosion in both the array of channels that are at our disposal to have good conversations with stakeholders and our fluency in using those channels in a way that's truly organic to our information-seekers and customers," Hutnik said. "We're able to assess all of those channels and have the data to know our audience so much better, to really understand where they are on their own journey and meet them there. So not just to shout as loud as we can and hope they're in earshot, but to be very purposeful in the ways that we connect with our audiences."
That audience is more tech-savvy and has higher expectations for digital communication.
"The first Gen Z HCPs are reaching the practice. And those doctors have been born with TikTok on the mind and they will not go with the communication from the previous millennium. So that's a big change," said Edouard. "They are also more relying on the network of peers than any authority. That's a generational thing: they tend to trust the people they can talk to more than the ones they can just listen to. And I think that's changing a lot the way that we do communication."
And digital communication has given patients, for example rare disease patients, the ability to form networks and communities on a larger and more visible scale than they could previously.
"That's a brand-new channel that wasn't there 10 years ago. The audience was there, but we didn't have this channel to access it," Hutnik said. "Now we're able to see and find communities and, probably more importantly, use the technology, use AI to detect patterns in those communities and see how information moves through them."
Pharma has always been aware of the power of the right individual to shape their community. That notion has changed forms a bit over the years though – from the key opinion leader or KOL to the digital influencer.
Panellists were bullish on the role of physician influencers, in both the digital and physical worlds, but Edouard feels the patient influencer isn't a strong value proposition yet.
"Personally, we don't go there," Edouard said. "Because influencers sometimes influence only themselves. When you look at the cost of using an influencer, those guys are paid more than you and I. And what you get in return is zip, nothing. They have a lot of followers, but those followers drown in millions of people they are following and your personal campaign is going to go nowhere."
What good digital communication looks like
To thrive in this new world, healthcare communicators need to carefully consider their best practices. Edouard mentioned three traits important to good communication: the information needs to be relevant, easy to access, and bi-directional.
"When in the 90s/2000s, we were sending armies of reps with iPads or whatever showing stuff to customers literally in their face, no one cared about two-way communication," Edouard said. "But that's what makes the difference between a successful and a non-successful company. If it's two-way, you know what your customer wants, you know what they think about what you proposed, and therefore you can tailor your offering to them."
Hutnik pointed out that sometimes good communication doesn't maximise digital bells and whistles; it can also be about restraint.
"I'm a big Spider-man fan, so I always say with great power comes great responsibility," she said. "So just because we can do all of these things doesn't mean that we should. It has to be relevant to our audiences. And I think one of our responsibilities and where we as communicators show up really well is not just by adding more experiences to the HCP plate or the patient plate, but maybe reducing the number of experiences, reducing the burden to navigate experiences that might not be relevant by knowing them better."
The notion of listening to consumers, and matching them with relevant experiences, points to two more pillars of good digital communication: measurability and data-drivenness. Panellists discussed AB testing, a tactic rampant in other industries but rarely used by pharma.
"I think it's setting up the behavioural funnel and then tracking your customers through that behavioural funnel," Mulder said. "And also in that funnel do some AB testing, do some channel switching. See what's most effective for your budget and make the connection in the end to the behavioural change of the physician or patients or whoever your audience is. And I think this is well doable now."
Hutnik shared a story from her experience where tracking community adoption of a therapy helped them to target more receptive communities, leading to prescription fills almost eight times higher.
Advice for communicators
The number one piece of advice from panellists was to listen to customers — both in aggregate as discussed above and on an individual level.
"The best practice that we've done is to listen to our customers," Edouard said. "Actually to start the communication with an active listening phase, trying to understand what is a patient journey and during the patient journey, what is their state of mind. What do they think? What do they look at? What do they feel? How can we help them at that point by giving them the information and what they want to know?"
After listening, the next challenge is applying those insights along with some creativity to bring the right message to the right audience via the right channels. Hutnik gave an example of her work with Spark Therapeutics to develop a product to teach haemophilia patients about gene therapy.
"Spark realised, especially over the past couple of years, that there was a need to provide more interactive programming for teens and young adults. So they were able to design some really engaging content: An escape room-style game where individuals work together to solve a series of clues before time runs out and they learn about haemophilia and gene therapies. So it took advantage of knowing this audience and target demographic and what would it take to engage and educate them, and also knowing how to overcome a challenge, moving to a virtual environment, and then designing engaging content."
Panellists cautioned against the temptation to try to replicate physical experiences in the digital world, and extolled the importance of tackling siloes and managing internal stakeholders. Finally, Edouard emphasised the reality that adapting to innovation is an ongoing process.
"Be ready to throw away tomorrow everything you built today," he said. "Because it's a space where innovation is happening every minute."
Conclusion
As the panellists pointed out, digital communication is no longer novel.
"I think the industry is more looking around, more accepting digital communication and I think it's almost time to remove 'digital' — it's communication as we all are consuming it at the moment," said Mulder.
In fact, many capabilities that were once considered innovative are rapidly becoming table stakes.
"To be successful today we need different things than we did in the past," said Hutnik. "We need data scientists, and research, and analytics and experience design and UX. So there's a lot there that maybe we weren't thinking of as core talent or skill years ago, that is absolutely essential now, it's price of entry for the kind of experience we want to have."
But while the culture and technology of digital communication may be changing every day, the fundamentals of what makes good communication haven't changed. Whatever channels healthcare communicators find themselves using as technology advances, they'll be well served by listening to their audiences, serving them relevant messages, and meeting them where they are.
You can watch the webinar in full here.
About the panel

Florent Edouard is the global head of commercial excellence at Grünenthal Group, a pharmaceutical company headquartered in Germany and specialised in pain. Coming from AstraZeneca where he led multiple commercial functions including four years in charge of the AZ Respiratory and GI franchise in Japan, he joined Grünenthal in 2017 to drive the company's commercial transformation, from launch excellence to field team impact, through analytics uplift as well as platform and capability build across affiliates. He is enthusiastic about what he refers to as the "complete revolution" being experienced by healthcare, which will usher in new treatments, new technologies and new mindsets and values. Florent has served in various roles within the healthcare industry for almost 20 years and is MIT-certified in digital marketing analytics and digital business strategy.

Amy Hutnik is general manager, agency, advisory and evidence services at EVERSANA. Amy's 25+ years in marketing and strategy span consumer and healthcare markets and leverage deep industry knowledge to engage teams and clients, and streamline the process of managing commercialisation resources for maximum impact. Prior to joining EVERSANA, Amy was chief marketing officer for WCG, leading efforts in positioning, thought leadership, sales enablement, and lead generation for the clinical trials services company, targeting CROs, sponsors, sites and patients within the complex clinical trials ecosystem.

Mark Mulder is vice president, commercial, Europe, at EVERSANA. Mark has developed the commercial strategy and leading market access, marketing and multi-channel sales teams at launch for a German biotech company, CO.DON AG, a specialised leader in cell therapies. He launched seven new brands in different therapeutics areas, most of them in the main EU5 countries while working at Bayer.

Jonah Comstock, editor in chief pharmaphorum (moderator), is a veteran digital health journalist, Jonah was an early hire at MobiHealthNews and most recently led editorial efforts at HIMSS Media.