Health tech and digital transformation lessons from the NHS
Digital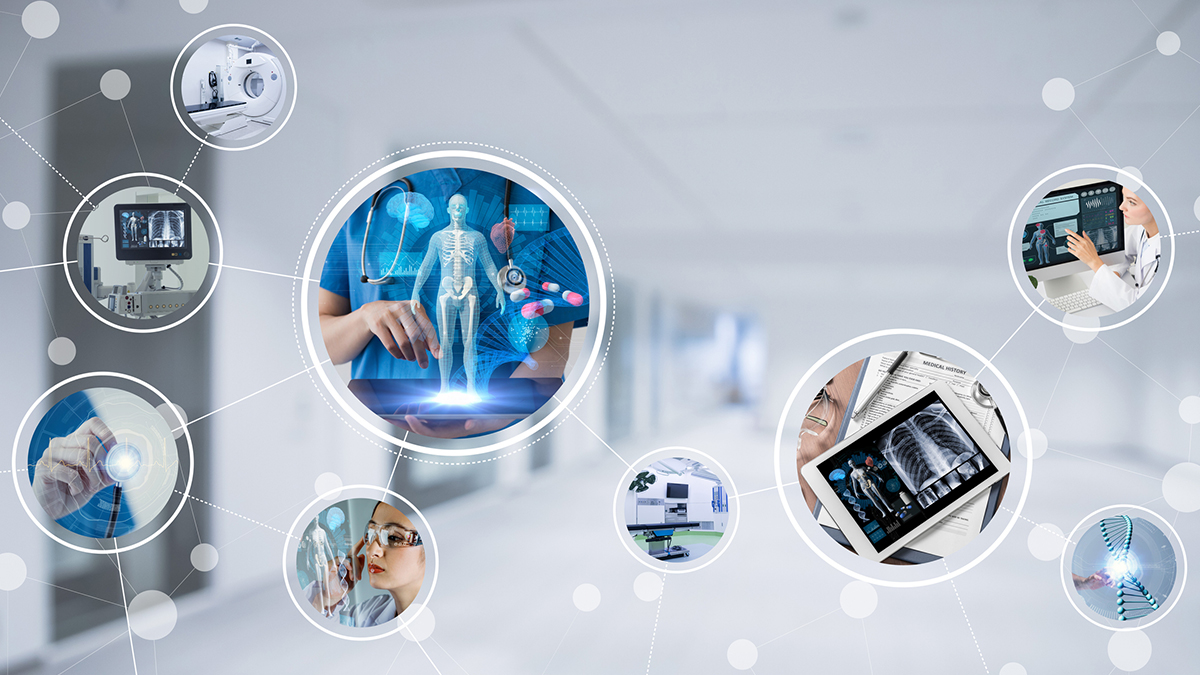 In the year since the UK went into its first lockdown to limit the spread of COVID-19 the country's health service has undergone an unprecedented digital transformation. 
The NHS quickly scrambled to reduce face-to-face contact between patients and healthcare professionals, and manage demand for services that would soon be overstretched by dealing with the pandemic.
Just as it did across the pharmaceutical industry, COVID's medical imperative swept aside any lingering doubts and delays to greater use of technology, kick-starting a major digital transformation of healthcare.
As vaccines for the coronavirus help us begin to chart a course away from the emergency phase of the pandemic, many within healthcare are now starting to take stock of the health tech experience of the last 12 months and plan for further digital transformation of the NHS.
The NHS' digital future
At the forefront of those plans is the UK government, which has long signalled a greater role for digital technology in healthcare, most recently in a February white paper.
'Integration and Innovation: Working Together to Improve Health and Social Care for All' set out proposals for a Health and Care Bill that aims to build on the work done to tackle COVID and "shape a system that's better able to serve people in a fast-changing world".
The publication said: "The response to COVID-19 – led by those who know best – has shown us new ways to deliver care using innovative and creative solutions, exploiting the potential of digital and data, instead of needless bureaucracy. We must not go back to the old ways of working. The gains made through these new approaches must be locked in."
The government's plans also include legislating to ensure more effective data sharing across the health and care system – something, it said, that will enable "the digital transformation of care pathways".
But to give the NHS a successful digital future it must learn from the experiences of COVID's early months. To that end the government commissioned research by The King's Fund on the digital service change in general practice during the pandemic.
Beccy Baird, a senior fellow in The King's Fund's Policy team, said: "We found that during the first phase of the pandemic lots of the key processes and mechanisms that had been in place before were bypassed or streamlined.
"'Necessity is the mother of invention' was a phrase we heard a lot from practices and new products were often implemented without a formal procurement process or, where commissioners did get involved, it was very light touch, with the proviso that the decisions would be reviewed when there was more time to do so."
Other digital service change lessons noted by The King's Fund included:
Practices were the key drivers of change, not national NHS bodies or clinical commissioning groups
GPs want an informed choice over the technology that they implement
Smaller, more agile suppliers could roll out solutions in a matter of days by bypassing previous procurement processes
Suppliers don't want to duplicate effort unnecessarily at a regional level if they have already met national standards
Ensuring excess bureaucracy and complexity doesn't return is a clear challenge
In the future practices will need more local support to implement digital tools.
"While the pace of change was phenomenal, the process during the pandemic wasn't entirely smooth. It's clear that while practices adopted technology at pace, other parts of the health system couldn't keep up," Baird said.
She pointed to things like evaluation, data collection and outcomes measurements that would now need to be put in place. Additionally, a number of longstanding, non-COVID IT issues remain – including access to adequate hardware and WIFI in practices and persistent inequalities in digital access for patients and carers.
Positive reactions to health tech
After 2020's skyrocketing use of technologies like video consultations, online appointment booking, remote monitoring at home and telemedicine, reactions among users have been generally positive.
A recent YouGov online survey of over 4,000 UK adults found that around three fifths of NHS users increased their use of technology to access care during the first phase of the COVID-19 pandemic.
A majority (83%) of those NHS users viewed their experiences positively and when the same October 2020 survey quizzed over 1,000 NHS staff it came to a similar conclusion, with 78% of those whose organisation had increased its use of technology reporting positive experiences.
However, a significant minority of both groups that increased their use of technology thought that it actually made for worse quality of care, with 42% of NHS users and 33% of NHS staff feeling downbeat about it.
Furthermore, among NHS users that may have higher healthcare needs half of these users aged 55 and older and nearly half (46%) of those with a carer thought technology-enabled approaches made for worse quality of care.
There was more support for greater use of technology in the future among the NHS: 61% of staff surveyed were behind this, compared with 49% of the public. However, NHS staff highlighted a number of challenges to capitalising on recent technological progress – chief among them were ensuring adequate IT and equipment and making sure technologies are safe and work for all types of patients.
The findings feature in Securing a Positive Health Care Technology Legacy From COVID-19, a new report from the Health Foundation. The charity says the results highlight the need for technology that was implemented during the pandemic to be further developed and improved.
Tim Horton, assistant director of improvement at the Health Foundation, said: "Given the immense pressure the NHS has been under, it is impressive that so many patients and staff reported positive experiences as new technologies were rolled out.
"However, the fast pace at which they were introduced means that important steps – such as evaluation and co-design with patients – will necessarily have been shortcut. As we emerge from the shadow of the pandemic, the NHS must evaluate and improve these approaches before locking them in for the future."
Inclusive digital health
Responding to the Health Foundation's report NHS leaders praised the work done by healthcare staff to ensure patients could access care as COVID struck, but highlighted the need for tech-enabled care to be available equally to all.
The NHS Confederation, which represents most NHS organisations that provide care, said an inclusive approach to digital health would need to ensure the right mix of technology and in-person care so that services are appropriate for everyone who needs them.
Director of policy Dr Layla McCay said: "While digital solutions are invaluable, they must be used alongside other points of access. Of course, the NHS has never been a 'digital only' service during the COVID-19 crisis, including in primary care, and face-to-face care has been and will always be available to those who need it, as well as for those who do not have access to technology.
"Innovations in digital care achieved during the pandemic have expedited opportunities to now embed a blended approach of both face-to-face and digital options where relevant in accessing care."
The NHS Confederation also called for the same targeted funding, support and cooperation that made 2020's advances possible would need to be included in any long-term digital strategy for the NHS.
The digital health strategy
Back in 2019 the NHS Long Term Plan promised every patient would have access to digital primary care services by 2024. The unprecedented change of the last 12 months shattered that target.
Now, as digital health tech use continues in the NHS, its long-term strategy is starting to take shape with the government's white paper and legislative proposals.
Appearing at the Digital Health Rewired Festival last week the health secretary Matt Hancock spoke of his desire to "make the NHS into a digital health platform".
"In many ways, every day of the last year has been a session of digital transformation because of this shared experience of fighting the virus, and the vital role technology has played in the response.
"This pandemic was the time when health tech really came of age. Now is the time to bottle the spirit we've seen – the ingenuity, the creativity and the adaptability – and put it in service of those solving the new challenges ahead."
The direction of travel in digital health is clear, and has been for some time now, but there will be an inevitable correction to its rapid uptake. As the YouGov survey sets out, there will be those who want the NHS to provide in-person care rather than be a 'digital health platform', just as there will be those that can't access online care.
The question for the coming months and years is how far has healthcare changed irrevocably and how far back will the pendulum swing to its pre-COVID state when some sense of normality returns?
About the author

Dominic Tyer is a journalist and editor specialising in the pharmaceutical and healthcare industries. He is currently pharmaphorum's interim managing editor and is also creative and editorial director at the company's specialist healthcare content consultancy pharmaphorum connect. Connect with Dominic on LinkedIn, Twitter or Instagram.