UCB: growing sales and growing bones
The specialist pharma company is set to expand into osteoporosis through its partnership with Amgen – and looks ready to make strategic acquisitions. Andrew McConaghie speaks to UCB's chief executive Jean-Christophe Tellier about the company's likely direction. 
While UCB is one of a cadre of mid-sized pharma companies posting rapid growth, the Brussels-headquartered company maintains a relatively low profile.
The company is, however, undoubtedly in rude health, posting a 16% rise in 2015 sales to €3.88 billion (albeit with some uplift from currencies). This is largely thanks to its focus on immunology disorders and neurology, led by rheumatoid arthritis drug Cimzia (now a €1 billion-a-year earner), Parkinson's treatment Neupro and epilepsy drugs Vimpat and Keppra.
The next few years look even more promising, with new epilepsy drug Briviact just launched in its first European markets. The firm is also poised to file romosozumab, a new once-a-month injection to treat osteoporosis, which helps the body re-grow new bone.
Analysts believe the drug is set to be a multi-billion dollar hit for UCB and its partner Amgen, and EMA and FDA filings are expected later this year.
One reason that UCB hasn't generated more headlines is that it has played no part in the M&A frenzy of the last few years. Founded nearly 90 years ago by businessman Emmanuel Janssen, his descendants still hold a controlling stake in the firm, and have shown no signs of selling up.
'Stability' is definitely a watchword for the company, and for its chief executive Jean-Christophe Tellier, who took the helm last year. But Mr Tellier is also hinting that the firm is preparing to make acquisitions and strengthen its core business.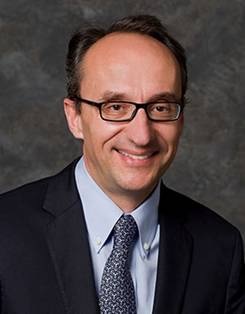 Jean-Christophe Tellier
Mr Tellier met journalists in London on Wednesday to talk about the company's prospects.
Despite the high expectations, Tellier remained measured about romosozumab, and declined to give a UCB forecast for its peak sales. Only topline data have been released from its phase 3 FRAME trial, but these look encouraging: the placebo-controlled trial showed the drug met primary endpoints of reducing vertebral fractures up to 12 and 24 months in postmenopausal women with osteoporosis.
While osteoporosis affects 1 in 3 postmenopausal women, it also affects 1 in 5 older men. The company is conducting a phase 3 trial in men, which is due to report headline results shortly; if successful, this could expand the market hugely.
Tellier says further ongoing trials will help build a "value proposition that will be very compelling". Existing treatments work by decreasing bone resorption; romosozumab looks to be superior because it both increases bone formation and limits this bone breakdown.
The story behind the drug's discovery and development is a fascinating tale, illustrating a combination of old-fashioned scientific serendipity and a 21st century insight into genetic causes of disease, and how to target drugs against them.
Scientists became curious about a small group of people of Afrikaner descent in South Africa with a rare disease called sclerosteosis. The condition is characterised by uncontrolled bone growth in the skull and jaw, and can leave patients disfigured and at risk from sudden death because of intracranial pressure.
Academic researchers understood that this terrible disease of out-of-control bone growth could help people with the opposite problem, postmenopausal women with osteoporosis.
Painstaking research discovered that a single gene mutation in these patients meant that they did not produce sclerostin, a protein that halts bone growth.
Building on this insight, UK-based biotech Celltech discovered romosozumab, which works by blocking sclerostin, thereby strengthening and growing bone.
Amgen first signed a licensing deal on the drug with Celltech in 2002, with UCB then acquiring the UK biotech two years later. Now, more than a decade on and with many obstacles overcome, the work is finally coming to fruition.
Romosozumab will compete with two other players: Eli Lilly's long-established Forteo, which goes off patent in 2018 and Radius Health's phase 3 pipeline drug abaloparatide. Analysts predict that the UCB-Amgen partnership will emerge as the likely market leader in the field, particularly with Amgen's marketing expertise, including its existing osteoporosis blockbuster Prolia (denosumab). Nevertheless, much still hangs in the balance, with long-term efficacy data especially important.
New investments
UCB elected to meet journalists in London's Canary Wharf financial district, making it clear that the company is now talking to bankers about its options in buying and selling.
The future of the company depends on the Janssen family and, asked if UCB could be a target for a takeover, Jean-Christophe Tellier said they continued to recommit themselves to the company.
One further barrier to any takeover bid would be the considerable debt UCB is still servicing from previous acquisitions.
However there are clear signs that the company is preparing itself for some strategic purchasing of its own.
"We want to focus more and more on what we're good at…so diversification is something we're not interested in," said Tellier.
In line with this strategy, it recently sold off its US-based speciality generics business Kremers Urban to Lannett for $1.23 billion.
The sale allowed the company to do two things, Tellier pointed out: pay off some of its debt and increase its 'strategic flexibility'.
Having ruled out moves in to other therapy areas leaves potential investments in immune disorders and neuroscience as possibilities. These two areas are currently abuzz with renewed activity and interest, however, which means there are few bargain acquisitions to be had.
Tellier added that UCB would consider acquiring an early-stage asset or a technology platform, or instead could make 'multiple bets' on externally-sourced molecules.
Finally, the company is also making sure that its biggest asset, anti-TNF inflammation treatment Cimzia, keeps growing.
The drug has patent protection until 2024, but other drugs in its class are under attack from biosimilars. These cut-price biologics are already eroding the sales of Janssen's Remicade and Pfizer's Enbrel, with AbbVie's market leader Humira next in the crosshairs.
Despite this onslaught of biosimilar competition, Tellier says Cimzia won't see sales dip, as the company has differentiated it from competitors.
The company is pursuing a number of unique claims for the drug. One relates to its use in pregnant women – some anti-TNF drugs have been shown to have 'placental transfer', making them contraindicated in pregnancy. UCB wants to be the first to have an FDA-approved label showing it can be safely used in these situations.
Reassured that this and other label extensions will keep Cimzia clear of the biosimilar storm, Tellier indicated that biosimilars would be used as like-for-like replacements, unlike generic small molecule drugs.
"Biosimilars are similar to a product, not similar to a class," he concluded.
The company is also pursuing big phase 3 studies in earlier use of Cimzia – C-OPERA and C-EARLY, aiming to show that if the drug is used before standard first-line treatment methotrexate, it can prevent irreversible damage to rheumatoid arthritis sufferers.
About the author:
Andrew McConaghie is pharmaphorum's managing editor, feature media.
Contact Andrew at andrew@pharmaphorum.com and follow him on Twitter.
Read more from Andrew McConaghie:
Delivering pharma innovation: Takeda and Novo Nordisk on the rise