Innovative Medicines Fund and the opportunity for ICSs to mobilise NICE approvals

Webinars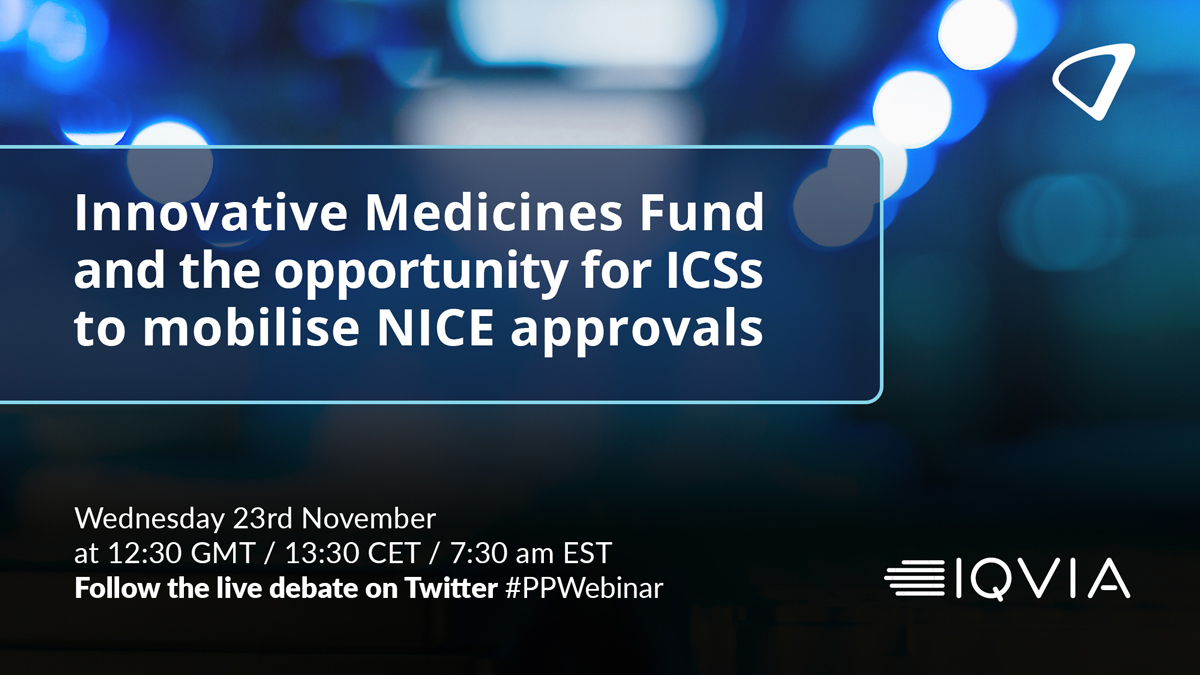 In June, NHSE and NICE published details on the Innovative Medicines Fund, which will help improve patient access to cutting-edge medicines, with a particular focus on rare diseases, and ensure global pharmaceutical and biotech organisations continue to prioritise the UK as a launch destination.
Join us on Wednesday 23rd November at 12:30 GMT / 13:30 CET / 7:30 am EST as the panel discuss how the Innovative Medicines Fund works, what the implications are for industry organisations in securing funding via this route, and how this will influence ICS uptake of medicines recommended via a NICE technology appraisal.
Panel

Angela McFarlane​, VP strategic planning, IQVIA UK & Ireland and North Europe
As VP, Strategic Planning for IQVIA, Angela works closely with UK Government, the NHS, the Pharmaceutical and Biotech Industry and Patient Organisations on pioneering collaborations that will improve NHS patient access to clinical trials, RWE studies and innovative medicines.
Angela is working to ensure the UK life sciences sector expands its footprint as a priority country for inward investment in research and medicines launch as healthcare ecosystems recover from the impact of COVID-19. She founded the Clinical Research Coalition chaired by Baroness Blackwood to embed the learning from the pandemic, the output of which became Lord Bethell's Clinical Trial Transformation programme.
In 2018, she was nominated by Pharmaceutical Marketing Europe as one of the 30 most influential women in UK Healthcare, and in September 2019 appointed by the UK's Chief Scientific Officer to be an Ambassador for Women in Science and Engineering (WISE).
Angela spent a decade in pharma sales and marketing management roles with MSD and BMS, prior to staring the world's second market access agency in 1998, which she sold to IMS Health in 2013. She is an SME in market access, rare disease and biosimilars.

Nina Pinwill BSc (Hons) MSc DIC, is the Head of commercial operations at NHS England and NHS Improvement
Nina Pinwill leads the commercial operations function within the Commercial Medicines Directorate at NHS England. Nina's role is to ensure that patients have faster access to the most promising new treatments, taxpayers get better value for money in drug expenditure and the route to funding is speeded up for responsibly priced, promising drugs. This includes responsibility for the Innovative Medicines Fund, the Cancer Drugs Fund, industry relations, patient access schemes (PAS), the Blueteq prior approval system, dose banding and budget impact tests. Nina is London based.
Nina received her first degree in Geography in 1995 and spent the next five years in various management and planning roles in the Lord Chancellors Department (now the Ministry of Justice). Nina then spent the next 16 years working at the National Institute for Health and Care Excellence (NICE); the independent organisation responsible for providing national guidance on promoting good health and preventing and treating ill health in England. Nina has developed and improved various processes at NICE such as the process for technology appraisal and redesigning how NICE choose the topics it produces guidance on. Following a year's secondment in 2015 to the Office for Life Sciences (a joint venture between Department of Health and Social Care and Department for Business, Energy & Industrial Strategy) as a Senior Policy Lead working on the Accelerated Access Review, Nina returned to NCIE to set up, launch and subsequently head up the new engagement function for the life sciences sector, called the Office for Market Access.
Nina gained her MSc in Health Policy from Imperial College London in May 2016 and is a trustee for the Waldenström's Macroglobulinemia UK charity.
Nina's areas of interest are in strategic planning and developments, managed access approaches, leadership, innovative problem solving, effective programme oversight and delivery.

Sean Richardson, VP & general manager UK & Ireland, Alexion Sean Richardson.
General Manager Alexion UK, working in the biopharmaceutical industry for 20 years after attaining a BSc in Biochemistry. His focus for the past 5 years has been on rare diseases in the UK, working in collaboration with the rare disease community to improve the patient experience of care, from diagnosis to accessing treatment and co-ordination of care.

Thomas Strong, Interim associate director – managed access, National Institute for Health and Care Excellence (NICE)
Thomas joined The National Institute for Health and Care Excellence (NICE) in 2016 and is the Associate Director for the Managed Access Team. He leads the Managed Access Team within NICE who are responsible for identifying potential managed access candidates, delivering data collection agreements, and the ongoing monitoring of managed access agreements. Thomas also leads in the development and delivery of methods, process and policy changes concerning managed access both within NICE and in partnership with other UK system partners.
He has previously worked within the NICE Technology Appraisals Programme and Highly Specialised Technologies programme and has been involved as Technical Lead and Technical Adviser across a wide range of conditions. Before joining NICE, Thomas worked as a Research Fellow at the National Guideline Centre hosted by the Royal College of Physicians conducting systematic reviews for NICE guideline development. He holds a BSc in Biochemistry and a MSc in Molecular Neuroscience, both from the University of Bristol.

Mohammed Asghar, Frimley Health and Care ICS prescribing governance lead Mohammed Asghar has had a long career in the NHS with a wealth of experience of service delivery in numerous roles in various acute Trust settings, but has also worked extensively with commissioners (PCTs, CCGS, NHSE) in managing high cost drugs and commissioned treatment pathways.
Mohammed is currently Prescribing Governance Lead for Frimley Health & Care ICS with responsibilities encompassing professional secretary of the Medicines Board (equivalent to IMOC in new NHSE terminology), and also leads on its formulary with a focus on High Cost drugs and Specialised Commissioning. Mohammed sits on the IFR panel and Thames Valley Priorities Committee and the SE RMOC. Mohammed is also a NICE Medicines & Prescribing Associate and recently lead on the establishment of a community based CMDU service that resulted in Mohammed being recognised as a member of NHSE's CMDU Design Reference Group.

Jay Hamilton, programme director – industry partnerships, Health Innovation Manchester

Dr Paul Tunnah, Founder pharmaphorum (moderator). Alongside his work as a recognised author, speaker, moderator and industry advisor, he founded the industry-leading publication pharmaphorum in 2009. Dr Tunnah also holds a BA in Biochemistry and DPhil in Biological Sciences from Oxford University, where his work focused on identification of novel anticancer therapies.
* When you click to register for this webinar you will be taken to a website run by BrightTalk who host the webinar and gather your registration data.
This data may then be passed to pharmaphorum media limited, and in turn passed to the company(ies) we are partnering with to bring you the webinar. This data may be used by us and them for occasional marketing purposes. It will not be shared with any further third parties.
By clicking to register for this webinar you give consent for any data you provide to be used in this way.
If at any point you no longer wish to be contacted based on the information you provide during the registration for this webinar, please send an email to info@pharmaphorum.com requesting that your information is deleted in accordance with the General Data Protection Regulation.