Transforming oncology outcomes through data and digital
Views & Analysis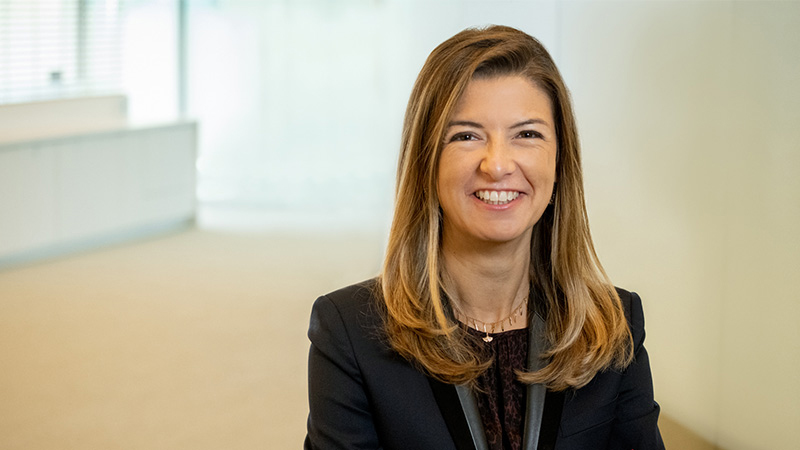 The healthcare industry is evolving rapidly, with data and digital technologies transforming everyday communications as we know them. The last two years have brought about an online revolution. This disruption has changed the way doctors and cancer patients expect to experience services and products, and there is no going back now.
The digital age is here to stay
Why? Well, our field observations point to multiple driving factors: digital interactions are less time-consuming and offer flexibility in a world where doctors are increasingly under time pressures; they're more convenient for patients, many of whom continue to lead busy lives; with modern capabilities, the same quality of information can be delivered regardless of channel; and while the value of in-person engagements isn't to be ignored, content delivered online complements face-to-face delivery with hybrid models. The COVID-19 pandemic has also accelerated the number of people who are not only familiar with, but confident in using virtual tools, facilitating online connectivity further.
The customer experience will be driven by innovation in communications 
While many effects of technologies are overwhelmingly positive, we must remember there are downsides too. Communication is possible 24/7 in the digital world. We are bombarded with endless notifications, emails, alerts, and messages, and, coupled with unlimited access to a wealth of information, the volume of online noise is undeniable. In a recent report from Indegene, 62% of healthcare professionals surveyed said they are "overwhelmed" by product-related promotional content they received from pharmaceutical companies.
In an age of digital overload, it's clear we need to be more innovative in the way we create the customer experience. In the same report, 63% of healthcare professionals said companies should only share relevant content with them to "make the interactions more insightful". And according to McKinsey, pharmaceutical companies should consider using "rapidly personalised content" to engage healthcare professionals. As the number of different cancer specialists involved in optimising outcomes has increased, and patient populations themselves have become more stratified and smaller, a one-size-fits-all approach will no longer deliver the desired customer experience.
Personalisation sits at the heart of next-generation online engagements
Across the healthcare industry, steps are being taken to address the need for personalisation. For example, we have created a plug-in for our websites which gives oncologists access to a personal content library when they sign in, tailored to their specific needs and preferences. Takeda Connect provides oncologists with information about their Key Account Manager and Medical Science Liaison, alongside direct access at the click of a button.
Beyond personalising content, creating a tailored channel experience is also vitally important. We have developed a single registration that grants access to all our websites, making it easy for oncologists to use our resources. Known as the Takeda ID and live throughout Europe and Canada, the idea is that by using the same set of unique sign-in details, customers will have a seamless experience when engaging with Takeda online, and when coupled with Takeda Connect, will receive a customised environment every time. The focus on making it as easy as possible for customers to navigate the online world is a trend we're seeing more and more in healthcare.
Artificial Intelligence (AI) and machine learning-powered algorithms have the potential to create more impactful, personalised, and coordinated interactions with customers. These technologies allow us to understand stakeholder preferences, when an engagement is most relevant, and for what content. Delivering the right message at the right time declutters noise and increases the relevance of information exchange. While field force teams in areas of the world such as the U.S., including at Takeda, are already using cutting-edge AI and machine learning tools to help doctors accelerate treatment decision-making in a way that can improve patient outcomes, in Europe, regulations around access and use of prescription data make this reality more challenging to reach. Nonetheless, our ambition is to equip all employees with an AI companion, helping them to deliver smarter and more productive customer experiences.
The omnichannel approach opens up exciting new ways to engage with customers, but we know it is not a quick fix. We are overseeing a fundamental shift in how we orchestrate the delivery of content and services to meet the diverse needs of the cancer community. This requires a "test and learn" methodology and fostering a transformational mindset, which is something we're taking very seriously at Takeda as we advance on our journey of becoming a digital leader in oncology.
From external to internal: boosting drug discovery and development
Beyond external engagement, the acceleration of data, digital, and AI are making business operations more effective and efficient, leading to greater innovation. In R&D, we are leveraging data in terms of proteomics and genomics and plan to utilise AI and machine learning to maximise our research opportunities. By mining data from related experiments and combining in-house knowledge with public domain data, companies can analyse massive amounts of information at speed to identify promising targets for exploration, such as important biomarkers.
Improving our ways of working
As well as informing the direction of our science, technology can solve more trivial and mundane jobs too. Cloud-based automation can be used to complete rule-based and repetitive tasks. As an example, over 200 of our clinical trial supply chains use automated ordering, distribution and inventory updates, which in turn make sure our investigational cancer therapies are available, arrive on time, and keep our studies moving forwards.
We are all on a learning curve about the ways in which technologies can boost how we work and what we accomplish. As an industry with a tsunami of information at our disposal, we need to be smart about how we translate data into actionable insights to truly unleash its power. Greater personalisation, at scale, tailored content development, and streamlined operations will set the foundations for improved outcomes. The future of our workplace and workforce will be online, and it's where we must be so we can best deliver innovative ideas, stronger customer services, and life-transforming medicines for cancer patients.
About the author

Stefanie Granado, Ph.D., is Head of EUCAN for the Oncology Business Unit. She is a member of the Oncology Leadership Team (OLT) and the EUCAN Executive Team (EET).
Prior to this role, Stefanie served as General Manager, Iberia (Spain & Portugal), and was responsible for the Spanish and Portuguese Country organization, and drove the region's integration of the Shire team and portfolio. Before that, she was Cluster Head of Iberia and General Manager, Spain, at legacy Shire and was a member of the organization's Europe Leadership Team. Stefanie has also held various roles of increasing responsibility at Novartis Vaccines and Novartis International AG, as well as at the Boston Consulting Group.
Stefanie has extensive pharmaceutical, healthcare and management consulting experience and has a proven track record in emerging and developed markets, ranging from rare disease to vaccines and generics, and has lived and worked in Latin America, Spain, Switzerland, West Africa and the US.
Stefanie holds a Master of Arts degree in Anthropology from the University of Basel, Switzerland, and a Ph.D. in Cultural Epidemiology from the Swiss Tropical and Public Health Institute.