Touring Chiesi's vision for the future at the new Biotech Centre of Excellence
Views & Analysis

Following an invite to fly into Parma, Italy to witness first-hand the press launch of the considerable structure – black-painted and as yet under construction, gigantic cranes and all – that is the Chiesi Group's new Biotech Centre of Excellence, you would be forgiven for thinking this was just another laboratory and/or pharmaceutical manufacturing plant; because it quite simply isn't.
Located on the outskirts of the historic Italian city – home to Verdi and myriad architectural gems – the press launch and tour of the €85 million Chiesi development was a quintessentially Italian affair, based out of Chiesi's San Leonardo production site. Abuzz with cameras and tightly guarded by security, it was clear this was a seriously pivotal moment in the company's history.
With three rows of press in attendance and an otherwise packed room of stakeholders and others with a vested interest, as the heat lamps burned down to warm what would have been a rather chilly industrial space in northern Italy, a hush settled, and the proceedings began.
In-house drug development of biologicals and rare disease targeting
In brief, the European plan for Chiesi is in-house drug development of biologicals and rare disease targeting. The Parma site, as yet only nine months into construction, is due to become operational from 2024, with FDA, IFA, and EMA approvals due to be sought for 2025. A B Corps company, Chiesi's LEED Platinum certified Biotech Centre of Excellence will focus mainly on rare disease biologics – another shift in the family-business pharma's image and action.
Having built a considerable reputation via its immunotherapies and respiratory products, one of Chiesi's main and important rare disease drugs is zampilimab, a novel monoclonal antibody for fibrotic lung diseases. Chiesi is also going to maximise access to Aptar Pharma's digital platform. A respiratory platform similar to the diabetes one, the Digital Health Solution is yet another future-looking inclusion in the Chiesi plan.

An advance in biologics for Chiesi; an advancement for Italy as a whole
Son of founder Giacomo Chiesi himself, Alberto Chiesi opened the occasion. The purpose behind this new Biotech Centre of Excellence is not just as an advancement into the production of biological medicines for Chiesi; it is, rather, an advancement for Italy as a whole. Thanking those in attendance, notably the Deputy Minister, Valentino Valentini, and the President of the Emilia-Romagna region, Stefano Bonaccini, Alberto Chiesi noted how the quality of the company's production and logistics made it possible to continue to bring its drugs to all patients who needed them during the challenges presented by the pandemic.
This new investment is, he said, an opportunity to strengthen the innovative capacity of the national biopharmaceutical sector and, by extension, the European one. Having a healthy and sustainable pharmaceutical sector is both a necessary requirement and a good one for society.
Alberto Chiesi also remarked that the industry is grappling with growing global competition, in which Europe is losing ground in R&D: 48% of new products globally are developed in the United States, compared with 25% in Europe. The situation was reversed only 25 years ago.
So, the Biotech Centre of Excellence will project the group towards the future of medicine and science. It is a strong message for Italy, and Parma in particular, being the location where the group was born and where its most important activities are based. Alberto Chiesi deemed Italian pharmaceutical industries the "reference leaders in Europe". For Chiesi, it is important that the group lives up to its commitment, generating shared value, improving economic conditions, and the social aspects of the community in which it operates, and by extension, generating value for the country as a whole.
Going beyond the standards of care; improving drug safety and efficacy
Marcello Cattani, country lead and president and managing director, Italy & Malta, at Sanofi, as well as president of Farmindustria, spoke next, expressing that he couldn't have been happier to be in attendance for the occasion.
Innovation, a right to health, and rare disease research – biotechnical drugs for such are what the future is being built on, he said. Already, the effects of the Biotech Centre of Excellence are being felt, not least in the employment opportunities it will create. The challenge facing the pharmaceutical industry today though, he said, is to go beyond the standards of care, and improve drugs to make them safer and more effective. At the same time, Cattani urged for new rules in governing pharmaceutical expenditure, as even today, expenditure ceilings are inadequate with respect to real function.
Next to speak was Antonio Magnelli, head of the global manufacturing division at Chiesi, who termed the Biotech Centre of Excellence a strengthening force for the future. Technology is to combine within its bounds, he said, so that it is possible to go from start to finish in drug development. An extremely ambitious project, then, and one with great responsibility to the region and to Italy. Then, head of pharmaceutical development GTD, R&D at Chiesi Pharmaceuticals, Francesca Usberti explained the full integration of processes that will be undertaken within the new lab, working with active ingredients, from enzymes and monoclonal antibodies and proteins up to the formulation of the finished product.
An historic moment for health, innovation, research, and employment
Afterwards, the Mayor of Parma, Michele Guerra, spoke. Terming the occasion an "historic moment", he highlighted the key words reiterated by those who had gone before him: health, innovation, research, and employment. These, he said, are at the top of the agenda of any politician, also. Guerra reminded attendees of Alberto Chiesi's notion of "interdependence", a word that "presupposes solidarity", and mused on the fact that although Chiesi is one of the most important pharmaceutical groups in the world, it is yet integrated into the neighbourhood of Parma.
Councillor Vincenzo Colla was next to share his thoughts, picking up on the Chiesi Group's bond with Parma that Guerra had mentioned. B Corps-certified, it is the first multinational company in the world to receive such a commercial and industrial passport, he said. Furthermore, Chiesi has, as a rule, the attraction of talent: talent acquisition is what results in high-quality businesses, and the new Biotech Centre of Excellence will do precisely that. What the Chiesi Group is doing is making people safe and people's safety comes first in any system, he said. But to make people safe requires a lot of research.
The President of the Emilia-Romagna Region, Stefano Bonaccini, took turn to speak next. Having led the region for almost six years, he noted how Parma has come on within that space of time and asserted that, in terms of merit and extraordinary enterprises, there is no other region in Europe quite like it. The Biotech Centre of Excellence aptly reinforces that.
Lastly, Vice Minister of Business and Made in Italy, Valentino Valentini spoke. Talking about the integrated supply chain that is always in play with France and Germany, he warned of continuous competition that could pose a gradual risk to Italy's research basis in development research. And so, pharmaceutical spending is an investment, he said. Prevention is not the path followed for pathologies which are increasingly complex; reorganisation of expenditure, with clear purpose, must be made.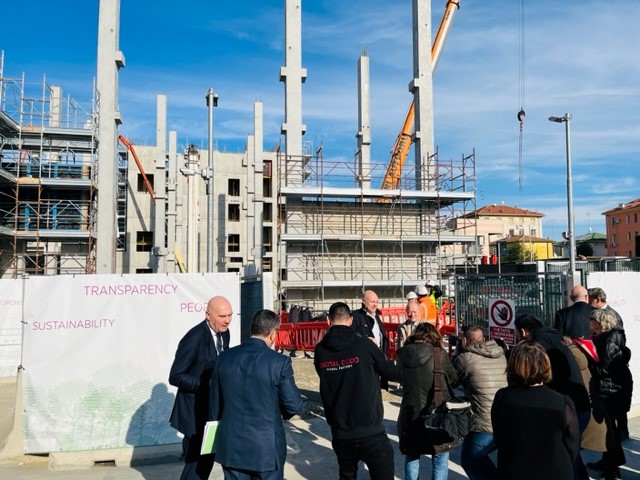 A site visit and photographs; interviews and touring through operations
Following the speeches, all major figures walked out to be captured in the midst of development, posing for snaps and answering press questions with what is still the shell of a building as a background to goings on. Then came an afternoon interlude of interviews within the offices of the company, after which the Chiesi Group held tours for its press visitors in both Italian and English.
Walking through both a floor of laboratories as if in a viewing gallery and donning a full outfit of protective wear in order to be guided through the extensive manufacturing side of operations – seeing first-hand just how important automation, as well as precision and hygiene, is in terms of safe and speedy delivery of medicine to patients – it can only be said that the excitement over this project is palpable, traversing both languages and regional and national borders. Certainly, it can be said that it seems as if the Chiesi Biotech Centre of Excellence shall bring into reality great things indeed.