Patient-centricity and pharma: where are we now?
'Patient-centricity' is a term that has gained currency in the pharma industry in recent years, and most major companies in the sector are now dedicating resources to ensure that they put the wishes and needs of patients centre-stage in all of their business activities.

But questions still remain before it is likely to be completely adopted by the pharma industry, such as how should the industry define what true patient-centricity is, and how should progress be measured?
Following active monitoring of developments in patient-centricity this year, gauging sentiment in the industry about progress so far, and what work still needs to be done, in a recent webinar, Ashfield Healthcare Communications and pharmaphorum attempted to answer these big questions.
The fundamentals to building a patient-centric business
Earlier this year, Ashfield convened a patient forum of 12 representatives from pharma companies, including large, broad portfolio companies as well as smaller/mid-sized, more specialist providers. It invited contributions from a mix of people with patient-centred roles, from Chief Patient Officer through to regional and functional patient leads.
The participants discussed their companies' visions for patient-centricity, the strategy and structures they were putting in place, and the key challenges they were encountering. The forum was moderated by patient advocate and former cancer patient Andrew Schorr, co-founder and director of Patient Power, along with Ashfield.
Schorr defined patient-centricity in pharma as: "A vision of a company where all departments focus on doing what's right for the patient and a universal belief that the business benefits in the process; where 'the patient voice' is sought after and welcomed and where patients are not seen as statistics, subjects or numbers on a spreadsheet."
Paul Robinson, executive director of scientific, medical and patient perspective at MSD, who leads patient-centricity initiatives in Europe, explained his company's approach: "We've got a longstanding mantra that the medicines are for patients, they're not for the profits. The more you remember that, the more the profits will follow. We believe that if you focus on patients then you will be financially successful. In this day and age, you've got to come up with a product that meets your customer's needs, and increasingly the payer is actually the patient, so designing something that doesn't meet their needs doesn't make sense."
Ashfield found that, at the time of the survey, most who had been asked to lead patient-centricity in their companies had been in their roles less than 12 months, but they reported themselves to be excited and even privileged to have the role.
At the same time, they were also conscious that the 'script hadn't been written yet' regarding the best way to practise patient-centricity. They were, nevertheless, generally confident that they had the right attributes, including experience across multiple industry roles and functions, and an understanding/empathy with patients – more than half had spent time as practising physicians.
These respondents also reported four common reasons for becoming more patient-centric:
To be drivers of innovation
To create better healthcare for the 21st century
To better understand their customers
Because it was the right thing to do.
The forum participants felt that most companies believed there were two major considerations: bringing the patient into every person's role within a company, and then developing solutions to positively impact patient outcomes.
A straw poll of webinar attendees gave a clear message about how a patient-centric approach could be built: 45% said senior-level endorsement of any such initiatives was vital, with embedding patient-centric principles across every team and function, and allowing sufficient budget and resource also ranking highly.
Progress so far
If 45% believe it can be achieved, then how far have we come already?
The forum research found a clear division in how companies were approaching the challenge: 50% had appointed a Chief Patient Officer, whereas the remaining 50% had opted for a 'framework' approach, where aiming to be more patient-centric was everybody's responsibility.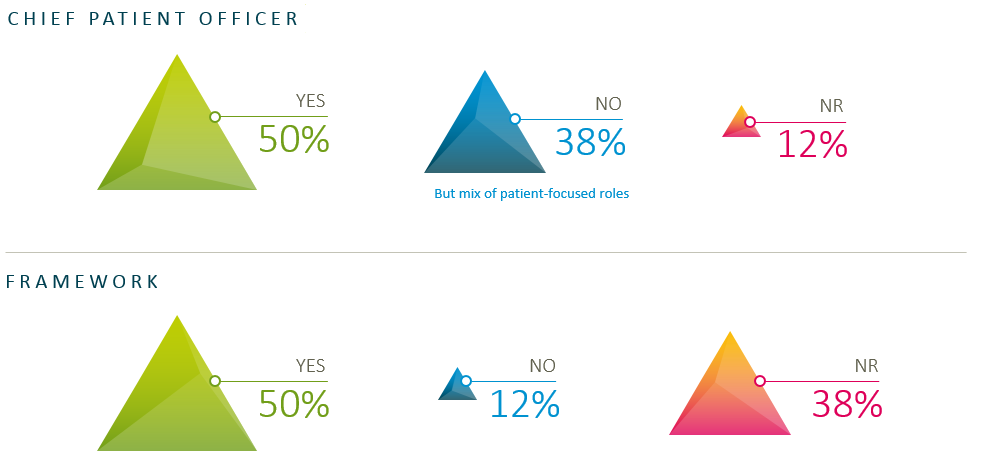 Robinson said companies could be successful with either of these two contrasting strategies, as long as the organisation made its goals clear and maintained its patient-centricity efforts in the long term.
However, there was a clear gap highlighted between reality and aspirations: only 50% of the forum respondents believed their company's framework to be patient-centric currently.
What still needs to happen?
So what else needs to happen for industry to be truly patient-centric?
There seems to be an issue in incorporating patient-centricity as a consistent theme and in motivation between departments – compounded by concerns over the ability to measure patient-centricity as a whole.
Legal and compliance issues also have to be taken into account when considering patient-centricity programmes. However, there are signs that companies are becoming more comfortable in engaging with patients.
Respondents also reported success on the 'quick wins', where some were beginning to co-create content with other organisations, some were beginning to bring patient insight into trial design, and some were even providing support with measurable and tangible results.
A work in progress
It is clear from the combined data from the patient forum and the webinar poll that the healthcare industry's culture of patient-centricity is still evolving.
Some companies are incorporating patients from the very earliest planning through to the final stages of development, while others still have progress to make.
There is a general consensus that getting patient-centricity right will lead to commercial success and that involving the patient at all stages of the development lifecycle will provide better understanding of what companies need to address in order to reap the rewards.
To view the recent patient-centricity webinar debate, including insights from Andrew Schorr and Paul Robinson, click here.
About the author:
Jo Fearnhead-Wymbs is Patient Engagement Director at Ashfield Healthcare Communications, with over 10 years' experience in the industry. Having joined the company in 2012, she has 6 years' experience in a patient-focused role, developing patient support initiatives and working with pharma clients to identify where they could engage with patients to improve outcomes.
Contact her via: j.fearnhead-wymbs@ashfieldhealthcare.com.
Part of UDG Healthcare plc, Ashfield Healthcare Communications' multichannel and specialist agencies include ACUMED, Ashfield Digital & Creative, BlueMomentum, CircleScience, Clinical Bridges, CodonMedical, FireKite, Galliard, Gardiner-Caldwell Communications, GeoMed, iMed Comms, Infusion, InterPhase Consult, Nyxeon, Pegasus, Physicians World Europe, QXV Comms, Scientific Connexions, Seren Communications, StemScientific, Watermeadow Medical, and Zoetic Science.
For more information, go to www.ashfieldhealthcare.com.
Read more: