NHS Innovation and Life Sciences Commission – 2022 Report Launch
Healthcare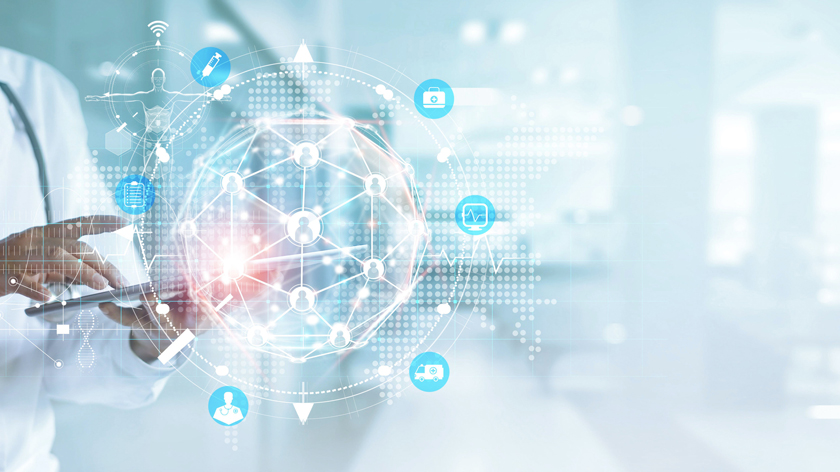 Co-chaired by Lord James O'Shaughnessy and Professor Mike Bewick, former deputy national medical director of NHS England (present online), the NHS Innovation and Life Sciences Commission Report launch took place at One Great George Street, Westminster, on 12th December 2022.
Reasonably well-attended despite the inclement weather, the event was introduced by Lord O'Shaughnessy – now senior partner at Newmarket Strategy, a medical consultancy he founded in 2021 – who deemed the 2022 Report a 'fascinating piece of work'. Nonetheless, the launch was properly introduced by MP Steve Brine, chair of the Health and Social Care Committee in the House of Commons, who himself couldn't be in physical attendance.
Synergistic intentions
With a very precise 17 minutes to go until he had to vote, Brine – who has worked closely with Lord O'Shaughnessy previously, when they were both health ministers within the Department of Health – lauded the valuable work and exciting findings the Report offered for the NHS and the Life Sciences industry. Exhibiting a synergy between the work of the commission and the Health and Care Committee, chaired by Brine since he was elected by the whole House back in November – the core issues at the heart of the Report are subjects he feels very strongly about.
For health innovation, digital transformation in the NHS – using digital technology to change and improve services and outcomes for patients, including primary care records, legacy items, and clinical research – is critical. So, too, is addressing digital health inequalities. The potential of the NHS app, also, must be tapped. During the pandemic, Brine said, remote monitoring and care for some long-term conditions proved essential, and even now, it is clear that face-to-face consultations can be time-consuming and expensive. In short, some people simply want to manage their own health. One such example is the online pharmacy concept, like Pharmacy2U, with its 1.5 million NHS prescriptions per month delivered directly to people's homes.
With the bell then tolling within the House of Commons, Brine concluded that prevention and care were critical, and particularly future cancer care – getting 'upstream' of symptom-led early diagnosis with genomic medicine, despite the 'billion ethical questions' that go alongside that. Health innovation, Brine said, is an absolutely critical building block of a functional health service. With that, he had to go vote.
Twin imperatives: innovation and investment
O'Shaughnessy next described how the group had been brought together and motivated by twin imperatives: how to make the most of and amplify the UK's incredible strengths in discovery research, health research, and increase investment as the UK seeks to become a more R&D-driven economy.
The UK Life Sciences sector had been on display to an extraordinary degree during the pandemic, he said, undergoing recovery trial before vaccine, during development of the vaccine from out of a university and into pharma, and then into people's arms (quite literally) in less than a year. An extraordinary feat of logistics, he called it.
Now, O'Shaughnessy said, the best innovations need to be unstuck in order to address the health inequalities that still 'bedevil' the country. While Covid has been a burning platform, the UK has plenty of burning platforms. Think of it, he said, as a triple-win, driving wealth as well as health, realistic thinking in a difficult fiscal environment, and a squaring of the circle. Such was the thought process behind the Report.
With deadlines placed on each recommendation, O'Shaughnessy noted the great care that had been taken in making sure the Report was pushing against doors open all across the economy, in whichever county in the UK, the goal for the country to become a Life Sciences superpower, aided by everyone who contributed.
The UK as a powerhouse of research
At this juncture, Professor Mike Bewick spoke, mentioning the methodology, subjects, and topline recommendations contained within the Report. With thanks given to Chambers Consulting for organising the launch, Bewick referenced MP Steve Brine's comments on the elected four areas of focus: data, integration ('the story of our time'), the clinical research agenda (building on pandemic endeavours), and scaling.
Five years having passed since Sir John Bells' Life Sciences Industrial Strategy Report, Bewick explained how it was now necessary to make the country what it had been during the pandemic: a powerhouse of research. It is easy, he said, to invest in infrastructure and forget about workforce and the literacy needed to handle data.
Although we might all have the NHS app now, it needs to be fully registered, with at least 50% of people accessible for clinical trials in communities. Professor Ben Bridgewater, Bewick said, had been a major contributor to this (and, indeed, the audience would hear from Bridgewater imminently). However, 'boiling the ocean' is a difficult thing to do, admitted Bewick. Therefore, a practical approach was crucial.
Achieving the healthcare holy grail
O'Shaughnessy – reminding those in attendance that the Report is a milestone rather than an endpoint – made clear that they want to encourage engagement and foster ongoing discussions. At which point, Hamish Dibley, consulting director at BearingPoint, came on screen (another meteorological travel victim).
Dibley emphasised how important and timely the enquiry was for the NHS and the Life Sciences industry. For him, the session and resultant recommendations had presented a reset opportunity, with many commonalities evident across the four areas, but that the right questions need to be asked of existing data sets.
A regulatory environment that will permit improvement and scaling of the prototypes of the past needs to be created, he said, and although a progressive path had already been set in motion, he wanted to turn attention to pages 38 and 39 of the Report in particular: a case study that showed that it is entirely possible to achieve a healthcare holy grail and provide better services at lower cost. To close his remarks, Dibley stated that monumental results can be achieved from a monumental opportunity and that he was proud to be part of this mission.
A proper framework, locally and nationally
Lord O'Shaughnessy noted how it is easy to think of innovation in terms of the Life Sciences, molecules, or a new algorithm, but that new behaviours need to be considered as well when trying to find ways to alleviate the extraordinary burden healthcare professionals are under. He told attendees that they would be the judges of whether that mission had been properly framed, before introducing the waiting panel, and opening them to questions afterwards.
Consisting of Richard Stubbs, chief executive officer at Yorkshire Humber Academic Health Science Network (AHSN), Professor Bewick, Professor Ben Bridgewater, CEO of Health Innovation Manchester, Professor Gillian Leng MBE, former chief executive of NICE, and Laura Lane, vice president, Venture Sciences (Europe) at Eli Lilly & Co. – the panel was largely tuned in remotely, save for Lane, who began.
What are needed are both local partnerships and organisations, an understanding of demographics and patient bases, but also the national vision, she said. But that vision can't be attained without collaboration. The current medicine pricing system is paid for by industry and, despite the capping of medicines bill, levels are unsustainable, Lane said. Healthcare is a global endeavour, and the UK is not at the top of the launch of medicines – patients are missing out.
Innovation adoption: a contact sport
Richard Stubbs agreed with her. Innovation adoption, though, is a contact sport, he said, and a port in which the UK does not have a great track record. Local decision-making has to be facilitated for local needs; an overly complex system needs to be simplified – "Cost-effective innovation at a regional level," Lord O'Shaughnessy interjected. On both points, Professor Gillian Leng concurred, but noted that it is about getting the balance right.
Professor Ben Bridgewater suggested a slightly different nuance. The problems are the problems, though they might have a slightly different accent when moving about the country, he said. However, lots of things are done within the innovation space, and some not so well. Therefore, he posited, why not do fewer things better? What the UK has then, Lord O'Shaughnessy said, is a disaggregated national system.
Questions began with a 10-year view, to which panellists shuddered at the length of such a temporal projection. Stubbs especially didn't think changing the mechanisms would take that long, while Leng noted one of the core Report recommendations was 'cracking that nut'. Bridgewater, meanwhile, believed such a difficult question would progress on a RACI matrix basis (Responsible (R), Authorise or Accountable (A), Consult (C), and Inform (I)).
From a regulatory standpoint, Lane said that the industry wanted to be a partner for embracing innovation, resulting in agile regulation of medicines for patients. After all, the clinical trial environment in the UK is deteriorating, she said. Indeed, -between 2017 and 2021, the number of clinical trials initiated in the UK fell by 41%, significantly impacting the country's global rankings.
Additionally, Lane said, we're still witnessing a Covid backlog and a crisis of basic standard of care (ambulances, consultant access): how then can the next generation of treatments be delivered for patients who require treatment for an advanced modality that is complicated, she asked.
Capability, capacity, and expertise
O'Shaughnessy presented the question of technological adoption ('a critical word') within the NHS, to which Bridgewater replied that though there might be numerous technological opportunities, it's not always entirely clear which problems are going to be solved with that technology. He suggested that a problem statement be begun with, then alignment with suitable technology, and the adoption of that alignment at scale. However, this would require change management when it comes to people, processes, and cultures.
Additionally, Lane noted, talent is required: the data analysts, scientists, the people who are experts in their field. Lord O'Shaughnessy agreed, stating that there are now new types of roles and functions, and it is critical to ensure staff possess the necessary digital skills. Stubbs put forth the long-term considerations of capability, capacity, and expertise. Great work has been done on the discovery side, he said, but then there seems to be a 'magic will happen' mentality when it comes to adoption and sustainability. Leng agreed and proffered advice given to her by a student at Harvard, that three things are needed: motivated people (good leadership), opportunity (time and capacity), and capability (training).
Trust, transparency, security, and consistency
Independent researcher Emma Reinhold asked how better access to health data for researchers could be enabled at lower cost. Public trust over what is done with data, as recommended within the Report, was mentioned by Leng, while Bridgewater noted the 'hump' of legal requirements and data controllers and how an agreed governance and demonstration of complete transparency would be necessary. A lot of researchers ask for speed and depth, he said, but warned that these things can be fractured and so care must be taken.
Lane agreed with trust, transparency, and security, but added consistency. Data is one of the strongest tools for improving healthcare in this country, she said. Lord O'Shaughnessy agreed, stating that the best, richest, and most interesting data on disease is where it is most needed, i.e., rare diseases.
Raising an emoji hand, Bridgewater reminded everyone that not all data is good data and that there's an art to discerning it. Where data gets incredibly excited, he said, is when care pathways start to become properly transformed: then the data has a much higher velocity, veracity, and value. Bridgewater also stated that implantable devices provide really high-quality data, much better than routinely coded data from out of hospitals.
Reducing healthcare inequalities
The second half of the panel discussion was led by Professor Mike Bewick, who launched into the question of what can be done by industry to support the NHS in reducing inequalities in healthcare across demographic groups. For Lane, the Core20PLUS5 agenda held the answer (Core20PLUS5 is a national NHS England approach supporting the reduction of health inequalities at both national and system levels). Income, race, sex, hometown – all these, she said, are key components in thinking about medicine; also, education and privilege. Decentralised trials are crucial. In short, she said, a patient's background influences their health and outcomes: diabetes, for instance, is six times more likely in someone of South Asian descent, and autoimmune diseases are incredibly more common in women than men.
Stubbs said that the hood of innovation had to be gotten upon while assessing how lived experience has an impact, while Bridgewater stated his belief that health innovation should be done in the same way as software innovation: clarity, sprint, scrum master facilitator. Industry partnerships are needed, he said, to further and to accelerate.
Leng noted the duty of integrated care systems to address inequalities and, as the Report suggests, that there should be a Life Sciences Lead within the NHS. On which point, Bewick put forth another audience question: what role should pharma companies play in NHS innovation and the authenticity of that inter-sector relationship?
Sharing knowledge and best practice
Lane stated that pharma and biotechs are large, collaborative organisations that value research and are driven by data. It is a team sport, she said, and the industry wants to be strong partners with the NHS. Innovation is part of everything within the entire lifecycle of a product, she said. Leng mentioned how Covid had been great for public understanding of research, but rued thee misinformation and mistrust that went alongside.
Indeed, in the closing remarks, Lane noted that the industry must maximise trust and partner in order to deliver broadly to patients in the UK and how the hope – as contained within the Report – is not just to present effective implementation strategies, but to get down to the hard business of implementation, which comes with sharing knowledge and best practice, she said.
Leng shared the phrase 'Do once and share' in response, but admitted it is difficult to share and make change happen in different places, where reasons include 'It's not made here', 'It's not written clearly enough', or 'It hasn't been costed', etc. People have to be enthused, she said, in order to be convinced and make change happen.
'Think, do, help…' Lord O'Shaughnessy mused – wouldn't that be wonderful, he asked. Again, he reminded those in attendance that the Report was but a process, and not yet an endpoint. With these words, the launch came to a close.
Following the launch, Lord O'Shaughnessy and Professor Bewick will, as commissioners, be travelling the country, exploring examples of best practice so as to focus recommendations in 2023.
Of especial focus in the new year will be neurodegenerative pathways with the Dementia Commission, jointly funded by Curia, Eli Lilly, and Roche. Additionally, not for profit Curia will provide a further £50K in funding.