Medical technology and digital: primary levers for change
What steps can traditional pharma and medtech companies take to update their processes to support a move to more agile, digital business models?





Authors (Left to right) Mitch Beaumont, Prashanth Prasad, Ulrica Sehlstedt and Mandeep Dhillon.
Established medical technology companies are facing a challenge with the explosion of digital technology and its impact on the healthcare industry. New entrants and start-ups easily employ newer, more agile working models that are better aligned with a digital economy. However, the operational and cultural DNA of many established companies has been steeped in rigid processes that were created to minimise the risk of non-compliance with regulatory requirements, such as US FDA guidance. Hence, going digital has strained their current ways of doing business.
So what tools can be used to effect change in companies' business and operational models in order to support a digital business?
Rethinking models – GE
Consider the example of GE. GE has been a leader in driving digital transformation across its many businesses. It created a new division, GE Healthymagination (GEhM), for its healthcare business, with its own innovation operating model and supporting processes designed to develop new, disruptive business models in healthcare.
GEhM borrowed from agile methods and employed rapid, iterative sets of tasks to identify, define and validate opportunities in the digital health space – a stark departure from GE's traditional stage-gate or waterfall processes.
This resulted in the 'Healthy Cities' programme, which focused on improving population health for various US cities by engaging local governments, large providers, and universities. GE set up data ecosystems and the necessary infrastructure for collecting and managing population health data collected from a broad range of existing products provided by GE and its partners.
Ultimately, the company successfully created a new value proposition for various city and municipal governments, in a market that GE Healthcare had not previously served. In addition, it was able to extract more value through increased sales of its products, as these were required to deliver the value proposition.
Levers for change
Companies wanting to make successful transitions to digital need to change their business and operational models through a set of unique levers for each. The specific levers used, and the degree to which they are 'pulled', will be unique to each company and its ultimate goals for digital. Most medical technology companies will focus on two or three of these levers, with minor changes in the others.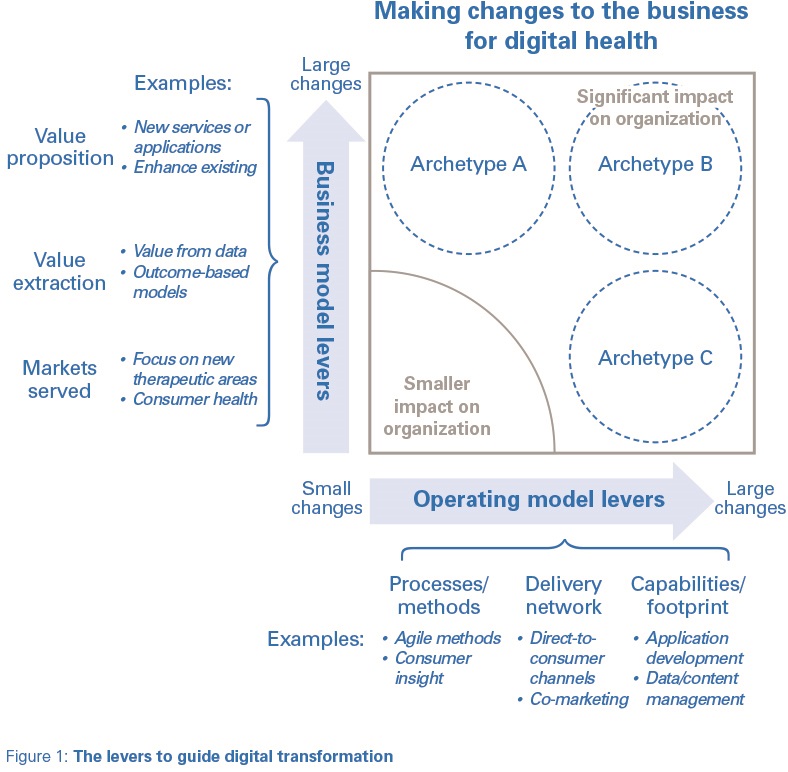 Business model levers
•    Value proposition. Digital products and services can enhance or shift a medical technology company's value proposition in the market. For example, it can extend its products to provide remote-monitoring capabilities that improve care and reduce costs. Or it can offer tools such as applications and reminders to increase patient engagement and improve adherence. Typically, a digital business will want to build upon the company's existing core value proposition, rather than creating a completely new one.
•    Value extraction. Most medical technology companies have focused on selling devices, or generating revenue per unit. However, monetisation of value can take on alternative forms with digital, such as service-orientated models: e.g. selling hours of operation for a home health device, versus the device itself; and data-centric models, e.g. selling the data generated by the devices. These new models may require working with government payers and insurance companies to gain support for reimbursement.
•    Markets served. Digital can enable a company to shift or expand the markets it serves to open up new business opportunities. For example, digitally-enabled products and services can be marketed to caregivers of the elderly or children, who are willing to pay for access to data on activity or medication adherence to give them peace of mind. Alternatively, companies may be able to create new business relationships with other value-chain players, such as home health companies, by providing information that improves the effectiveness and efficiency of in-home care delivery.
Operating model levers
•    Process/methods. Going digital requires new ways of working. Software development cycle times are faster, and will be more effectively enabled by agile methods, which are fundamentally different from existing linear or phase-gate approaches employed by most medical technology companies. Robust technology and portfolio management methods are needed to keep up with the faster pace of technology change and ensure R&D resources are invested in the right areas.
•    Delivery network. Becoming digital can create opportunities for medical technology companies to engage with a broader ecosystem to develop offers and reach the market. The complexity and system-like nature of many digital-centric solutions creates attractive opportunities to engage development and/or delivery partners.
•    Capabilities/footprint. Adding digital elements to a portfolio will require new capabilities in areas such as application development, data management and security. In addition, medical technology companies will require capabilities in areas such as consumer insight and behavioural economics to ensure their digital-health solutions meet patient/user needs and expectations. The organisational footprint should also be an important consideration to help gain technical talent or local market knowledge and access.
Starting steps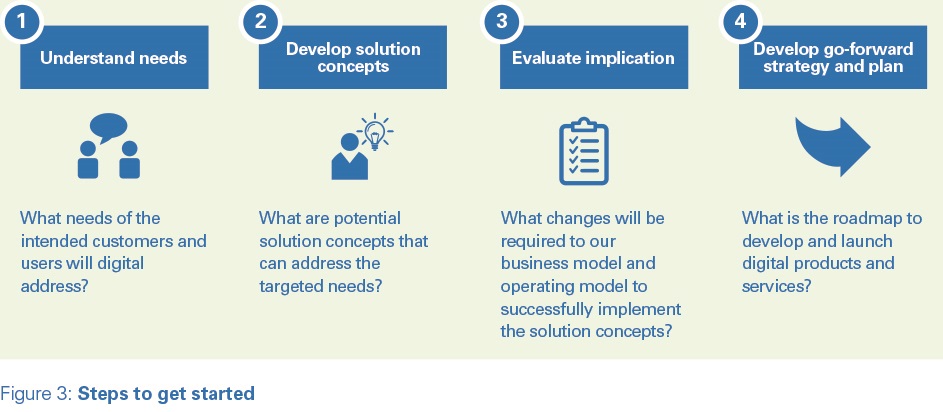 There is a clear set of initial steps an established, analogue-native medical technology organisation should take to get started on a digital transformation. Even if it has jumped into creating digital elements or dabbled in deploying a digital service, these steps can ensure there is a strategic alignment between what the market needs and what the company does.
•    Get a firm understanding of stakeholder needs, especially latent needs, of patients, users, and other relevant players independent of the application of digital.
•    Develop ideas into solution concepts, often with multiple ideas brought together into one.
•    Evaluate the implications to the business model and underlying operating models for each prioritised solution concept.
•    Only once the implications for the business model and operating model are understood can an organisation set its strategy and plan for going digital.
Conclusion
There is significant value to be captured with digital products and services in the healthcare industry. Many new entrants are well positioned to compete because their models are orientated towards software development – more so than existing, analogue-native medical technology companies, which are organised to comply with regulations. For these companies, going digital will require significant business- and operational-model changes.
About the authors:
Mitch Beaumont, Prashanth Prasad, Ulrica Sehlstedt and Mandeep Dhillon work for Arthur D Little.
Mitch Beaumont is a partner in the San Francisco office and a member of the Technology and Innovation Management Practice.
Prashanth Prasad is a manager in the San Francisco office and a member of the Technology and Innovation Management Practice and Healthcare Practice.
Ulrica Sehlstedt is a partner in the Stockholm office, a member of the Healthcare Practice and affiliated with the Strategy & Organisation Practice.
Mandeep Dhillon is a manager in the London office and a member of the Digital Strategy and Transformation Practice.