Lights, camera, action – DMD and chasing your dreams
Views & Analysis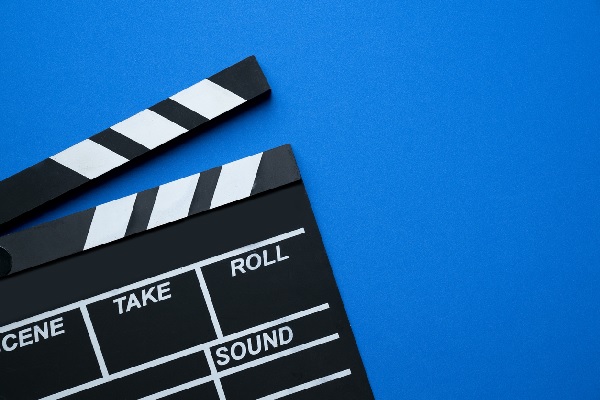 People with a DMD diagnosis must believe this isn't a sign to roll the end credits on their lives, says Luca Buccella.
Even before he learned of his Duchenne Muscular Dystrophy (DMD) diagnosis, aged six, Luca Buccella was aware it was harder to keep up with other children his age, who all seemed to be able to run that bit faster than him or play games he couldn't. But since then he has outpaced many of his contemporaries, translating an early love of cinema into a rewarding career in the Italian film industry working with Disney.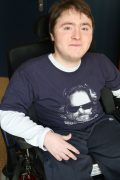 Luca Buccella
Key to this was his parents' determination not to treat Luca any differently than his brothers or sister so that, despite his condition, he felt normal and well prepared to confront the challenges ahead.
Opening credits
"When I was in high school I was inspired by Stephen Hawking, who accomplished so many things in his life despite having amyotrophic lateral sclerosis (ALS)," Luca says. He has, of course, seen the film on Hawking's life, The Theory of Everything – just one sign of a cinematic passion that began when he was taken to the cinema for the first time aged four.
"I literally fell in love and this passion was encouraged by my parents for two reasons. Firstly, they loved movies, too, and, secondly, they knew that my dream of working in the cinema was feasible, even with DMD, so they really encouraged this love that I had."
That set Luca on a path that began with writing film reviews for his school newspaper and saw him set up a movie blog, along the way building an extensive DVD collection. From there the next stop was studying film criticism at university, which concluded with a thesis about the making of the first Star Wars film, and then more writing, this time for film websites based in Italy. That brought Luca to the attention of Disney Italy's press office, who were looking for a translator for their press releases. Most recently he has been working on one of Disney's latest films, the time-travel adventure film A Wrinkle in Time.
"That's the great thing about cinema, it gives you the opportunity to see life through many different eyes. That's especially true of sci-fi movies and a film like Star Wars, which is not only about adventures in space, but also family and the legacy that a person can have."
Continuity and challenging DMD preconceptions
Such a successful career is often thought to be beyond the reach of those with DMD. "Understandably, many parents are scared about giving their children an independent life and even those who aren't often still try to provide for them economically," Luca explains. "For this to change the family must start to work on this very early on – as an association we have a responsibility to show them that it is possible to us to find work and lead normal lives."
The challenge is understandable. A rare and cruel muscle-wasting disease, DMD primarily affects boys and ultimately robs them of the ability to walk and drastically shortens their lives. In fact, orthodox medical opinion used to predict a life expectancy of just 14 for those with the condition. Slowly that's changing, aided by the first blooms of medicine advances in the areas with, it is hoped, more on the way to successfully clearing clinical trials. Nevertheless, it's a challenging path for both patients and their families.
In Luca's case, parental support wasn't limited to the 'can-do' philosophy they imparted to Luca. His father Filippo has been a DMD trailblazer in raising awareness and funds for research in Europe for 25 years and also setting up the Parent Project in Italy. As part of his work Filippo would travel around Italy in a camper van at weekends, sometimes with Luca and the rest of the family in tow, to meet families in a similar situation to theirs. Most recently Filippo appeared in February at the 16th International Conference on Duchenne and Becker Muscular Dystrophy (BMD), of which he is the chair.
Luca continues this family tradition of raising awareness about DMD and will travel to Bucharest for the Parent Project – Romania conference later this month, where he will present on the vision of young people in Italy with DMD.
Challenging DMD stereotypes
Challenges abound for patients with DMD, particularly those who refuse to conform to others' preconceived notions about the condition. But for Luca, it seems, challenges exist to be overcome.
"I'm very lucky to live in a time where technology can really help me do a lot of things, not only from a medical point of view with a night ventilator or cough machines, but also in my professional life. When I first started work as a translator I still used a computer keyboard to write, but I knew that sooner or later the mobility of my hands would diminish, so I started to use a dictation program and now I use it for all my writing and don't have to worry about the loss of mobility in my hands."
Preparing for the future requires him to be clearsighted about the challenges and mentally strong enough to tackle them. Pointing to the source of his resilience Luca says he tries to keep himself occupied, whether through his work, travels for new movies to watch or finding new books to read. "The secret is always having something to look forward to."
Luca's next big challenge will be living with assistance, but independently. In Italy it's a challenge made harder for DMD patients by the wide variation that exists in the way rules on providing caregivers are applied in different regions, or even towns. "On this aspect the state and government should really work together, because it's very complicated and not easy to navigate all the rules and norms that each region has," he states. Nevertheless, Luca hopes to find somewhere suitable in Rome before the end of next year.
Chase your dreams
In addition to challenging himself, another of Luca's missions in life is to make people understand that a DMD diagnosis isn't a sign to roll the end credits on their lives. "DMD is not something that stops us from pursuing our dreams, being who we want to be and living a normal life," Luca says, adding: "Of course that's a bit hard, but I think that's the same for anyone – every person on the face of the Earth has to work hard to make their dreams come true."
He's also optimistic about what the future may hold for DMD patients. "I believe in science – I don't know if treatments will reach me in time, but it's very important for future generations that we find a treatment."
That said, he's not about to press pause on his life while waiting for a cure. "You cannot live your life waiting for a treatment, otherwise you will waste it entirely."
About the interviewee:
Luca Buccella was born in Rome on 14 December 1990. After graduating from high school, he studied at Roma Tre University. In 2013, he earned a bachelor's degree in Cinema and Television Arts. After collaborating as a film critic for various Italian websites, he founded his own online magazine, Rosebuddies.it. Currently, he works as a translator, translating press releases for The Walt Disney Company Italia. He also co-wrote and co-directed several comedic plays for an amateur theatre company that put on a show each year for the benefit of Parent Project Italy.
This article is part of a DMD Spotlight series produced by pharmaphorum in conjunction with Santhera Pharmaceuticals.
Read other articles in this series:
Living with DMD: Inspiring each other's futures
Duchenne's disease: a new hope