Interview: Vas Narasimhan on Novartis' goal to lead in CAR-T therapies
Novartis' head of drug development Vas Narasimhan talks about the company's stake in CAR-T immunotherapy. These cell therapies are set to transform treatment of blood cancers – but questions about safety, manufacturing and cost versus clinical value of the first CAR-Ts will make it a risky business.
The Novartis leadership team is determined to make the company the world number one in cancer treatments, and is investing heavily in a range of different approaches to hitting cancer.
Its investment in CAR-T drugs is part of that ambitious push, and 2017 is set to be a decisive year for Novartis and main rival, Kite Pharma, who lead this hugely promising but risky field.
Chimeric antigen receptors (CAR) modified T-cells or CAR-Ts are at the cutting edge of emerging pharma science, combining immunotherapy and cell therapy techniques.
The process begins with immune system T cells being harvested from each individual patient, which are then genetically engineered to produce the chimeric antigen receptors which allow it to attack the cancer cells.
Kite Pharma's and Novartis' frontrunners have produced some very impressive results in the very sickest patients who have become refractory or resistant to traditional therapies –  producing a complete remission of the disease in many patients.
Kite takes the lead
Earlier this week, Kite Pharma released new data from its lead candidate, axicabtagene ciloleucel (Axi-cel for short, also known as KTE-019), showing that more than a third of patients with aggressive non-Hodgkin's Lymphoma (NHL) were in complete remission six months after a single infusion of the drug.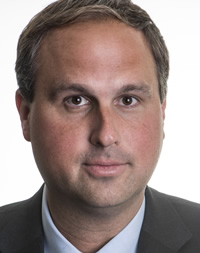 This led Kite Pharma's head of clinical development Jeff Wiezorek to talk of a possible cure for these patients – though just how many of these patients can sustain a remission over many years remains one of the big questions.
This puts Kite in pole position, and its rolling submission of data from Axi-cel in NHL patients is already underway, set to complete in the first quarter of 2017.
This means the FDA could grant approval by the end of 2017, and analysts Evaulate Pharma forecast the drug could be earning  $7.8 billion a year by 2022.
Novartis is close behind with its CTL019 for paediatric patients with acute lymphoblastic leukaemia (ALL), also scheduled for filing in the first half of 2017, which has shown similarly promising data in its early trials.
The key battleground looks set to be in Diffuse Large B Cell Lymphoma (DLBCL), with Kite's NHL filing including these patients, while Novartis' second study focuses on this indication.
Nevertheless, many questions remain about this first generation of CAR-T treatments, not least how far these complete remissions can be sustained in patients.
There also remains a risk that, if these pioneers don't prove to be commercial successes, or hit safety or manufacturing problems, they could be speedily overtaken by competitors who have next-generation technology.
The pitfalls of the field were underlined this week when another competitor, Juno Therapeutics, announced it was abandoning one of its lead candidates, JCAR015. This was because of persistent safety problems, including four deaths linked to the drug and the cytokine release syndrome (CRS) adverse effects seen in many CAR-Ts.
Novartis' Vas Narasimhan
I spoke to Novartis' head of drug development Vas Narasimhan in depth about the company's CAR-T programme a few weeks ago, ahead of Kite's latest announcement.
Asked if CTL019 and other CAR-Ts represented a cure for patients he said:
"It's too soon to use the word 'cure' but we have seen stable remissions out to 2-3 years or longer periods of time in paediatric ALL.
"We will need many more patients – followed up for longer – but overall we see the technology as one where it continues to be transformative for patients who have failed multiple lines of treatment."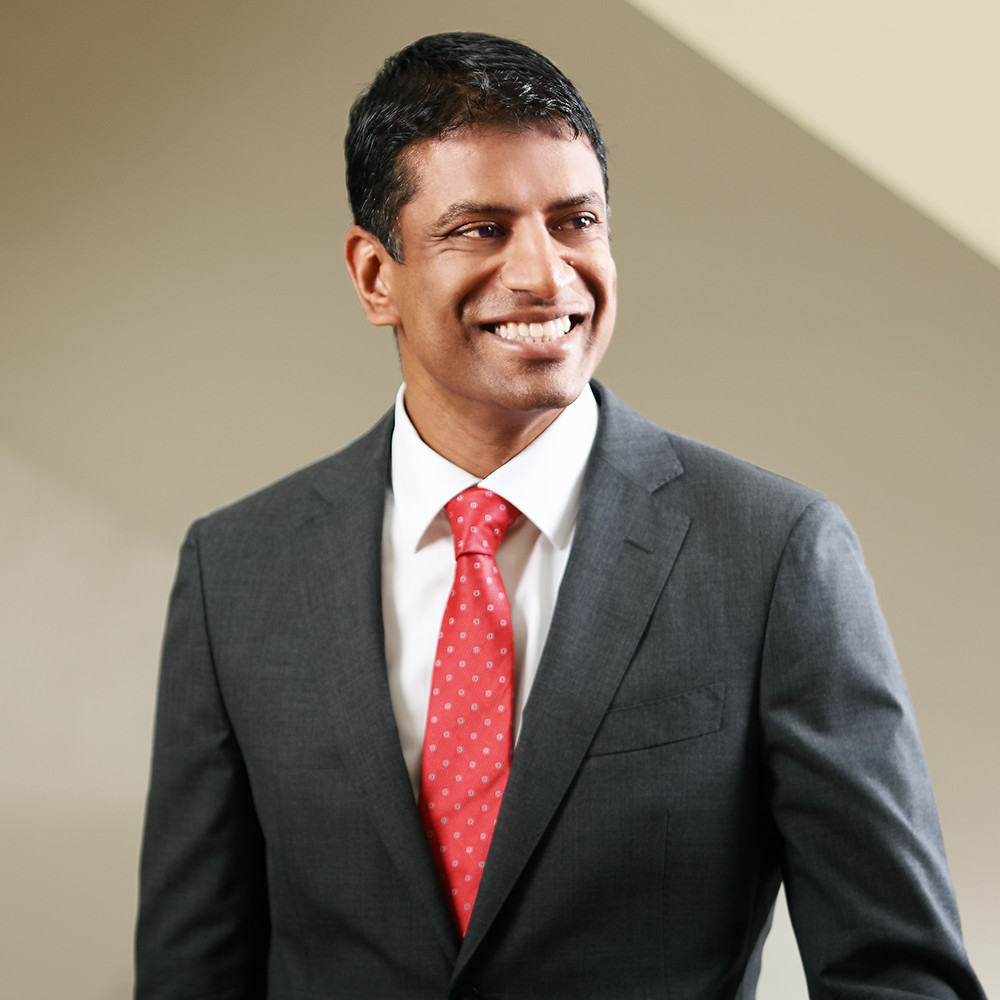 Novartis' trial in paediatric ALL has produced an 82% complete response (CR) rate, the vanishing of the disease from these acutely ill children, which Vas says is "unheard of in these kinds of cancers in children".
In DBLCBL, the data is also compelling, with CR rates in the 40-50 % range (similar to Kite's data) with phase 3 data expected later this year.
But the CAR-Ts' most immediate use could simply be in allowing these patients to have a conventional bone marrow or stem cell transplant, an option not otherwise open to these hard-to-treat cases.
"We view that versus available therapies as very compelling – whether it is going to be a sustainable therapy for many years or whether it is a bridge to transplantation. Because for some of these patients what this really might mean is a bridge to transplantation."
Manufacturing investment
Also of huge importance is the question of manufacturing – as creating the CAR-Ts is a completely novel process, and one in which Novartis and Kite Pharma have had to invest millions of dollars.
"I think the key thing for the entire sector is to continue the manufacturing processes, says Vas. "Because as you get from 10,000 people to 50,000 people to 100,000, you need a technology that is going to be scalable to a larger population, so that is also part of our focus."
The autologous CAR-T manufacturing process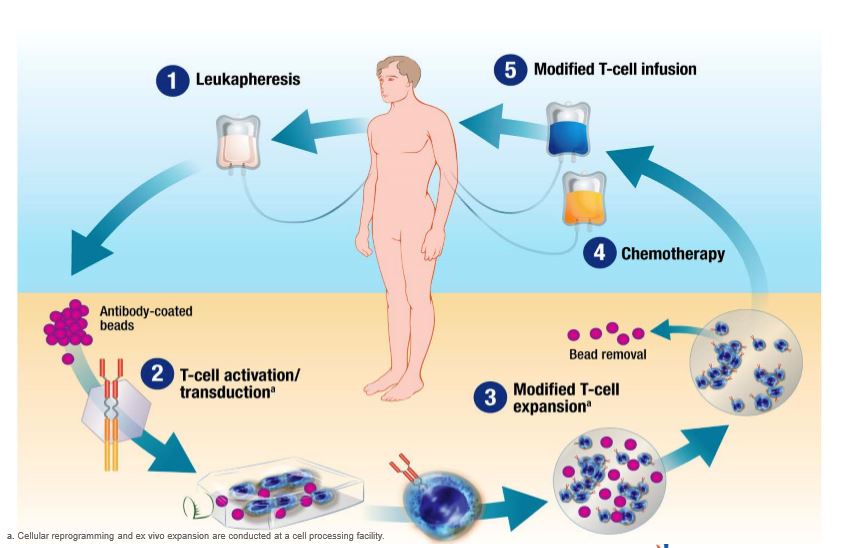 A next generation of CAR-T drugs is already in development, and these would be allogeneic or 'off-the-shelf' CAR-Ts.
One such competitor is Cellectis' UCART123, although this has only recently got the go-ahead to begin first-in-man trials.
Vas commented on allogeneic CAR-Ts: "It is still far too early to say with those other technologies whether they are viable, until we see clinical data in more patients."
Safety profile
Novartis may also have the edge in terms of its product's safety profile. Vas says its trials have, so far, shown a limited, but manageable, number of grade 3 and 4 cytokine release syndrome reactions, but with no deaths associated with the treatment – unlike Kite Pharma's trials, which saw three linked to the drug and four seen in Juno's JCAR015.
In addition CTL019 didn't produce any serious neurotoxicity side effects, which have been seen in Kite's drug. However it's not clear yet whether this could translate into any advantage, if and when both drugs reach the market.
DLBCL is the big prize
Requiring so much upfront investment, especially in the manufacturing process, makes CAR-Ts a risky commercial proposition.
This, and the rare nature of the diseases being targeted, means CAR-Ts could carry record-breaking prices.
Analysts expect the first arrivals to cost between $300,000 and $500,000 – a huge cost, even though patients may only ever need one dose.
The greatest commercial opportunity is in DLBCL, where there are around 56,000 patients diagnosed every year, and about 19,000 patients are in third-line treatment.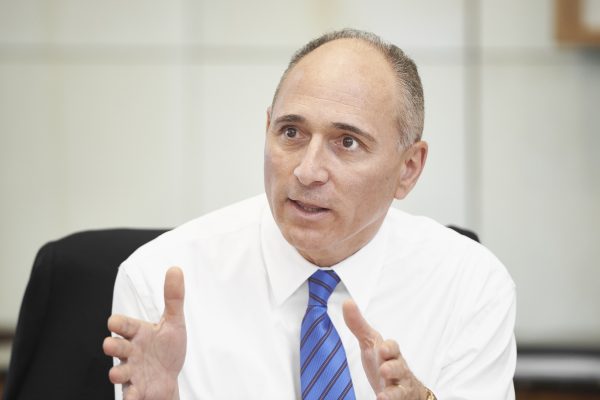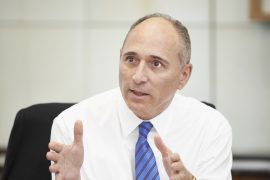 "This is the indication that we believe could propel CTL019 to become a blockbuster over time," said Novartis' chief executive Joe Jimenez last month.
Novartis – aiming to leverage its size
I asked Vas how Novartis aimed to make the most of its global R&D, manufacturing and marketing organisation – something which should count, considering Kite Pharma is having to set all of these up from scratch.
Last year saw Novartis break up a special autonomous cell and gene therapy development unit and merge it into its larger R&D infrastructure.
Vas explains the rationale: "Our approach was to take an independent unit that was going to incubate this technology until we got it into the late stage studies, then leverage the scale of Novartis. Because obviously in our development organisation, we have 10,000 people around the world who are able to develop these technologies and scale them up.
"So that is what we've done – we've integrated the manufacturing/development side, we've integrated the clinical side, and that allows us now to bring the scale of Novartis to these technologies.
"We believe the only way to make these kinds of technologies sustainable is to get them scaled up and integrated into the normal working process of the drug development enterprise.
"That's our strategy and we're on track. There has been no slippage in terms of our plans to file for these two indications."
Warning: rapid evolution in progress
Like many innovative therapy areas, CAR-Ts and immunotherapy is undergoing extremely rapid evolution, and just one strategic misstep could see a frontrunner left floundering.
Vas says Novartis is investing heavily in next-generation CAR-T drugs and other immunotherapy approaches to help maintain and extend its lead role.
Crucial to this is its partnership with the University of Pennsylvania, with whom it has been working on CAR-Ts since 2012. Vas says this collaboration will continue to look for additional targets for other T cell receptors beyond CD19, which Novartis' and Kite's lead candidates target.
Novartis has some early-stage novel candidates in its pipeline, including a B cell maturation antigen and anti mesothelin CAR-Ts, hitting different targets on tumours.
However, its big rival Kite Pharma is far from isolated, and has its own network of research and commercial alliances – including a partnership with Amgen, a company with great heritage in developing and commercialising innovative biotech drugs.
In September Kite announced a collaboration with Roche/Genentech to launch an early-stage trial to evaluate KTE-C19 in combination with checkpoint inhibitor Tecentriq (atezolizumab) for treatment of patients with refractory DLBCL.
Novartis and Kite both aim to address the possibility of targeting solid tumours with CAR-T drugs, as this will make the drugs far more commercially sustainable.
However this is a far more problematic drug development challenge – one reason why CAR-Ts haven't had the flood of competitors seen in the wider immunotherapy field.
Novartis and Kite both look likely to succeed in being pioneers in CAR-T therapy – but just how durable the clinical and commercial appeal of this class of drugs will be is yet to be seen.